Majda Marinic found her calling in Macomb's Dental Hygiene program
Thursday, September 07, 2023 12:00 AM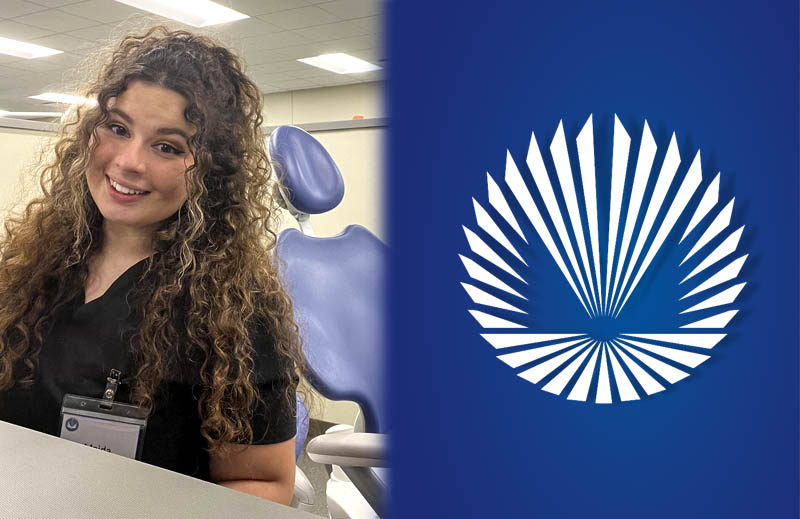 Majda Marinic found her calling in Macomb's Dental Hygiene program
Perhaps it was the good-natured hygienist who eased the teenager's anxiety with funny stories or the dentist who sang while examining her teeth, but Majda Marinic knew from that first dental visit at 16 that someday she wanted to join a team like theirs.
"When I asked them questions about their career," remembered Marinic, who is halfway through Macomb's two-year Dental Hygiene program, "seeing their passion for the career sparked my interest."
Comfortable at Macomb
Marinic graduated from Wayne State University in 2022 with a bachelor's degree in biology and minor in chemistry. She had only a vague idea about what her next step would be when she heard about Macomb's new Dental Hygiene program. 
"(Macomb) made me feel comfortable trying something I never really pursued fully and I am so glad I did," said Marinic, who has also taken three calculus courses at Macomb, as well as the courses in microbiology and anatomy that are prerequisites for the Dental Hygiene program. "My experience has been nothing but amazing and rewarding."
In high school, Marinic was "academically driven." She took every Advanced Placement (AP) science class offered, as well as honors courses. Although art has always been a passion of hers, she deterred from her academic path only once, to take a pottery class.
"I loved it and could spend all day working on art,'" said Marinic, whose canine companions, Bella and Mochi, are never far from her side when she's working on a project. "I love to paint landscapes in acrylic paint. I tried oil painting once, and it was an absolute disaster."
A better foundation for life
Content to pursue art as a pastime, Marinic knew from an early age that a college degree was the necessary "steppingstone" to the type of profession that she wanted. A first-generation college student, as is her younger brother who attends Oakland University, the L'Anse Creuse High School – North graduate credits her parents for making it a reality.
"On both sides, my grandparents were working-class people who could not afford sending their children to college," related Marinic. "My parents vowed to do everything in their power to (give) their children a better foundation in life."
For her part, Marinic works part time at a footwear retailer and intends to earn a master's degree so she may teach in Macomb's Dental Hygiene program, or one similar to it at another college or university, in the future.  
"Being in (Macomb's) program has made me realize that this career was made for me," said Marinic, who counts Periodontics as her favorite class to date. "My passion for the career has grown stronger and I'm always eager to learn more. I've felt a calling to become a dental hygienist."