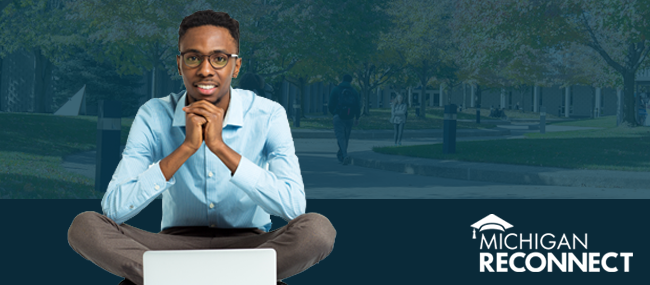 The Michigan Reconnect scholarship provides free in-district tuition for adults to complete a degree or certificate program at Macomb Community College. Whether you want to finish what you started, get your career back on track, or shift gears into an essential career, Macomb Community College and Michigan Reconnect can help you get the skills you need.
Have questions or need help? Register for an upcoming Information Session or complete this Inquiry Form to receive additional information via email.
Eligibility Requirements:
Be at least 25 years old when you apply
Have lived in Michigan for a year or more
Have earned a high school diploma or GED
Have not yet completed an associate or bachelor's degree
Maintain enrollment in your program of study and earn at least 12 credits in their program of study by the end of an academic year, unless a scholarship leave of absence has been approved. ​Students will be evaluated on this criterion once they have begun an academic year.
Complete the Free Application for Federal Student Aid (FAFSA) and have it sent to Macomb (Macomb's code is 008906).
New to Macomb? Apply and complete the steps to be admitted so that Financial Aid can review your FAFSA.
Former Macomb students must complete a Student Update Form in order for Financial Aid to review your FAFSA.
Register for classes! Student Planning is our system used to plan, schedule and register for classes. You can view tutorial videos or helpful handouts here!
From the semester you are first awarded your scholarship you have up to four years to earn your academic certificate or associate degree.
Enroll in at least 1 credit hour (Beginning 2023 Spring/Summer).
Must meet Satisfactory Academic Progress guidelines; Maintain a 2.0 gpa, complete 67% of your registered classes while being a Reconnect recipient and not exceed 150% of your required credits for your program.
Costs Reconnect Covers:
To receive Reconnect funding, student must be enrolled for at least 1 credit hour each semester

If you drop classes and are not enrolled for the term, you will not be eligible for Reconnect. Consult Financial Aid before dropping or withdrawing from classes to determine impact on your financial aid.

In-district tuition – Free

At Macomb, in-district tuition is $111 per billable contact hour for the 2023-24 academic year
Any student not considered in-district would need to cover the remaining tuition expenses.

Mandatory fees – Free

At Macomb this means the following fees would be covered by the scholarship:

Registration Fee - $50
Student Service Fee - $10
Technology & Facilities Fee - $5 per billable contact hour

Reconnect is a last-dollar program. What does that mean?

Any Pell grant funds you receive are applied to your tuition and mandatory fees bill first.
Reconnect will cover the remaining eligible expenses not covered by Pell.
Don't qualify for a Pell grant?

Reconnect will pay the full cost of in-district tuition and mandatory fees.
Costs Reconnect Doesn't Cover:
Books, e-material fees, supplies
Course fees (vary by class)
Transportation
Childcare
Any other costs not listed in the Costs Reconnect Covers section