College Police
The Macomb College Police Department welcomes you to its campus locations where our primary objective is to provide a safe environment for students, faculty, staff and visitors to learn, work and visit. Our police officers are professional and certified by the Michigan Commission on Law Enforcement Standards. The College Police Department also has public service officers who focus on fire prevention, crime prevention and security services. Our Police Department is proactive and responsible for enforcing College Rules and Regulations, Federal, State and Local laws, Statutes and Ordinances. In addition, we have an extensive menu of campus safety resources, crime prevention and awareness programs, emergency and safety presentations, initiatives and collaborative community partnerships.
Campus safety and security is the combined responsibility of the entire Macomb Community College campus family. Therefore, we encourage all students, employees and visitors to invest in creating and maintaining a safe and secure campus environment by becoming proactive and knowledgeable participants in their own personal safety. We encourage you to read, digest and use the wealth of information and safety tips found in our Annual College Safety and Security Report. Remember to always stay alert and informed. Don't second- guess suspicious situations. Report all suspicious situations and crimes immediately and you will be assisting us in our collective efforts to make Macomb Community College a safe and secure place to create an exciting and successful future.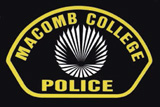 William Leavens
Chief of Police
CONTACT US
College Police - South Campus
14500 E. 12 Mile Rd. - K340
Warren, MI 48088
Phone: 586.445.7135
Fax: 586.445.7128
College Police - Center Campus
44575 Garfield Rd. - I103
Clinton Township, MI 48038
Phone: 586.286.2123
Fax: 586.263.6518
* Dial "0" from any college phone

police@macomb.edu

Lost and Found located at both Police locations.