Emergency and Personal Safety
The mission of the Macomb College Police Department is the safety and security of, and service to, the people and property of Macomb Community College. In keeping with that mission, your safety is very important. However, we alone cannot provide total isolation from crime or unsafe conditions. Each person on campus must share this responsibility. We urge you to be aware of your environment and to continually strive to maintain the highest possible level of safety within our community.

College Police is the only department on campus open 24 hours a day, seven days a week. Whether you need information, directions, to report an incident or are experiencing an emergency, we are here to serve you.

Macomb Emergency Messaging Alerts - quickly notifies students, faculty and staff of campus emergencies or campus closures via SMS text message, email, voice message or any combination of the three. Participation is completely voluntary.

The Emergency Procedure Manual is intended to provide students and employees at Macomb Community College with a better understanding of measures that can be taken to encourage a safer campus environment. This manual includes basic guidelines to follow when faced with various emergencies.

Below are the various topics covered in the manual:
General Crime Prevention and Safety Tips
General Life Saving Information
Fire Alarms
Fire Extinguishers
Lock Down (Shelter-in-Place)
Hostile Intruder
Weather Emergencies
Power Outage
Evacuation - Building & Total Campus
Injury or Illness
Utility Emergencies
Blood and Body Fluid Exposure
Chemical Exposure
Right-to-Know
Preventing the Spread of Contagious Diseases
Communicable Diseases
Suspicious Letters and Packages
Psychological Emergencies
Bomb Threats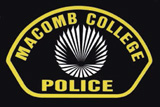 James Matheney
Chief of Police
CONTACT US
College Police - South Campus
14500 E. 12 Mile Rd. - K340
Warren, MI 48088
Phone: 586.445.7135
Fax: 586.445.7128
College Police - Center Campus
44575 Garfield Rd. - I103
Clinton Township, MI 48038
Phone: 586.286.2123
Fax: 586.263.6518
* Dial "0" from any college phone

police@macomb.edu

Lost and Found located at both Police locations.