Abby Pace
Tuesday, January 10, 2023 08:00 AM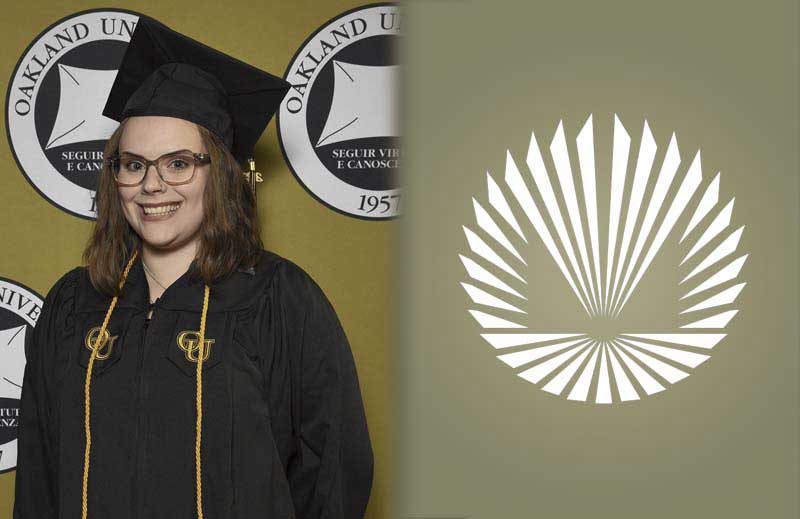 Abby Pace had a self-described "wild imagination" growing up, with which she filled any available white space with fanciful designs. A presentation by Professor Brian Sauriol, now retired, about Macomb's Media and Communication Arts (MACA) convinced her to start looking at those doodles in a more meaningful way.      
"Graphic design became the perfect creative fit for me once I discovered it," related Pace. "It seemed like a strong program and an affordable option, and it was."
Pace graduated in May 2020 with two associate degrees in Creative Imaging and Illustration, and Design and Layout.  She transferred that fall to Oakland University, participating in the Senior Thesis Exhibit at the university's art gallery before graduating summa cum laude with a bachelor's degree in Graphic Design last December. 
Purposeful art
"The exhibit showcased all the projects created by the graphic design and studio art majors," explained Pace, whose submission was titled Unwind: A Toolkit for Worried Kids. "My project was more personal than most, focusing on anxiety in children. I designed a resource in its entirety to help anxious children learn and heal."
At Chippewa Valley High School, where she heard Sauriol speak, Pace was grateful a design teacher introduced her to Photoshop and Illustrator, allowing her to elevate her former doodles to design concepts. She sharpened those skills at Macomb, learning both the creative and practical sides of graphic design.
"I loved going to Macomb," said Pace. "Every class I took in the MACA program taught me useful graphic design and illustration skills, all of which I use on a regular basis. My professors taught me so much and helped me build confidence in my abilities."
Meaningful design
Pace has worked throughout college and is currently employed as a graphic designer by Unity Real Estate and Northstar Manuals, where she creates a variety of content and has been deemed "Maker of all Things Beautiful" on Northstar's website. After taking a printmaking course at Oakland, she is incorporating the technique into her own artwork, which she spends time on at home in the company of her boyfriend, Mike, and her cat, Onyx. 
"I have a few projects I'm brainstorming right now that I plan to make into block prints," said Pace. "Having both fine art and graphic design classes has to be one of my favorite aspects of college."
When not designing for a living or creating personal artwork, Pace enjoys camping, cooking and antiquing, the last providing her with interesting finds for her new apartment.  
"My interior design style is definitely eclectic. I'm very into antiques, tons of pictures on the walls, and mid-century modern furniture," said Pace. "I like a combination of all kinds of things, and every piece of furniture or decor I have has some kind of meaning behind it."