Macomb to Ferris was one of the best decisions I have made
Tuesday, November 01, 2022 12:00 AM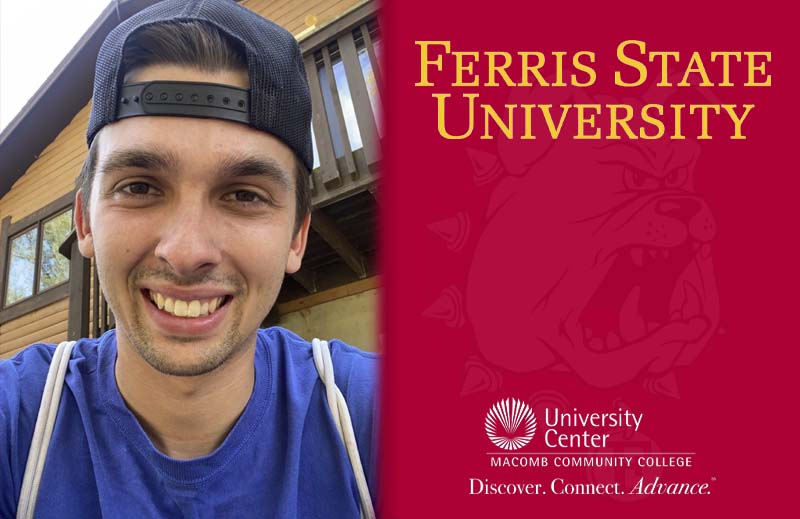 My experience as a transfer student from Macomb to Ferris State University has been nothing but a huge success. Macomb is a great college and it prepared me to get where I'm at today. 
I had no idea what I wanted to do with my life when I started taking classes at Macomb in 2016. I simply went to college because that's what was expected of me and what everyone else was doing. However, it was one of the best decisions I could have made. And so was transferring to Ferris.
It was at a transfer fair that Catherine Belkowski (Ferris outreach coordinator at the University Center)* explained to me what Ferris is all about and why it was a great school. Her kindness and confidence in the information she shared really meant a lot to me when I was just a young guy fresh out of high school. I owe a lot of my future to her continuous support and encouragement.
I'm now majoring in Business Administration at Ferris, taking many of my classes online. I'm grateful for the opportunity to take these classes in a virtual environment because I can make it work with my work schedule and extracurricular activities. The Macomb to Ferris transfer program is something that everyone should consider looking into. 
I will be graduating this December with my bachelor's degree! It took me longer than I had planned because of finances and trying to balance a lot of things in my life, but, against all odds, here I am. I'm proud to be a bulldog!
*The University Center on Macomb's Center Campus offers bachelor's and master's degree programs in partnership with 10 colleges and universities, including Ferris State University.  Students transfer into a bachelor's degree program with a minimum of 60 credits earned at Macomb or elsewhere. The Business Administration program that Dylan is graduating from, however, offers most of its classes online and at South Campus.