Charles Havern
Monday, January 03, 2022 08:00 AM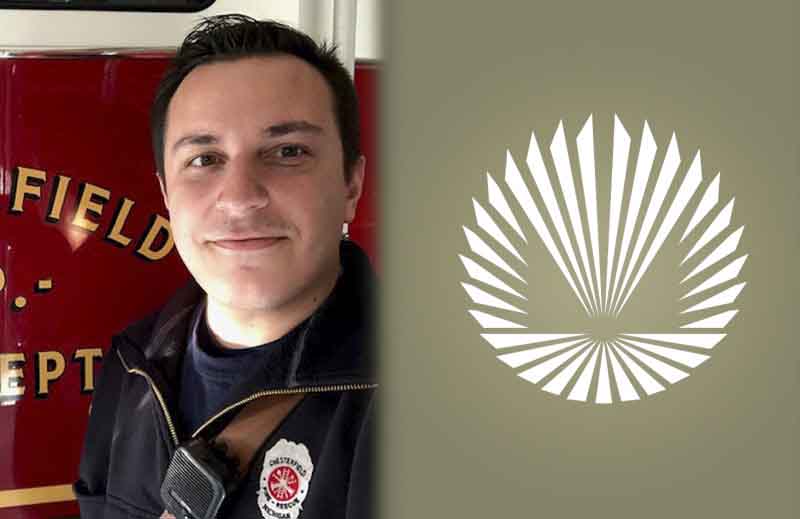 Discovering a new port of call
Charlie Havern thought he was sailing toward a career as a restaurant chef when he graduated from Macomb in 2019 with an associate degree in culinary arts and a lasting friendship with Professor Chef Scott O'Farrell. But a job cooking in the galley of a cruise ship with port of calls in the Hawaiian Islands sent him in a completely different direction.
"While out on the ship, I decided to join the fire team. I thought it would be a good way to get to know people," relates Havern. "On my first day of training, I absolutely fell in love with it. It was like a spark went off and I knew what I was destined to do."
Still, working on the cruise ship was an "amazing experience," acknowledges Havern, who enjoyed swimming in the tropical waters and the smiling faces of passengers and crew. As he was returning from what would be his last cruise, however, COVID-19 was beginning to roll over the world like a tsunami in slow motion. Fearing he would be stranded in Hawaii indefinitely, Havern flew home to be with his close-knit family in Warren. He had already been researching fire academies while aboard ship and knew just what he wanted to do next.
From chef's toque to firefighter's helmet
"I was accepted into Macomb's Fire Academy, which ran from March-May of 2021," says Havern. "I have never pushed myself physically or mentally that hard, and I finished number two in my class. I owe a huge thank you to Dan Reynolds (Fire Academy instructor). He helps you succeed because he wants you to succeed."
For his efforts, Havern was the first recipient of the Gerald B. Alward Scholarship for the Fire Academy, and he appreciates the chance he had to virtually meet the retired Washington Township fire chief who established it.
"Speaking to Chief Alward (who passed away in December) was a fantastic experience," says Havern. "He had so much insight and I think that he saw a lot of him in me."
"I love everything about this job."
In September, Havern was hired as a firefighter with the Chesterfield Fire Department. He works 12-hour shifts, 7 am to 7 pm, and has already been handed the fire hose on the frontline of a building fire.
"The fires have burned hotter and darker that I expected. But, still, I come home and think to myself how much I enjoy this work. It's such an adrenaline rush when you knock out a fire," offers Havern. "But one of my favorite things is talking with the crew from the night before."
And then, there's his turn in the station's kitchen, which seems to come up frequently.
"No problem with that, it's like cooking for family," says Havern, who has five younger and five older siblings. "I love everything about this job. It's what I was born to do."