Alexis Perry
Thursday, April 15, 2021 08:00 AM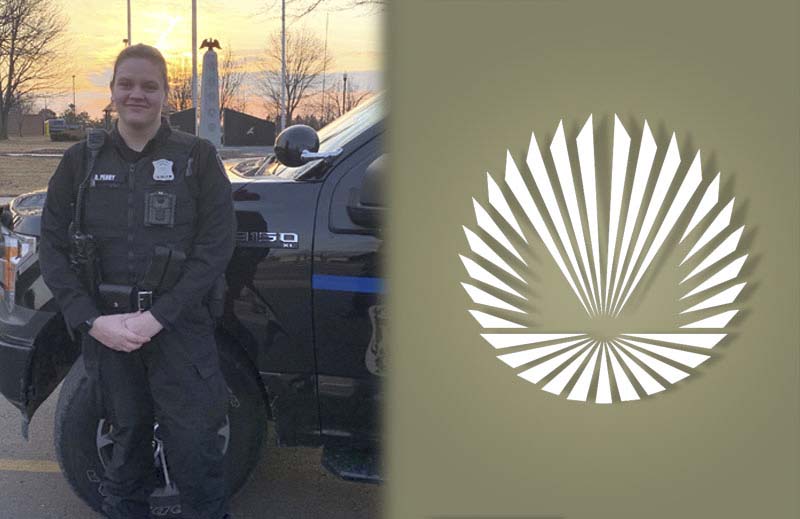 As a student at Benzie Central High School near Traverse City, Alexis Perry rode with the local police several times to clock observation hours for her government classes. By the time she graduated in 2018, she decided to turn those class assignments into a career.
"I have always wanted to make a difference in the lives of others. I felt that being a police officer was the best way to do that," says Perry. "My family has supported me day after day as I pursue this career. There are not enough words to thank them for everything that they have done for me."
Perry earned associate degrees in law enforcement and homeland security from Lake Superior State University before deciding to move downstate and complete her training at Macomb's Police Academy.
"I have family in the area, so I could stay with them while I was in the academy," says Perry. "But being in the police academy meant that I couldn't work for four months. I had many bills to pay and had to use my savings for that."
Her initial plan was to return to home turf after completing the academy and apply for positions with local police departments. But after receiving the Law Enforcement Education Program and Michigan Schools and Government Credit Union scholarships, and prompted by a job offer from the Woodhaven Police Department, Perry was inspired to take a huge leap from her comfort zone and immediately realize her dream of becoming a police officer.
"The scholarships I received meant everything to me," says Perry. "I was able to use the scholarships to build my savings back up and make the move from the Traverse City area to downriver. I will also use them to finish my bachelor's degree."
In the future, Perry would like to explore opportunities in either a narcotics' or school resource officers' unit.  And, with experience and an advanced degree, she hopes to progress to a leadership position in law enforcement.
"I feel that Macomb's Police Academy has prepared me for the job," says Perry. "The director, Mike Ciaramitaro, made it even better with the different experiences he exposed us to."
As might be expected of someone growing up in the northern part of the lower peninsula, spending time in nature "is ingrained in me," says Perry, and the move to suburbia provided for some culture shock.
"It is very different down here as opposed to northern Michigan, but the department has welcomed me and has provided more support than I could ever expect," says Perry. "I have been learning so much and being able to see my hard work over the past few years actually being utilized is truly amazing."