Assessment of Student Learning Outcomes
Assessment is an on-going process that provides evidence of student performance and learning at the institutional, program and course levels. Information gathered through the assessment process is used to implement new strategies and to strengthen student learning and educational experiences.
As part of the commitment to continuous improvement through assessment, Macomb Community College participates in the Voluntary Framework of Accountability (VFA). The VFA project is dedicated to providing metrics for community colleges to help share important information to all interested parties.
Macomb has followed the National Institute for Learning Outcomes Assessment Transparency Framework for providing assessment information. For information on Macomb's assessment activities, click on the links in the left-hand column.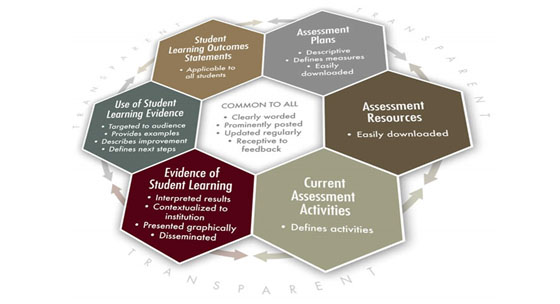 Definitions
Student Learning Outcomes
Student learning outcomes are statements identifying the knowledge, skills and abilities students will be able to demonstrate upon completion of the course or program of study.
Assessment Plans
Campus plans for gathering evidence of student learning might include institution-wide program or course-specific approaches that convey how student learning will be assessed, the data collection and approaches that will be used, and the timeline for implementation.
Assessment Resources
Assessment resources encompass information or training provided to faculty and staff to help them understand, develop, implement, communicate, and use evidence of student learning.
Current Assessment Activities
Current activities include the on-going strategies faculty participate in to improve and maintain student learning.
Evidence of Student Learning
Evidence of student learning includes results of assessment activities. The evidence may be indirect (e.g. surveys) and/or direct (e.g. portfolios), as well as institutional performance indicators (e.g. licensure pass rate).
Use of Student Evidence
This component represents the extent to which evidence of student learning is used to identify areas where changes in policies and practices may lead to improvement and inform institutional decision-making, problem identification, planning, goal setting, faculty development, course revision, program review, and accountability or accreditation self-study.
National Institute for Learning Outcomes Assessment. (2011). Transparency Framework. Urbana, IL: University of Illinois and Indiana University, National Institute for Learning Outcomes Assessment (NILOA). Retrieved from: https://www.learningoutcomesassessment.org/ourwork/transparency-framework/