Macomb Community College pitch contest showcases innovation of students from the college and local high schools
Friday, April 28, 2023 09:00 AM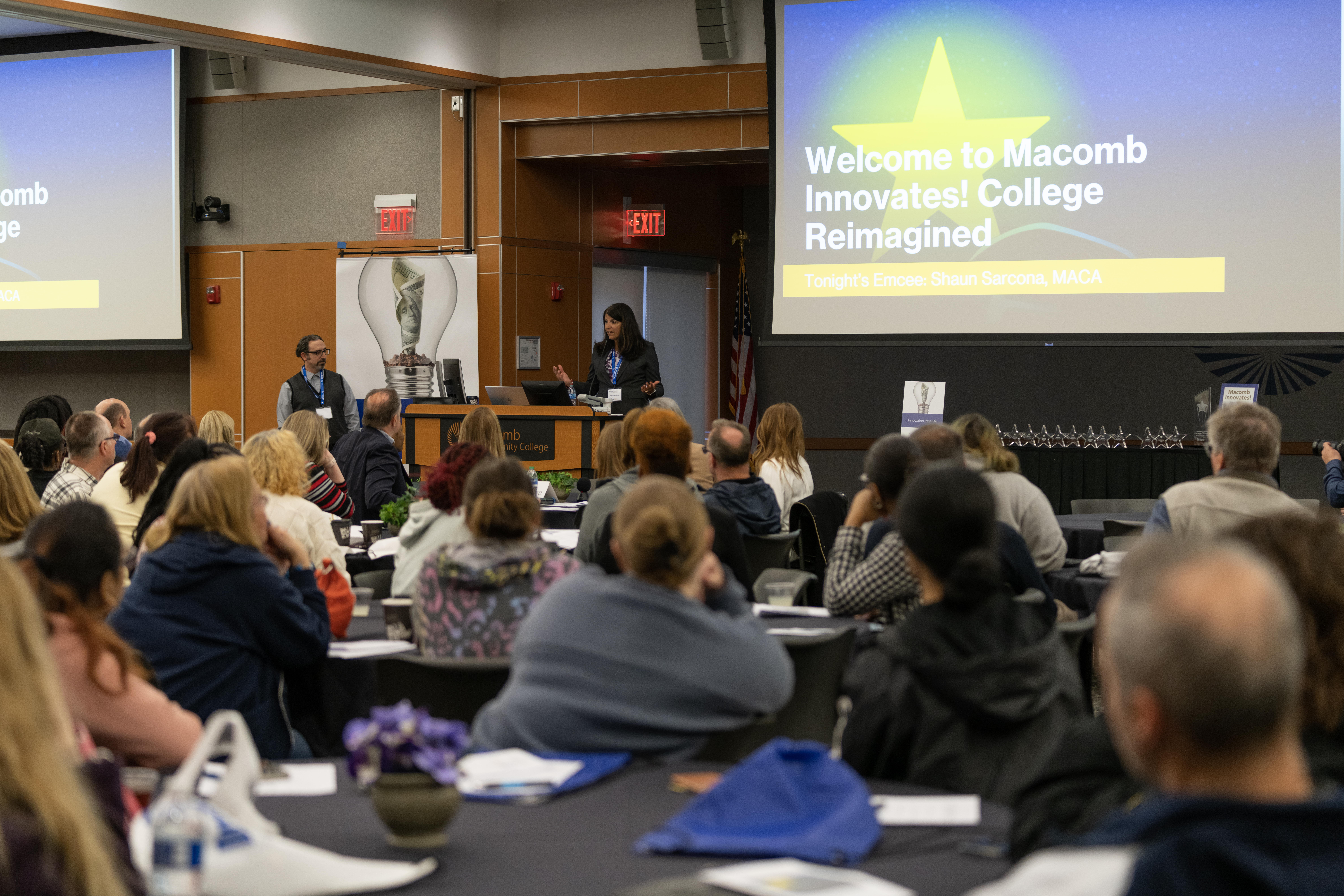 Macomb Community College pitch contest showcases innovation of students from the college and local high schools
Macomb Community College's Center for Innovation and Entrepreneurship recently hosted Macomb Innovates! College Reimagined, a student pitch contest for students from Macomb and two local area high schools. Their challenge was to address declining college enrollment, with the students presenting ideas from virtual reality through mentorship programs to reshape the face of the college experience.
"The goal of Macomb Innovates! was to inspire students to be entrepreneurial through a fun competition, showcasing their creativity in a community event," said Ellen Lux, director, Center of Innovation and Entrepreneurship, Macomb Community College. "The students didn't disappoint. Their ideas were certainly innovative. Ultimately, the winners were only a few points apart in the final competition."
Three Macomb students competed in the college division, and six teams of two from Chippewa Valley High School and Dakota High School competed in the high school division. Each of the students in the college division and each high school team was tasked with developing an idea to maintain and increase college enrollment. To demonstrate their idea, each competitor developed a one-minute TikTok video prior to the competition to submit to the judges. The students pitched their ideas in front of a panel of three judges who graded each pitch on the quality of the idea, whether the TikTok was engaging and the professionalism of the presenters.
The Chippewa Valley High School team of Mia Apone, 17, and Madi Stewart, 18, both of Clinton Township, took first place in the high school division with their concept for updated classrooms utilizing technology and natural light to make classrooms more engaging. They noted their chief obstacle was imagining themselves as college students.
"Our biggest challenge was trying to relate to a college student as we're still in high school," said Stewart, who graduates this year and plans to attend Grand Valley State University in the fall. "So it was important to put yourself in other people's shoes to see what we can all relate on."
"There were points where we were very frustrated, and we pushed through it and had a good outcome," added Apone, who also graduates this year but is undecided about her next steps. "It was important for us to just keep working through the problems we faced."
Toni Foust, 35, of Warren, was the winner in the college division. Her idea included having the college provide transportation to help students not only attend classes and study sessions but also participate in extracurricular activities, all managed by an app.
"Being one of four daughters, we were always fighting for Mom and Dad to take us places. That was always one of my biggest problems," said Foust, who graduates in May with an associate degree in business management. "I hope to be a manager somewhere. I haven't decided if I want to be a business owner or not, but I feel I have strong skills enough now to put me where I want to be regardless of what I choose."
The two high schools also competed for the 2023 Macomb County Rising Stars trophy, which was based on the aggregate scores of all the competitors for that particular school.  Chippewa Valley High School took home the trophy for display in their school's trophy case.
All high school students participants and the college division winner received a $500 award from the Macomb Community College Foundation for use at the college for tuition, fees and books. The high school competitors also took home individual Rising Star trophies designed by the college's Media and Communications Arts program.
In addition to the pitch contest, attendees could visit the Macomb Makerspace exhibit and compete in a Sphero obstacle course, see media and communications arts student projects, grab a hot dog from the student-run hot dog stand, and visit the Center for Innovation and Entrepreneurship.
About Macomb Community College
Macomb Community College (www.macomb.edu) is about transforming lives and communities through the power of education, enrichment and economic development. Macomb grants the largest number of associate degrees in Michigan and is the largest community college in the state. The college provides programming for youth through seniors, including early college for high school students, university transfer and career preparation programs, workforce education, continuing education and certification, and a wide range of enrichment opportunities encompassing arts, culture and lifelong learning.
Media contact: Sean M. Patrick, 586.445.7271, patricks28@macomb.edu