Lorenzo Cultural Center's new program series highlights post-World War II societal change through presentations, performances and exhibits
Monday, February 27, 2023 01:00 PM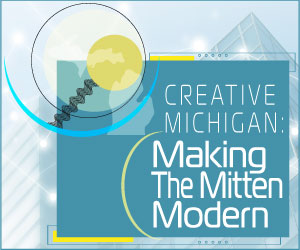 Lorenzo Cultural Center's new program series highlights post-World War II societal change through presentations, performances and exhibits
Creative Michigan: Making the Mitten Modern – runs through April 29
The post World War II era in America was a time of dynamic, creative change, impacting everything from furniture, architecture, car design and music. The Lorenzo Cultural Center, located on Macomb Community College's Center Campus, examines Michigan's pivotal role from 1945 to 1969, an intense period of imaginative advances, in Creative Michigan: Making the Mitten Modern, through April 29.
"The Lorenzo Cultural Center's Creative Michigan program showcases the state as innovator and incubator of modern design and music in the post WWII era," said William Wood, director, Cultural Affairs and Community Engagement, Macomb Community College. "We are offering a great slate of presentations, performances, artifacts and exhibits that will immerse visitors into this intense period of creative advances."
Nearly 20 presentations and performances are complemented by the exhibits in the cultural center's 8,500-square-foot Discovery Hall. Topics range from the evolution of Motown and revolutionary automotive design to Detroit's magnificent movie palaces. Highlighting the program series is Museum Theater, featuring an original play commissioned by the cultural center, In the Driver's Seat - The Female Innovators of Auto Design, which will be performed by local professional actors, March 11 at 1 p.m., March 29 at 11 a.m. and April 28 at 11 a.m.
Presentations include:
March 15, 11 a.m. - Auto Design Post WWII: Detroit was home to some of the most well-known auto designers of the time including McKinley Thompson Jr., Harley Earl and Suzanne Vanderbilt. Ben Coleman, associate curator of American art at the Detroit Institute of Art, will discuss the Michigan auto design world after World War II.
April 1, 1 p.m. – The Life of Gwen Frostic: Art, Business and Nature Coincide – Lyndsey McDivitt, a writer and advocate for intergenerational understanding, chronicles the life story of Gwen Frostic, a nature artist and environmentalist from Michigan who did not allow stereotypes about gender, disability or age define her.
April 14, 11 a.m. -- Motown: Music That Moved the World: Using both audio and visual content, Gary Wenstrub will trace the musical journey of Motown from the power of soul to psychedelic soul through pop soul.
While presentations are free to attend, registration is required. Go to www.lorenzoculturalcenter.com for a complete list and description of all presentations and to register.
A traveling photo exhibit, Michigan Modern, presents a series of 50 photographs taken by James Haefner and is featured in Discovery Hall. The exhibit celebrates Michigan's role in the evolution of modern architecture and design history. Haefner, an accomplished automotive advertising photographer, will be joined on April 29 at 1 p.m. by Brian Conway, Michigan State Historic Preservation Officer, to discuss the Michigan Modern Initiative.
Artifacts from the era are also on display in Discovery Hall and are on loan from the Detroit Historical Museum, Alden B. Dow Archives, The Henry Ford and private collectors including Jim Haefner, Debbie Remer, Ed Rice and Lois Jackman. Visits to Discovery Hall to view the exhibits do not require advance registration. The Lorenzo Cultural Center is open Tuesday – Saturday, 10 a.m. – 4 p.m.
Creative Michigan: Making the Mitten Modern is sponsored by First State Bank, with additional support from the Fred A. and Barbara M. Erb Family Foundation, Oliver Dewey Marcks Foundation, The Kresge Foundation and the Sonya K. Brett Memorial Endowed Fund for Cultural Enrichment Programs.
About the Lorenzo Cultural Center
The Lorenzo Cultural Center provides interactive learning opportunities for all ages. It extends student discovery beyond classroom walls as well as creating multi-faceted opportunities for community members to explore the influences and experiences that shape our heritage. The Lorenzo Cultural Center is located on Macomb Community College's Center Campus, 44575 Garfield Road, Clinton Township. More information is available at www.LorenzoCulturalCenter.com
About Macomb Community College
Macomb Community College (www.macomb.edu) is about transforming lives and communities through the power of education, enrichment and economic development. Macomb grants the largest number of associate degrees in Michigan and is the largest community college in the state. The college provides programming for youth through seniors, including early college for high school students, university transfer and career preparation programs, workforce education, continuing education and certification, and a wide range of enrichment opportunities encompassing arts, culture and lifelong learning.
Media contact: Sean M. Patrick, 586.445.7271, patricks28@macomb.edu