Congressionally directed spending supports Macomb Community College initiatives to expand apprenticeship opportunities
Tuesday, February 21, 2023 01:00 PM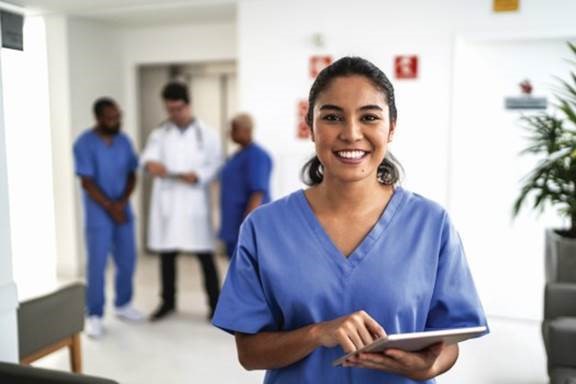 Congressionally directed spending supports Macomb Community College initiatives to expand apprenticeship opportunities
College introducing health care apprenticeships and continuing important pre-apprenticeship program for advanced manufacturing and construction
With the support of congressionally directed spending appropriations, Macomb Community College is introducing a new health care apprenticeship initiative and continuing the college's MAP+ Industrial Readiness program, a proven approach to successfully acquaint high school students to apprenticeship career pathways in advanced manufacturing and construction. The health care apprenticeship initiative is being funded by $2.6 million secured by Sen. Debbie Stabenow. The MAP+ program continuation is supported by a $610,000 appropriation through Sen. Gary Peters.
"Ensuring that our community's residents have access to the training and support to succeed and prosper in the 21st century workforce, and that local employers have the talent necessary to sustain and grow their businesses is an imperative for Macomb Community College," said James O. Sawyer IV, president, Macomb Community College. "We're deeply appreciative of the advocacy and action of Sens. Stabenow and Peters to secure critical financial resources that further our work in these areas."
Healthcare apprenticeships
While apprenticeship is well known in the skilled trades and manufacturing sectors, the model is not common in the health care sector. Macomb's three-year apprenticeship initiative is designed to create a pathway to opportunity and sustainability both for individuals and area health care organizations. Beyond promulgating the apprenticeship model in the southeast Michigan health care sector, the program is targeting 60 completed apprenticeships during the period.
 "Michigan businesses are ready to hire," said Stabenow. "I am excited that this investment will expand career paths for young people and create new opportunities in health care and manufacturing. Macomb Community College has been at the cutting edge of innovative workforce training, and this investment is a win-win for the college and our workers."
From Day One, an apprentice's classroom and hands-on training is integrated, providing the opportunity to earn while learning, preparing for entry level patient-centered or business-oriented health careers. The initiative involves eight programs ranging from six weeks to one year and at least 2,000 hours of on-the-job instruction. The apprentice will incur no cost for tuition, books, laptops, uniforms and background checks. Students benefit from immediate earning potential and a jumpstart into in-demand jobs while building a valuable relationship with an employer, positioning themselves for career advancement and earning a nationally recognized industry credential. Some will achieve their career goal with completion of the entry level program, while others will use it as a stepping-stone to continue their education, enhance skills and advance into higher level opportunities in health care fields.
For health care employers, apprenticeship provides an effective way to address current staff and skill shortages by growing talent that meets their specific needs, while fostering long-term connections with highly trained employees.
Cornerstone Medical Group, a multispecialty group of more than 80 primary care physicians and specialists at locations throughout Metro Detroit, has been partnering with Macomb Community College for more 15 years, accepting externs from the college's Medical Assistant program. Cornerstone is the first employer partner in the health care apprenticeship initiative to go through the process of completing a Registered Apprenticeship with the Department of Labor (DOL) and work with a Macomb apprentice.
Erin DeChambeau, director, Human Resources, Cornerstone Medical Group, points out that the benefits of the apprenticeship model accrue both to the employer and the community.
"It helps us, because we're expanding our talent pool – going out there and looking for the right people to bring into our organization," said DeChambeau. "But for the community, offering that training is awesome. The earning while learning piece is huge. It gives a wide variety of people who may not have been able to become a medical assistant without the ability to start earning while they are learning."
Macomb's health care apprenticeship programs
Certified medical reimbursement specialist: Handles claims management and medical billing
Certified professional coder: Updates patient records with standardized information needed for data management and billing purposes
Certified nursing assistant: Under the direction of a nurse, monitors patients' vitals, assists patients in daily living activities, and ensures patients are safe and comfortable
Dental Assistant: Takes vitals, reviews patient histories, prepares patients for treatment, assists dental hygienists and dentists, sterilizes instruments
Laboratory assistant: Assists medical lab professionals in processing clinical specimens for distribution
Medical assistant: Assists in administrative and clinical duties in medical offices and clinics
Pharmacy technician: Compounds drugs, dispenses medication, prepares or mixes intravenous drugs, transfers prescriptions
Phlebotomy: Draws blood from patients and prepares the samples for testing
For more information about health care apprenticeship, email jurya707@macomb.edu.
 MAP+ program
Macomb's MAP+ program (Michigan Apprenticeship Program Plus) was created in 2016 with funding through the DOL American Apprenticeship Initiative. From 2016 to 2021, the college registered 375 apprentices representing 41 employers in the region and served 452 pre-apprentices.
"Apprenticeships are important pathways to prepare students for good-paying jobs and to help businesses find qualified employees to fill positions in our state's growing manufacturing sector," said Peters. "I'm proud to have helped secure this federal funding that will allow Macomb Community College to expand their efforts – which will benefit students, employers and southeast Michigan's economy for years to come."
The cornerstone of the program is working in collaboration with the Macomb Intermediate School District to create a pipeline of students interested in the region's robust construction and manufacturing sectors, which is experiencing skilled workforce shortages across all industries including automotive, aerospace and defense. The MAP+ Industrial Readiness program is provided at no cost to students to prepare them with fundamental skills - including shop math, industrial safety, blueprint reading and hands-on training - to start an apprenticeship or career in manufacturing or the construction skilled trades. On successful completion of the classes, which are completed in one semester, students earn a certificate with nine credits that can be applied to an associate degree and are connected to employers seeking talent.  MAP+ is seeking students for this fall.
For more information about MAP+, email ahearns@macomb.edu.
About Macomb Community College
Macomb Community College (www.macomb.edu) is about transforming lives and communities through the power of education, enrichment and economic development. Macomb grants the largest number of associate degrees in Michigan and is the largest community college in the state. The college provides programming for youth through seniors, including early college for high school students, university transfer and career preparation programs, workforce education, continuing education and certification, and a wide range of enrichment opportunities encompassing arts, culture and lifelong learning.
Media contact: Jeanne Nicol, 586.445.7204, nicolj@macomb.edu.