Amy Jackson
Monday, December 13, 2021 08:00 AM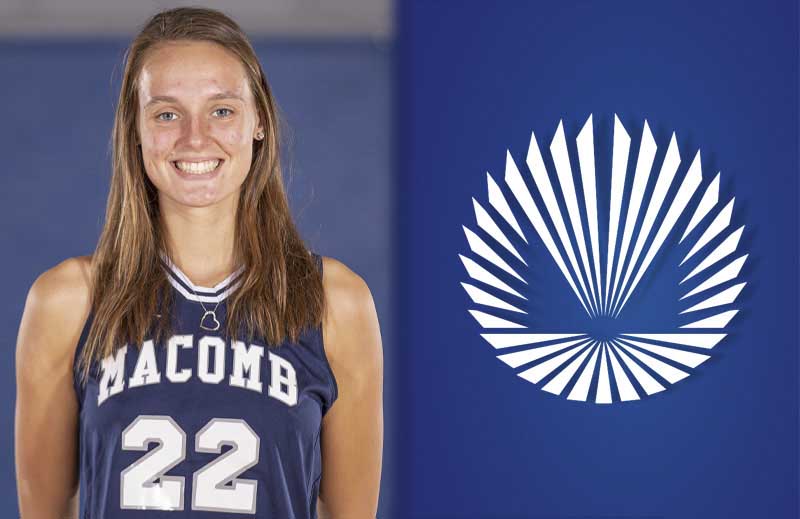 Amy Jackson has been playing basketball since she was four. But even after setting a record for earning varsity letters (17) at Flat Rock Community High School and being named Female Athlete of the Year 2018-19 by Monroe Evening News, she didn't think she was good enough of an athlete to make a college team.
A Macomb basketball coach, however, thought otherwise after watching her play with The Factory, an Amateur Athletic Union travelling basketball team.
"Before I knew it Coach (Jay) Ritchie officially told me they wanted me on (Macomb's) team," says Jackson. "Macomb's women's basketball team was undefeated that year and on its way to the nationals. Not only did a college team want me, but a college team that was successful."
An incredible feeling
Jackson is playing her second season as forward and is team captain. As of mid-December, the lady Monarchs had a 6-4 record, with Jackson scoring an average of 15.5 points per game, 150 total. She also runs cross-country for Macomb and made the All-Region Team last year, as well as Michigan Community College Athletic Association Academic All-Conference teams in both cross-country and basketball.
Although Jackson came to Macomb intending to play only basketball, her favorite sport and "only hobby," an invitation to join the cross-country team was too good to pass up.
"I was all over it because I had been running cross-country since middle school to get myself in shape for basketball," says Jackson, who also competed in volleyball, softball, bowling and track while in high school and had the fourth best time running the 5K in Flat Rock's history. "Being part of a team is something special. Being able to celebrate with a group who shared the same experiences as me – it's an incredible feeling."
Like any other 19-year-old
Commuting from her home in Flat Rock was the least of Jackson's worries when she started at Macomb. She stressed over maintaining good grades as she transitioned from high school to college, and online learning, necessitated by the pandemic, was equally intimidating.
"But the transition was made so easy by the amazing professors I've had," says Jackson, who hopes to play basketball for a four-year school, where she plans to major in sports management. "They've all been so understanding, and so easy to approach."
During the pandemic, Jackson made good use of the hoop in her driveway, playing against her dad, brother and sister. A country music fan, she frequently listens to rap or other "pump me up" music when she's training. Competitive by nature, there are still times when "like any other 19-year-old, I just want to be lazy," she says.
"When I am in that mood, I enjoy watching Netflix, hanging with my boyfriend, friends and family," says Jackson, "and playing with my dog Rosie, I love her so much."