Brooke Jankowsky
Thursday, May 05, 2022 12:00 AM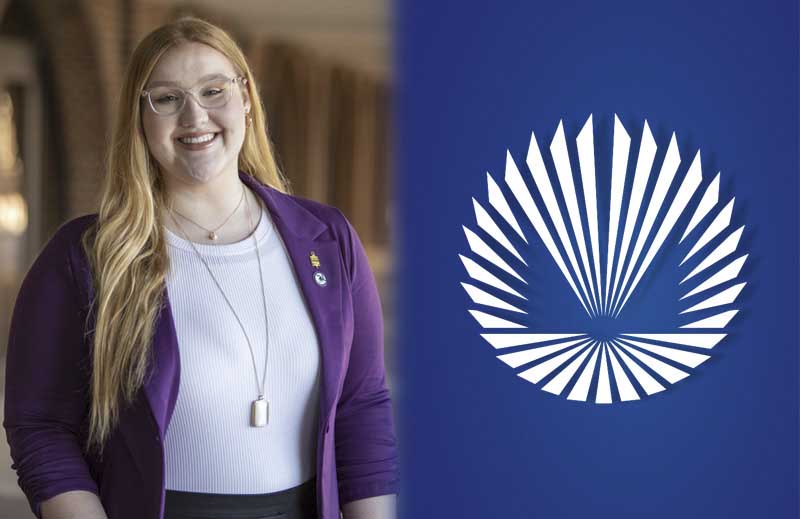 Somehow in between working on her second associate degree, a part-time job at C.J. Barrymore's, multiple responsibilities with Macomb's Phi Theta Kappa (PTK) chapter and being a vocal champion for community colleges, Brooke Jankowsky has found time to study piano.
"My sisters are musically inclined, but I am not," says Jankowsky, the eldest of three. "I wanted to pick up a skill that would help me connect with them."
The Chippewa Valley High School graduate began attending Macomb in fall 2020, unexpectedly receiving 30 credits for the Advanced Placement classes she'd taken in high school.
"I essentially completed a year's worth of classes before I ever stepped foot inside a college classroom," says Jankowsky, who earned her associate of arts degree from Macomb in 2021 at the age of 18. "Now I'm pursing a second degree in Business Administration."
Stanford-bound
With a master's degree in Business Administration from Stanford University as her goal, Jankowsky intends to transfer to Oakland University first to earn her bachelor's.  But she's holding off until she has taken every class she can at Macomb, and it's not only because of the lower tuition rate.
"I've had an incredible experience here," says Jankowsky. "I have had the chance to learn from some incredible faculty and I've made so many connections that I might have missed out on if I hadn't attended Macomb."
Many of those connections were made through PTK, which Jankowsky joined in February 2021. The international honor society for community college students requires a minimum grade point average of 3.5 from its members and annual service projects from its chapters. In 2021, Macomb's chapter took on the "false negative stigma" of community colleges with a multi-tiered promotional campaign that included testimonials from alumni.
Community college champion     
"My mom is a Macomb alum and my grandparents (Jim and Donna Healy) were employed at the college," relates Jankowsky. "All of them knew the value of community colleges and understood that Macomb truly works to enrich the lives of the residents around it."
For her work with PTK, Jankowsky received the Orlowski Award at the organization's annual conference held this spring in Denver. It recognizes exemplary service to the organization and is named after a PTK national officer who died of leukemia.  Only one award is given each year, voted on anonymously by those running for international office.
"This is an extremely special award," offers Jankowsky, "Mr. Orlowski truly exemplified the four pillars of Phi Theta Kappa: scholarship, service, leadership and fellowship."
And according to her peers, so, too, does Jankowsky, who was also elected a regional vice president at the conference in Denver and now represents 350 chapters in 13 states.
"Attending Macomb ended up being one of the best decisions of my life," she says. "This was absolutely the best move I could have made for my education, and I'm proud to attend a community college."