Silvana Palazzolo
Wednesday, May 05, 2021 08:00 AM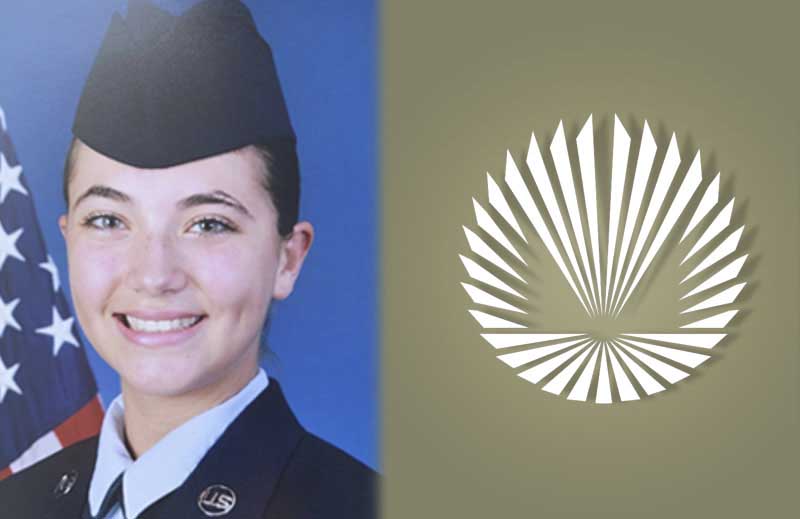 When Silvana Palazzolo graduated from Dakota High School in 2017, joining the military was not on her radar. That changed her second year at Macomb when she was drawn to enlist by an ad on Facebook for the Michigan Air National Guard.
"Joining the Guard has been the best choice for me personally," says Airman First Class Palazzolo, who signed on for a six-year stint in 2018. "It has provided me with travel opportunities, career progression, educational benefits and lifelong friends."
The Guard has been heavily called upon during the pandemic to, among other things, coordinate food distribution and COVID-19 vaccination sites nationwide. Assisting in these efforts locally are members of the 127th Wing at Selfridge Air National Guard Base, where Palazzolo is stationed.
"I work with the Air National Guard one weekend every month and two weeks a year, sometimes more depending on additional training days," relates Palazzolo, who just returned from 10 weeks of training at Sheppard Air Force Base in Texas. "My job responsibilities are providing the Air Force with combat-ready Reserve forces, while protecting and supporting our respective state of Michigan."
Training is a regular feature in the Guard, kicked off by the nine-week, make-or-break regimen that is required of all new enlistees in each branch of the service.
"It was physically and mentally demanding," acknowledges Palazzolo of the basic training she completed at Lackland Airforce Base in San Antonio. "But it was a transformative experience as I saw not only myself but my fellow airmen grow as individuals."
As a member of the Guard, Palazzolo can live in her own home and continue her education, both important considerations for her. She also works part-time as a waitress, as her Guard schedule allows. She is majoring in Criminal Justice, Information Assurance and Security, at Oakland University. Her credits from Macomb transferred smoothly and she also left with fond memories of quiet study time in the South Campus Library and an ongoing rapport with faculty.
"I truly enjoyed my experience at Macomb," says Palazzolo, who took all her general education and prerequisite courses at Macomb before transferring to Oakland. "The classes operated at a steady pace and the professors were always very helpful."
After she graduates with her bachelor's degree, Palazzolo would like to obtain a position in cybersecurity with the U.S. Government. She also intends to reenlist with the Guard and, although Selfridge has been a good fit and kept her close to family and friends, she wouldn't object to a reassignment.
"I love travelling, and If I could relocate anywhere, it would be Colorado or Florida. Polar opposites in terms of weather but both offer some of my favorite outdoor activities," says Palazzolo. "In addition, they both contain very well-run Air Force bases."