Macomb Community College unveils nearly $45M transformative renovation of Skilled Trades and Advanced Technology Center
Friday, August 11, 2023 01:00 PM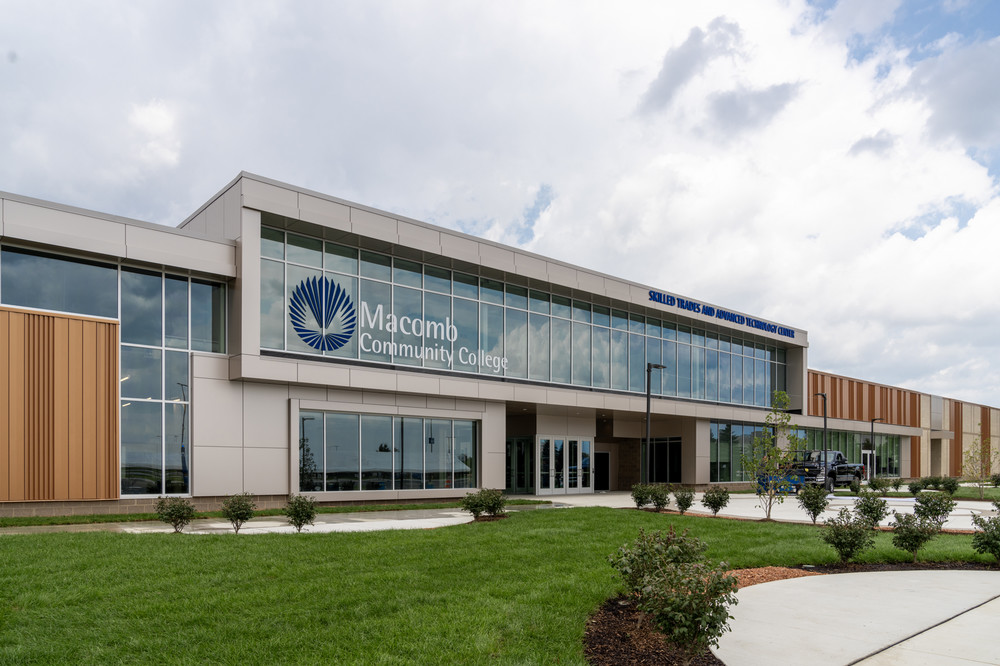 Macomb Community College unveils nearly $45M transformative renovation of Skilled Trades and Advanced Technology Center
Largest renovation in college's history increases capacity for addressing the skills gap and advancing the region's technical workforce powerhouse
Macomb Community unveiled its reimagined Skilled Trades and Advanced Technology Center, transforming a 1968-era building into a state-of-the-art 130,000-square-foot facility designed to foster educational and training experiences that replicate the synergies of today's world of work. The center is home to programs that prepare students for high-demand careers in advanced manufacturing, technology and the skilled trades. Located on the college's South Campus in Warren, it will open for fall semester classes, which begin on Aug. 21.
"We are kicking off a new era of technical education here at Macomb Community College," said James O. Sawyer IV, president, Macomb Community College. "The programs taught here prepare our residents for critical jobs in the region that sustain metro Detroit's legacy of a technical workforce powerhouse and that fuel the success of the local automotive and defense sectors."
While there is an already acute demand for highly skilled employees in manufacturing, technology and the skilled trades, job openings in these sectors are expected to continue to increase. In Macomb County over the next five years, anticipated growth spans a minimum of 1% for automated systems and robotics to 14% for 3-D modeling and design technology, with median annual earnings ranging from the mid $40,000 to low $80,000.*
"Macomb Community College is a leader in higher education and workforce development," said Macomb County Executive Mark Hackel. "This facility is a prime example of the college's ability to develop facilities and programs that help students thrive and support the ever-changing needs of industry."
Macomb's Skilled Trades and Advanced Technology Center optimizes the environmental infrastructure for teaching and learning that embodies the current impact of Industry 4.0, as well as the flexibility to readily adapt to the ongoing convergence of the physical and digital worlds this industrial revolution is driving. The goal is to develop a robust talent pipeline for industry and to prepare students who are immediately ready to contribute when they enter these careers with great futures.  Programs housed in the building include:
Apprenticeships
CNC machining
Drafting/ Computer-aided design
Electronics
Fluid power technology
Land surveying
Media and communication arts
Mechatronics
Product development (including digital sculptor/clay modeling)
Robotics
Welding
Classroom and lab spaces of related disciplines are physically located near each other, emulating the interconnectedness of modern industry. Some examples include the relationship of robotics to mechatronics, and clay modeling/ digital sculpting to product design.
In the same way, faculty from all program areas are located in one area to facilitate a close working relationship among disciplines. New student spaces were incorporated into the renovation to encourage gathering and engagement, further supporting development of soft skills such as communication, collaboration and problem-solving.  
The building also reflects modern industrial settings where poorly lit, closed-in areas have been replaced by bright, inviting spaces with windows and natural light.
Nearly $15 million of the total project cost was a capital outlay appropriation from the State of Michigan, with the remaining approximately $30 million covered by the college's capital projects fund. The project's architects were Hobbs + Black Architects, and Barton Marlow was the construction manager.
About Macomb Community College
Macomb Community College (www.macomb.edu) is about transforming lives and communities through the power of education, enrichment and economic development. Macomb grants the largest number of associate degrees in Michigan and is the largest community college in the state. The college provides programming for youth through seniors, including early college for high school students, university transfer and career preparation programs, workforce education, continuing education and certification, and a wide range of enrichment opportunities encompassing arts, culture and lifelong learning.
*Lightcast July 2023 labor market data.
Media contact: Sean M. Patrick, 586.445.7271, patricks28@macomb.edu