Macomb Community College Foundation celebrates donor impact at 2023 Donor Scholarship Luncheon
Tuesday, May 02, 2023 02:00 PM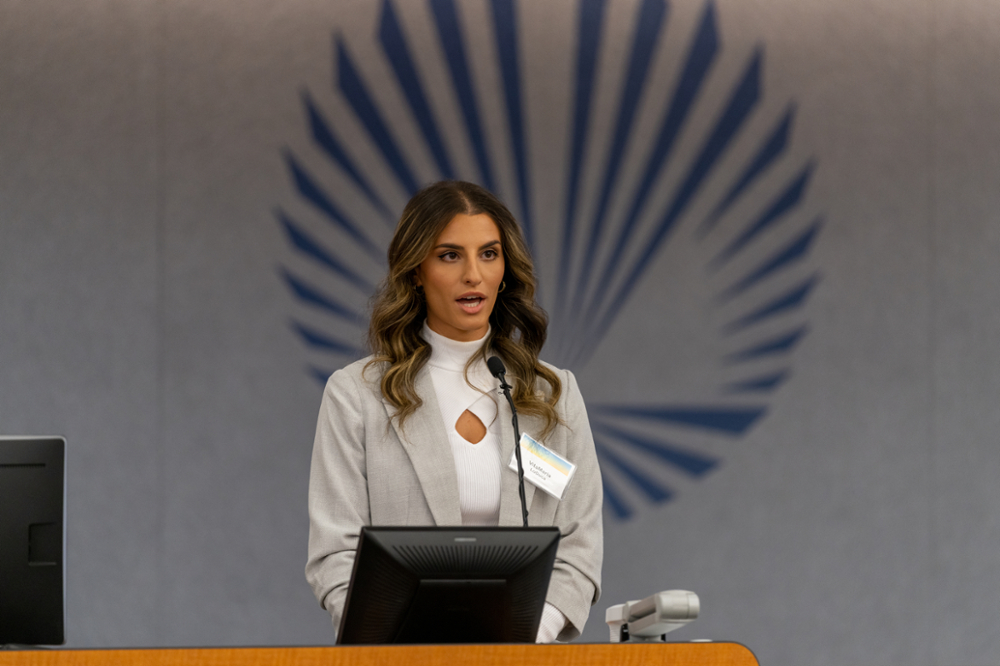 Macomb Community College Foundation celebrates donor impact at 2023 Donor Scholarship Luncheon
More than $350,000 in scholarships awarded to approximately 480 students last fiscal year
During the 2023 Donor Scholarship Luncheon, the Macomb Community College Foundation recognized donors whose generous contributions make an increasing number of scholarships available to current and incoming students at Macomb. Approximately 150 donors, students and college representatives attended the event held at the Lorenzo Cultural Center on the college's Center Campus in Clinton Township.
The college awarded more than $350,000 in scholarships to more than 480 students during last fiscal year, July 1, 2021, to June 30, 2022. Beyond scholarship programs, contributions to the foundation also support program funds, including arts and culture, that advance the college's mission of education, enrichment and economic development.
"This is really the one chance I get every year to extend my personal thanks both to you the donors and to our students for all the work they are doing to pursue their academic goals," said James O. Sawyer IV, president, Macomb Community College, during his introductory comments. "It's an opportunity for the donors to meet and hear the stories of the students they are supporting and get a sense for how their generosity is making a profound difference in those students' lives."
During his keynote speech, Adjunct Professor Darrett Pullins credited his parents for his passion for education and the desire to create two scholarships in their name.
"There reaches a point in time when one knows it is time to act in the same vein as those who allowed you to thrive and prosper," said Pullin. "Knowledge is the key to surviving, thriving and prospering, and I see no better way to contribute to society other than establishing a legacy of giving in my parents' name."
The student speaker, VitaMaria LoDuca, 22, of Clinton Township, is completing her classes this year for an associate degree in pastry arts. She will travel in Feb. 2024 to the Culinary Olympics in Stuttgart, Germany, as a member of Macomb's team prior to graduating. LoDuca received three scholarships, including the Vince & Joe's Gourmet Market Culinary Arts Scholarship, Elaine Belich Memorial Culinary Scholarship and The Louis Franchin Pastry Art Scholarship.
An avid baker since childhood, LoDuca's first job in the industry was at 15 handing out food samples at Vince & Joe's Gourmet Market before moving into their kitchen at 16. After high school she explored other potential careers options before returning to her first love and enrolling in culinary classes at Macomb. In addition to attending Macomb fulltime, she also runs her own business, Vita's Cakery.
"I want to say how thankful I am for everybody's help," said LoDuca. "I pay for my own schooling so to have financial assistance like that is a great help. I run a small business, and it's just me. I don't make crazy money or anything so to have this kind of assistance is very helpful."
New scholarships and program fund announced at the luncheon included:
Margaret Anderson Scholarship – Established to honor Economics Professor Margaret Anderson to support Macomb Community College students who wish to pursue studies in economics, business or finance.
DentaQuest Dental Science Scholarship – Provides financial assistance to students enrolled in either the Dental Hygiene or Dental Assisting programs at Macomb Community College.
Frank Johnson Utility Diversity Endowed Scholarship – Established to honor Frank Johnson on his retirement from Consumers Energy by Consumers Energy Minority Advisory Panel to provide financial assistance to students seeking education in areas that impact the talent pipeline for energy.
Brian Newman Accounting Scholarship – Established by Macomb Professor Brian Newman to provide financial assistance to accounting students to help them achieve their educational goals.
Par-Kut International Endowed Scholarship for Metal Fabrication – Established to provide financial assistance to students seeking education and training in careers related to metal fabrication.
PCS Company – Established by the PCS Company to support and promote students with a desire to build a career in the manufacturing industry.
Marie Rees Macombers Endowed Scholarship – Established by the family of Marie Rees to continue her legacy of support for the Macombers at Macomb Community College.
Summit Oral & Maxillofacial Surgery Scholarship – Established to support the education of dental hygienists and dental assistants to build the future of the dental profession in the community.
Paul B. Thacker Business Administration Endowed Scholarship and the Paul B. Thacker Information Technology Endowed Scholarship – Established to provide financial assistance to students, with one scholarship for students in business administration programs and one for those in the information technology programs.
Program Fund:
Business and Information Technology Program Fund – Established to provide awards to business and information technology tutors in addition to their wages upon achieving a required number of tutoring hours.
About Macomb Community College
Macomb Community College (www.macomb.edu) is about transforming lives and communities through the power of education, enrichment and economic development. Macomb grants the largest number of associate degrees in Michigan and is the largest community college in the state. The college provides programming for youth through seniors, including early college for high school students, university transfer and career preparation programs, workforce education, continuing education and certification, and a wide range of enrichment opportunities encompassing arts, culture and lifelong learning.
Media contact: Sean M. Patrick, 586.445.7271, patricks28@macomb.edu