Nearly 200 employers looking to hire at Macomb Community College Spring Job Fair April 13
Monday, March 27, 2023 09:00 AM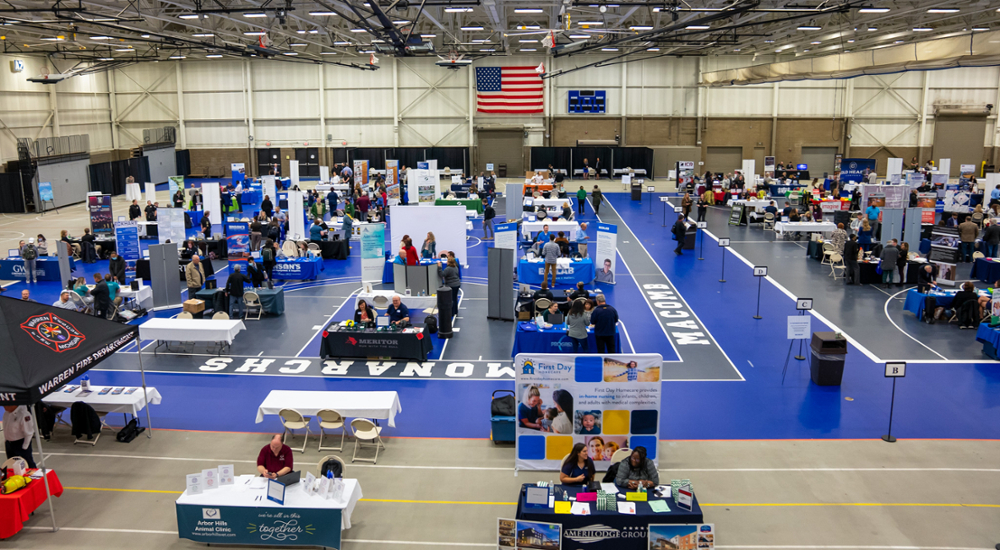 Nearly 200 employers looking to hire at Macomb Community College Spring Job Fair April 13
Macomb Community College will hold its annual Spring Job Fair from 4 to 7 p.m. on Thursday, April 13 at the college's Sports & Expo Center on Macomb's South Campus in Warren. Co-sponsored by the City of Warren, the job fair offers community members the opportunity to connect with approximately 200 employers looking to hire for both full- and part-time positions. The Spring Job Fair is free and open to the public with no registration required.
Employers participating in the job fair include Cintas Corporation, Eckhart Inc., Judson Center, Lear Corporation, Macomb County, Magna International, Michigan State Police, Waltonen Engineering and Wayne County. For a full list of employers participating in the job fair, go to www.macomb.edu/jobfair.
"The job fair has been an effective networking opportunity that often leads to sustainable employment for job seekers and a stronger workforce for the employer," said Robert Penkala, director, Career Services, Macomb Community College. "I would advise those attending the job fair to dress in business attire, bring plenty of resumes and be prepared for on-the-spot interviews."
Additional resources will also be available on-site, including Macomb's Office of Veteran and Military Service, Michigan Works! and several of Macomb's partner universities with more information on the programs they offer.
For more information on the Spring Job Fair, contact Career Services at Macomb Community College at careerservices@macomb.edu or call 586.445.7321. 
About Macomb Community College
Macomb Community College (www.macomb.edu) is about transforming lives and communities through the power of education, enrichment and economic development. Macomb grants the largest number of associate degrees in Michigan and is the largest community college in the state. The college provides programming for youth through seniors, including early college for high school students, university transfer and career preparation programs, workforce education, continuing education and certification, and a wide range of enrichment opportunities encompassing arts, culture and lifelong learning.
Media contact: Sean M. Patrick, 586.445.7271, patricks28@macomb.edu