Macomb Community College announces registration open for spring MORE semester beginning March 27
Thursday, March 16, 2023 01:00 PM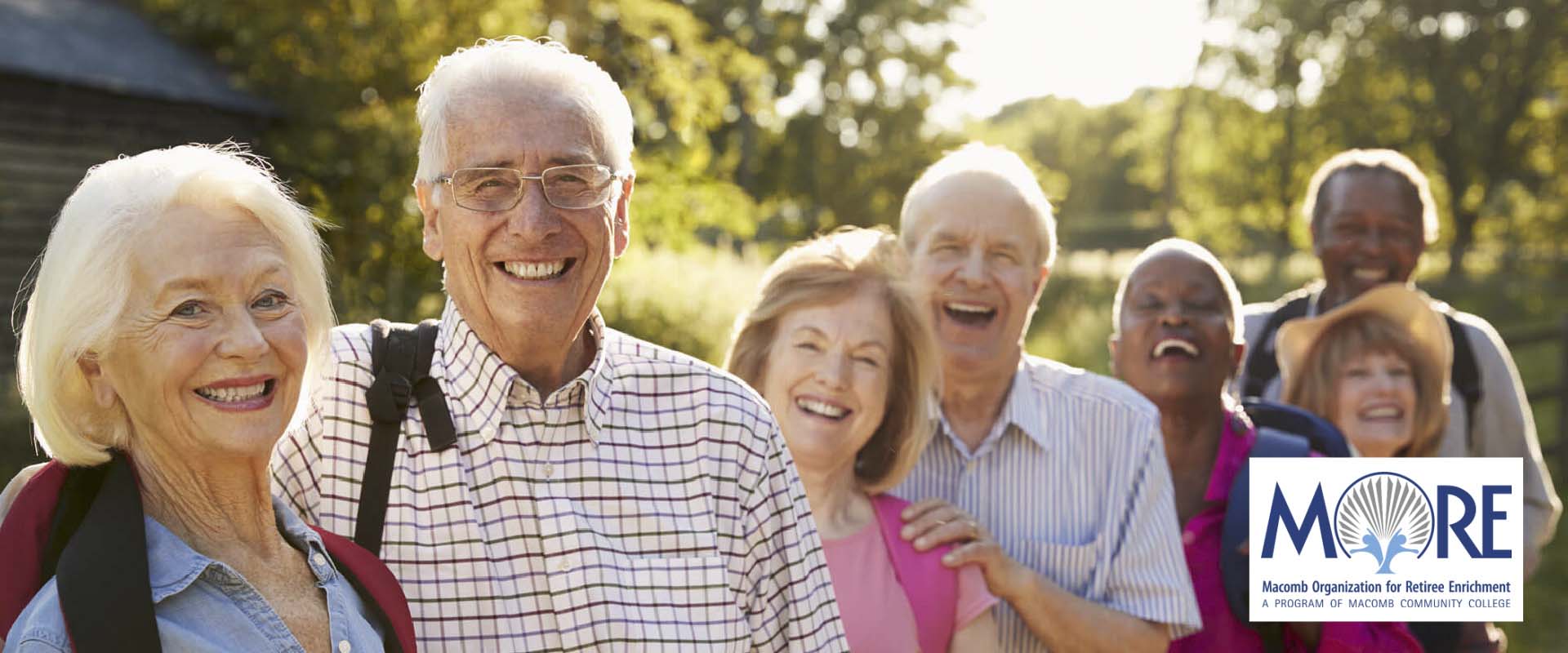 Macomb Community College announces registration open for spring MORE semester beginning March 27
MORE offers 62 short, noncredit courses including nature, arts, history and health and wellness
The Macomb Organization for Retiree Enrichment (MORE), a lifelong learning initiative from Macomb Community College, will offer 62 courses including six event outings during its spring semester March 27 through May 18. The courses range from local history to science and nature to health and wellness to personal fulfillment. 
"The drive for learning never stops," said William Wood, director, Cultural Affairs and Community Engagement, Macomb Community College. "We develop courses that engage our members and enlighten the senses. Our members have told us what they are looking for and we are continually responding with new courses and refreshing the favorites to provide the learning and social experience our members expect."
Each course lasts approximately two hours with up to 30 minutes reserved for a question-and-answer period and is taught by experienced subject matter experts. MORE members can choose from among three class packages, giving each member the flexibility to take as many or as few courses as they like at a reasonable cost. Members can register for 14 classes for $91, 10 classes for $78, or six classes for $54. Packages can be combined for even more classes. 
Highlights of the spring semester include:
FBI 101 Overview: Community Outreach Specialist Will Council will discuss the FBI history, structure, mission, and investigative techniques and provide a hands-on demonstration of FBI vests and how they are used.
A Day in the Life of an Adventure Photographer: David David, adventure photographer and founder of the Outdoors for Everyone Project, shares tips, tricks and insider secrets from some of his most popular imagery. Hear of his experiences in the wilderness, in the national parks, and seeing and photographing wildlife in 120-degree heat and 19-degree cold.
When Presidents Traveled by Train: Learn about the history of presidential train travel through the presenter's, Radford Jones, personal photos and experiences protecting six presidents and foreign heads of states. Jones retired as special agent in charge of the Michigan Division, U.S. Secret Service; retired from Ford Motor Company as the manager of global security and fire protection; and 17 years as instructor, School of Criminal Justice, Michigan State University.
Butterflies of Michigan Hike: MORE offers the opportunity to get outdoors at the Stoney Creek Metropark Nature Center where participants learn to recognize and appreciate some of Michigan's most common spring butterflies. The short program and walk are led by Erin Parker, eastern district interpretive services supervisor for Huron-Clinton Metroparks.
Other outings include the Ford Motor Company Piquette Avenue plant museum tour the Packard Proving Ground Tour and Picnic.
All courses will be held at the Lorenzo Cultural Center on the Center Campus of Macomb Community College in Clinton Township at 44575 Garfield Road. Several of the courses also offer a virtual option through Zoom. Check the course catalog for excursion details.
Online registration is now open for MORE's spring semester. To view the catalog and to register go to www.LorenzoCulturalCenter.com/more. For additional information email MORE@macomb.edu
About Macomb Community College
Macomb Community College (www.macomb.edu) is about transforming lives and communities through the power of education, enrichment and economic development. Macomb grants the largest number of associate degrees in Michigan and is the largest community college in the state. The college provides programming for youth through seniors, including early college for high school students, university transfer and career preparation programs, workforce education, continuing education and certification, and a wide range of enrichment opportunities encompassing arts, culture and lifelong learning.
Media contact: Sean M. Patrick, 586.445.7271, patricks28@macomb.edu