Macomb Community College celebrates 107th commencement
Tuesday, December 20, 2022 10:00 AM
Macomb Community College celebrates 107th commencement
Three students share their Macomb experience during the ceremony
Macomb Community College celebrated its 107th commencement, its first in-person commencement ceremony since Dec. 2019, at the Sports & Expo Center on Macomb's South Campus on Friday, Dec. 16. The college awarded approximately 700 associate degrees for the 2022 winter semester, with 341 students participating in the ceremony.
"You have done far more than pass tests and classes. You have built a foundation for learning that will serve you throughout your life to open new doors and create new opportunities," said Dr. James O. Sawyer IV, president of Macomb Community College while addressing the graduates and their families. "The focus, perseverance and resilience you have displayed in earning your degree demonstrates that you have the traits essential in making the most of opportunities, as well as weathering and conquering challenges."
Three of the graduating students shared their personal stories of success at Macomb during the ceremony.
"I know I want to evoke positive change in society as a whole, no matter where, how or when. I believe that I am who I am and will be who I'm meant to be," said Mycah McClellan-Goodwin, 20, of Sterling Heights. "That is why I celebrate myself now with you all because we're on to bigger and better things, regardless of what that looks like."
McClellan-Goodwin graduated with an associate of arts degree from Macomb and is transferring to Central Michigan University (CMU) to pursue her bachelor's degree.
"For years I sat back and watched others graduate. I didn't think I had what it takes to finish," said Tracey Denson Scott, 51, of Sterling Heights. "Macomb made the process easy. Hats off to the counseling staff. Each time I called I was greeted with kindness and patience, even after my 12th call."
Scott graduated with an associate of arts degree and is currently a full-time student at CMU. After graduation from CMU, she plans to attend law school.
"Kindness is a choice, even when it's small, it's worth it. We can't change all things, but the world is better as a whole when you change the things you can," said Lori Benham, 56 of Shelby Township. "I believe each and every one of us has the potential to make an incredible impact on the world, but remember, it's okay if the only world you change is yours."
Benham earned an associate of applied sciences degree in culinary and pastry arts with dreams of one day opening her own food truck.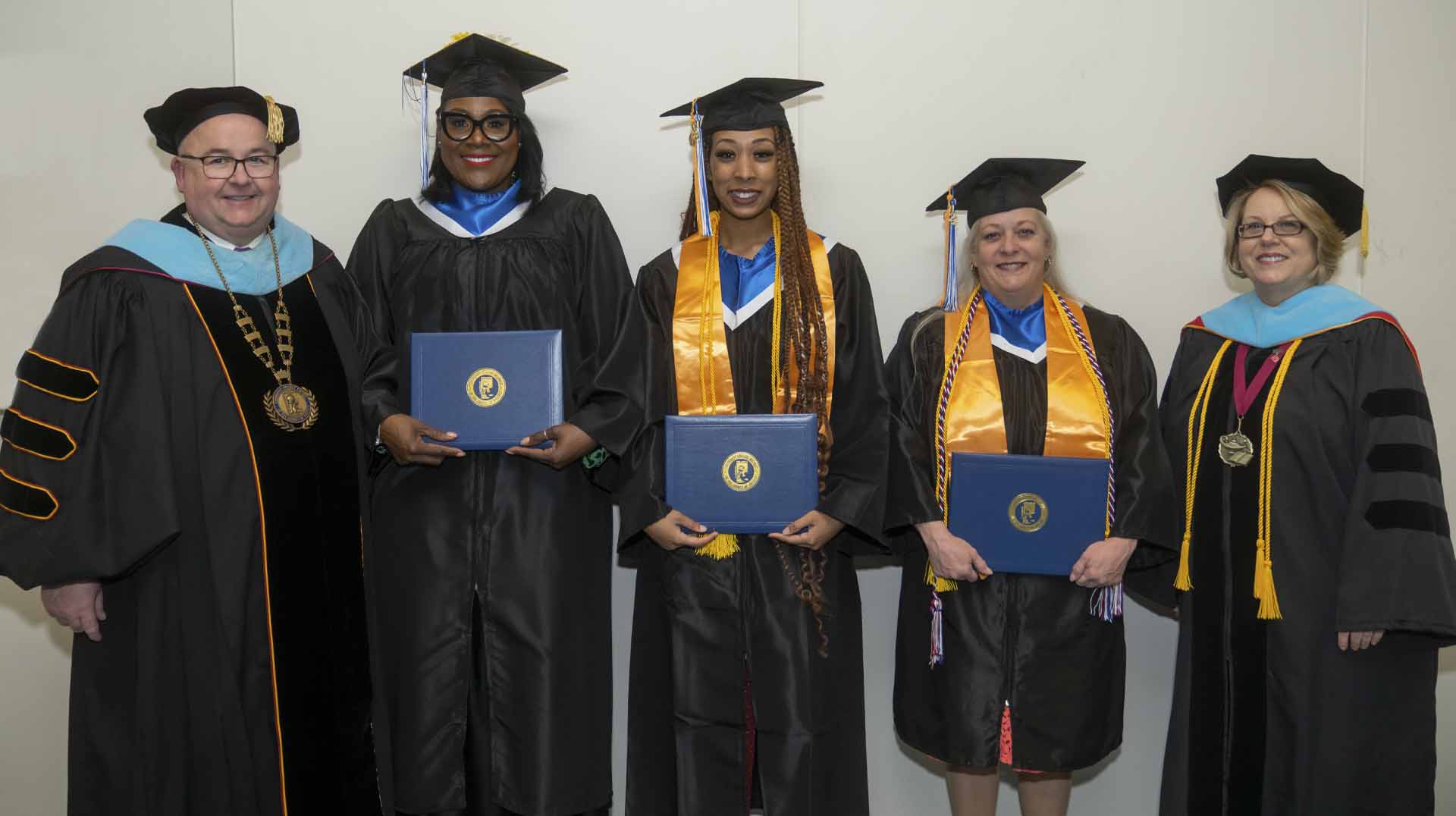 (Pictured L to R): Dr. James O. Sawyer IV, president, Macomb Community College with the three student speakers from the 107th commencement, Tracey Denson Scott, Mycah McClellan-Goodwin and Lori Benham with Macomb's Provost and Vice President of the Learning Unit, Leslie Kellogg.
About Macomb Community College
Macomb Community College (www.macomb.edu) is about transforming lives and communities through the power of education, enrichment and economic development. Macomb grants the largest number of associate degrees in Michigan and is the largest community college in the state. The college provides programming for youth through seniors, including early college for high school students, university transfer and career preparation programs, workforce education, continuing education and certification, and a wide range of enrichment opportunities encompassing arts, culture and lifelong learning.
Media contact: Sean M. Patrick, 586.445.7271, patricks28@macomb.edu