Macomb Community College leverages latest technologies to better prepare health care program graduates
Tuesday, August 02, 2022 10:00 AM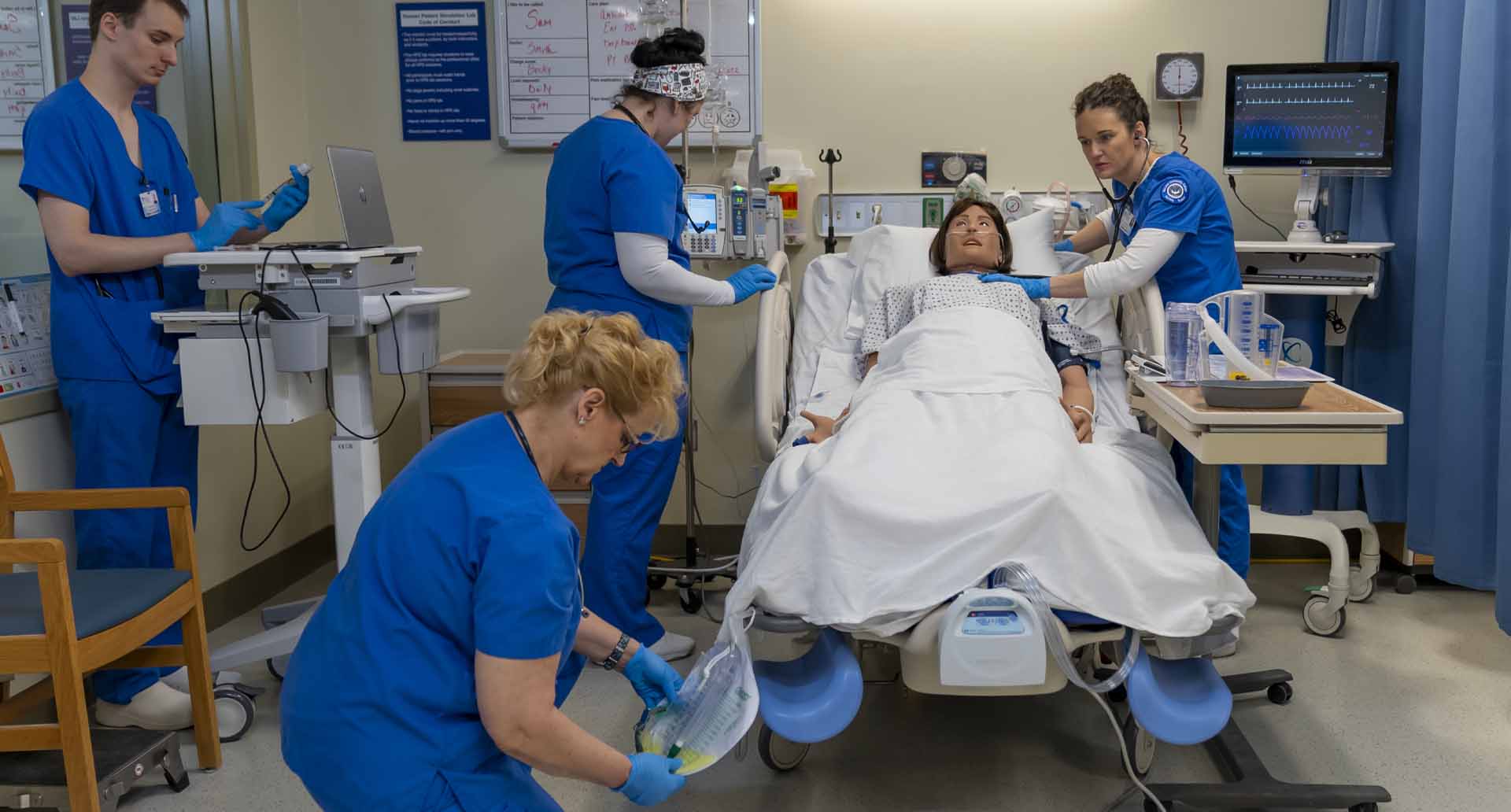 Simulations bring real-life, immersive experiences into the classroom
Leveraging the latest health care technologies at Macomb Community College takes nursing and health education to a new level. With human patient simulation, augmented and virtual reality, and real-world experiences, Macomb creates an immersive educational experience for students to better prepare them for their future careers in health care.
Simulations, using responsive anatomical mannequins, augmented and virtual reality, and 3D modeling, reinforce what is taught in the classroom, lab and through supervised, hands-on patient care in a clinical setting. Used throughout the course of Macomb's associate degree Nursing program, students learn vital skills and practice technique in a completely safe environment for both the student and the patient. It allows the students to experience high-stress situations, such as treating a cardiac arrest patient or delivering a baby, in a nonpunitive learning environment where mistakes don't harm the patient but greatly contribute to student learning from both the exercise and the critical follow-up debriefing.
"They throw a lot at you, so you get comfortable being out of your comfort zone," said nursing student Elyse Vinson, 34, of Clinton Township. "There is not as much pressure to be perfect the first time and making a mistake is okay because you don't have a live person there. But you get a chance to be uncomfortable and be put in situations that when you're a nursing student, you don't experience."
Macomb uses three levels of simulators, low, middle and high, to teach various techniques. Each level of simulator offers certain benefits.  The high-fidelity simulator mannequins mimic the needs and conditions of an actual patient. It can bleed, breathe and otherwise imitate a predetermined condition. It can also communicate with the student through built-in speakers. Through the use of augmented reality, students can see inside the body and discover the root cause for symptoms they may be seeing outwardly on a patient.
"With the high-fidelity simulators, there's actually a conversation that goes back and forth," said Macomb nursing professor Kim Kennedy. "So, if you take vital signs, vital signs appear on the monitor. If you ask the patient a question, like are you having pain, through the simulation coordinator, the patient responds. The high-fidelity simulator is responsive. If I feel its wrist, I'd feel a pulse. If a put a stethoscope to its chest, I hear lung sounds."
Students learn patient care skills during the simulations, including administering medications, performing physical evaluations of the patient's condition and treating that condition, whether it's a minor injury or total body system failure. Students also learn soft skills, such as compassion for the patient, strong communication skills and critical thinking, which are important facets of diagnosing and treating a patient.
In addition to the college's Nursing program, the simulations are also used in Respiratory Therapy and Occupational Therapy programs as well as for training paramedics in Macomb's Public Service Institute, which prepares individuals for careers as first responders.
"We use the simulators to chip away at the learning curve, so employers get skilled, entry level graduates," said Andrea Shaw, associate dean, Health and Human Services, who oversees Macomb's Nursing program. "Instead of the student just reading it and explaining it, the student is taking part in the event as it takes place, which really uses their visual sensory skills and critical thinking skills, and helps them learn better."
About Macomb Community College
Macomb Community College (www.macomb.edu) is one of the nation's leading community colleges. Macomb nationally ranks in the top two percent in the number of associate degrees awarded by community colleges and is one of the largest grantors of associate degrees in Michigan. The college's comprehensive educational programming includes pre-collegiate experiences, university transfer and career preparation programs, bachelor-degree completion and graduate degree programs, workforce training, professional education and certification, and continuing education and enrichment opportunities.
Media contact: Sean M. Patrick, 586.445.7271, patricks28@macomb.edu