Macomb Community College and DIA partner to exhibit American Spectacle, June 11 – Sept. 11
Tuesday, June 01, 2021 08:00 AM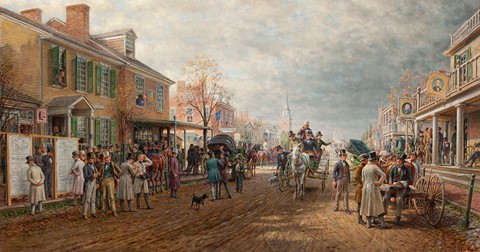 Eleven classic works of American art depict dramatic moments and places in U.S. history
Macomb Community College's Lorenzo Cultural Center in partnership with the Detroit Institute of Arts (DIA) presents American Spectacle: Selections from the Nancy and Sean Cotton Collection of American Art, June 11 – Sept. 11. The exhibition includes a selection of 11 artworks by American painters of the late 19th and early 20th century that explore competing visions of American culture and identity that remain relevant today.
"Bringing these masterpieces to the Lorenzo Cultural Center gives Macomb County residents the opportunity to explore the vision of these artists, including their sometimes-opposing images of American history," said William Wood, director, Cultural Affairs and Community Engagement, Macomb Community College. "The art in this collection depicts some of our nation's struggles and triumphs and provides the opportunity to employ art to gain a deeper understanding of our history."
Kicking off the exhibition on June 11 at 4 p.m. is a virtual curator talk by Ben Colman, associate curator for American Art, DIA, who will guide participants through the exhibition, explaining the historical and cultural significance of the artwork. Registration is required to receive the Zoom link to the virtual curator talk. To register, visit https://bit.ly/3bTM4TV
"With support from Art Bridges, the DIA is honored to bring this special exhibition highlighting the incredible diversity of American art to the residents of Macomb County," said DIA Director Salvador Salort-Pons. "Through this partnership, we also gain an opportunity to learn from the expertise and experience of other institutions, such as the Lorenzo Cultural Center, and to collaborate with them to create exhibitions that are relevant to their audiences in Macomb County and beyond."
The exhibition is open Tuesday through Friday beginning June 11 from 10 a.m. until 4 p.m. After Labor Day, the exhibition is also open Saturday, Sept. 11, 10 a.m. to 4 p.m. The Lorenzo Cultural Center is on Macomb Community College's Center Campus at Hall and Garfield roads in Clinton Township. There is no cost or registration required to view the exhibition.
 The collection contains artwork painted between 1855 and 1936 and includes works from Thomas Moran, A New World, Edward Lamson Henry, Election Day 1844 and Frederick Rondel, Statue of Liberty Celebration. Works depicting America's beauty include landscapes of Niagara Falls and Pictured Rocks on Lake Superior by George Loring Brown and Thomas Moran, respectively.
For more information about the American Spectacle exhibition,visit: www.lorenzoculturalcenter.com.
American Spectacle: Selections from the Nancy and Sean Cotton Collection of American Art is organized by the Detroit Institute of Arts and made possible by the Nancy and Sean Cotton Collection. This is one in a series of American art exhibitions created through a multi-year, multi-institutional partnership formed by the Detroit Institute of Arts as part of the Art Bridges Initiative. Generous support is provided by the Richard and Jane Manoogian Foundation.
The Art Bridges Foundation partners with museums of all sizes across the U.S. by providing support for collection loans, traveling exhibitions, programming, and more in order to expand access to American art. For more information, visit www.artbridgesfoundation.org.
About Macomb Community College
Macomb Community College (www.macomb.edu) is one of the nation's leading community colleges. Macomb nationally ranks in the top two percent in the number of associate degrees awarded by community colleges and is one of the largest grantors of associate degrees in Michigan. The college's comprehensive educational programming includes pre-collegiate experiences, university transfer and career preparation programs, bachelor-degree completion and graduate degree programs, workforce training, professional education and certification, and continuing education and enrichment opportunities.
About Art Bridges
Art Bridges is the vision of philanthropist and arts patron Alice Walton and is dedicated to expanding access to American art in all regions across the United States. Since 2017, Art Bridges has been creating and supporting programs that bring outstanding works of American art out of storage and into communities. Art Bridges partners with a growing network of nearly 150 museums of all sizes and locations to provide financial and strategic support for exhibition development, collection loans from Art Bridges and other museums, and programs designed to educate, inspire, and deepen engagement with local audiences. The Art Bridges Collection features American masterworks of historic American art to the present day and encompasses painting, sculpture, and photography, among other mediums. For more information on who we reach and how to partner with us, visit www.ArtBridgesFoundation.org and follow us @ArtBridgesFoundation.
About the Art Bridges Initiative
The Art Bridges Initiative is committed to supporting multi-year exhibition partnerships among museums nationwide. The initiative builds on Art Bridges' mission to expand access to American art across the United States and to empower museums to broaden traditional definitions of American art. Originated in 2018, the initiative has created six museum cohorts led by institutions in Boston, Detroit, Hartford, Los Angeles, Philadelphia, and Washington, D.C. For each cohort, an organizing museum invites regional institutions to create exhibitions that are designed to educate, inspire and deepen engagement with local audiences. Sharing collections and resources, the initiative's dynamic partnerships will generate over eighty exhibitions that are content rich, include in-depth educational and interpretive materials, and are designed to meet a wide range of audience interests. The initiative also fosters professional development exchanges between partners and across cohorts. For more information, visit www.ArtBridgesFoundation.org and follow us @ArtBridgesFoundation.
About the Detroit Institute of Arts
The Detroit Institute of Arts (DIA), one of the premier art museums in the United States, is home to more than 60,000 works that comprise a multicultural survey of human creativity from ancient times through the 21st century. From the first Van Gogh painting to enter a U.S. museum (Self-Portrait, 1887), to Diego Rivera's world-renowned Detroit Industry murals (1932–33), the DIA's collection is known for its quality, range, and depth. The DIA creates experiences that help each visitor find personal meaning in art, individually and with each other. The DIA provides a number of services to institutions, organizations and communities throughout the State of Michigan. In addition to the Statewide Exhibition Program, the DIA also provides conservation services, educator programs for teachers, and professional development opportunities for colleagues at museums across the state.
Media contact: Sean M. Patrick 586.445.7271 patricks28@macomb.edu