The art and spark of industry
In industrial settings, welders hold everything together by fusing metal into strong joints capable of supporting substantial weight.  
If you're interested in mastering the most historic of all the skilled trades, and one borrowed by artists since the Bronze Age, we'll show you how it's done!
Our program will teach you how to safely operate, maintain and repair a variety of welding equipment, and give you insight about what to expect behind the torch.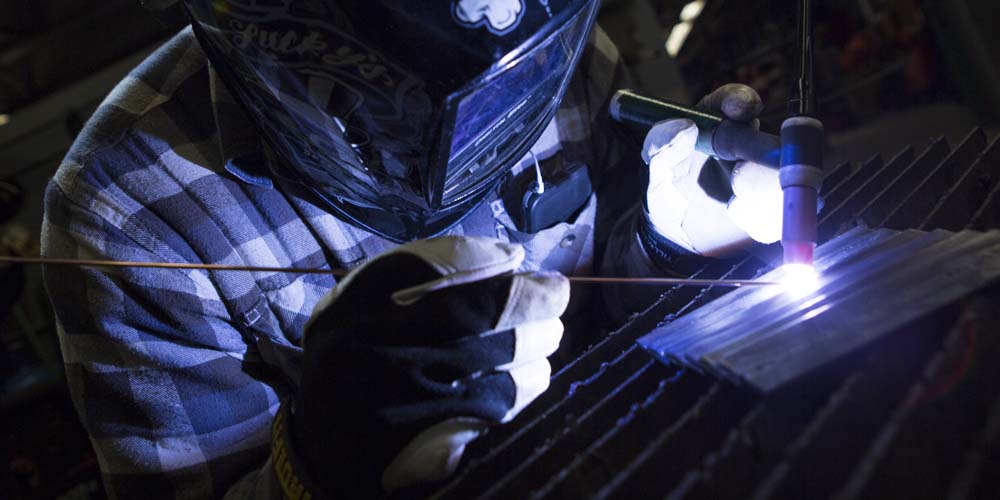 Earn certification(s)
Our faculty have been or are professional welders, with industry expertise to share.
They'll help you gain certification in one or more techniques:
Shielded metal arc welding
Gas metal arc welding
Gas tungsten arc welding
Pipe welding
And/or special testing
Your courses will include:
Welding Metallurgy
Fundamentals of Gas & Arc Welding
Shielded Metal Arc Welding
Gas Metal Arc Welding
Tungsten Arc Welding
Pipe Welding
And more!
For a complete list of courses, view the College Catalog.
Ready to carry the torch?
Contact the Applied Technology Department at 586.445.7438 to learn more about our program.
A force of industry
A shortage of welders means plenty of job opportunities for you!
Use this handy tool to see what's available locally and what you can expect to earn.
After you earn your certification(s), our Career Services team is here to help you find a job.