When it's someone's best friend
A love of animals is almost a prerequisite if you want to become a veterinary technician. But you'll also need highly developed competencies and a calming presence when attending to someone's best friend.
In our program, you'll learn the skills you'll need to assist veterinarians in a variety of medical and surgical procedures. 
And you'll also acquire the "bedside" manner necessary to keep patients and their owners calm in every situation.
For a look at all the courses in our program, consult the course list.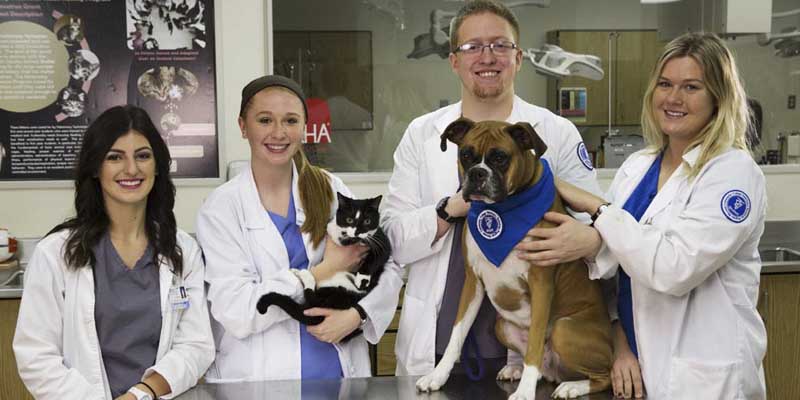 Mentoring by faculty and alumni
Our faculty are all veterinary technicians and veterinarians who share your passion for animals and will mentor you throughout the program.
From them, you'll learn how to:
Handle and restrain animals
Conduct examinations
Collect and analyze specimens
Administer anesthesia
Assist in surgeries
And much more!
You'll also have opportunities to work with faculty and alumni in a variety of service-learning projects and to join Macomb's student chapter of the National Association of Veterinary Technicians in America.
And the credits you earn will transfer if you decide to advance your education or maybe even become a veterinarian.
Ready for scrubs and a stethoscope?
Professor Marianne Tear is our program advisor and she'll help you get started. Contact her at 586.286.2231 or tearm588@macomb.edu.
Veterinarians can't do it alone!
The popularity of pet ownership means that there will always be a demand for veterinary technicians to assist veterinarians in the care of patients in their growing practices.
Use this handy tool to see positions available locally and what you can expect to earn.
After you graduate with your associate degree, our Career Services team will help you with the job search and interview preparation, including developing your resume.
Additional Information
Select programs in Health and Human Services require specific criteria to gain admission, such as testing requirements or minimum grade point average in prerequisite courses. Please view the Selective Admissions program application packet for information on application requirements, ranking and deadlines.
For information on how to apply to a Selective Admissions program, please email us at selectiveadmissions@macomb.edu. Selective Admissions applicants are encouraged to meet with an academic advisor or counselor prior to submitting an application to the program. This meeting will allow for review of the application process, program prerequisites and requirements. Contact the Counseling and Academic Advising Office at 586.445.7999 for office hours.
Macomb Community College Veterinary Technician Program's VTNE Pass Rate Information
Graduates of Macomb Community College's Veterinary Technician Program have consistently exceeded the national average on the Veterinary Technician National Examination (VTNE).
We are committed to providing quality education and maintaining high standards for our students.
| | July 1, 2020 – June 30, 2023 |
| --- | --- |
| Total number of graduates taking exam for the first time (total for three years for the timeframe indicated) | 79 |
| Three-year VTNE Pass Percentage | 88% |
The Veterinary Technician Program is accredited by the American Veterinary Medical Association (AVMA), 1931 N. Meacham Road, Suite 100, Schaumburg, IL 60173, 800.248.2862, www.avma.org. The Veterinary Technician Program's teaching hospital is also accredited by the American Animal Hospital Association (AAHA), 12575 W. Bayaud Avenue, Lakewood, CO 80228. AAHA's phone number is 303.986.2800, www.aahanet.org.
The goal of the Health and Public Services Division is to prepare every student to think critically and practice competently and compassionately in rapidly changing environments. All efforts are designed to build knowledge, enhance practical skills, and promote patient and the population's safety. Furthermore, the program is designed to foster professional integrity and ultimately improve the health outcomes and protection of patients, families, and communities across the continuum of care and practice. Students must possess certain functional abilities, essential for the delivery of safe, effective clinical care and protection of the public during clinical and internship training activities in the field. Therefore, the faculty has determined that certain technical standards are required for admission to, progression in, and graduation from the Health and Public Services (HPS) programs.
In addition to classroom learning, clinical and internship learning occurs throughout the HPS programs and involves considerations (such as patient and population safety and clinical and internship facility safety) that are not present in classroom accommodations. Applicants or students interested in HPS programs who seek accommodations prior to or immediately after enrolling in the college are highly encouraged to also request an assessment of the types of reasonable accommodations needed for the clinical and or internship components of the program.
An individual must be able to independently, with or without reasonable accommodation, meet the following technical standards of general abilities: (1) observation; (2) communication; (3) motor skills; (4) intellectual, conceptual, and quantitative abilities; (5) essential behavioral and social attributes; and (6) ability to manage stressful situations. Individuals unable to meet these technical standards, with or without reasonable accommodation will not be able to complete the programs and are counseled to pursue alternative careers.
SPECIAL SERVICES STATEMENT: Students may individually discuss the essential functions and technical standards with a college counselor from our Special Services department. In compliance with Section 504 of the Rehabilitation Act of 1973 and the American Disability Act of 1991, academic accommodations may be provided to students who have a documented disability.
For further information, visit Special Services.