Learn the language(s)
Unlike French, German or other "foreign" languages, computer languages are wholly technical in nature and are based on mathematical logic.
When you become a computer programmer, these languages are the tools of your trade as you write and test codes for new programs, install software updates, identify and correct coding errors, rewrite programs for different operating systems and much more.
In our digital-driven society, computer programmers are in high demand! You'll have tons of job opportunities, some of which may even require you to learn an actual "foreign" language.
For a look at all the courses in our program, consult the course list.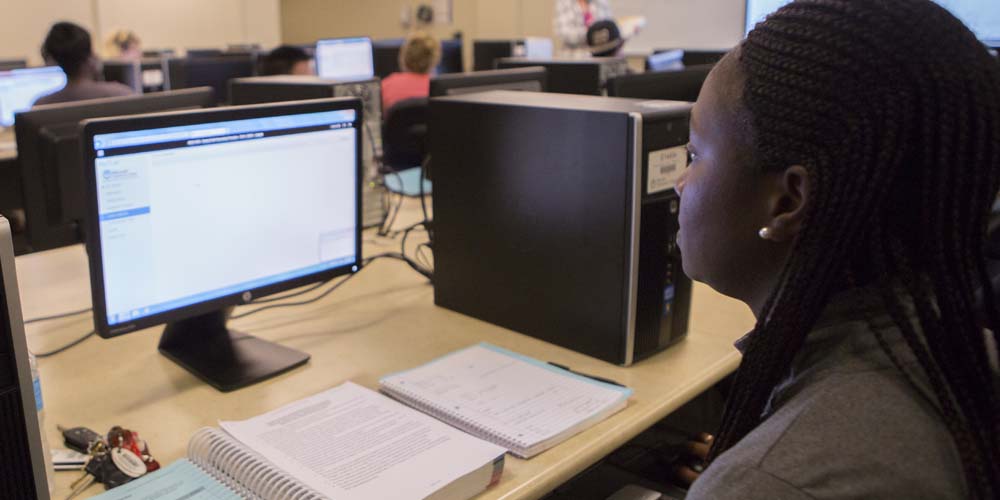 Teachers as mentors
In our program, earn a certificate and/or associate degree while specializing in one or more programming languages, including C++ and Java.
You can earn Java certification entirely online!
The faculty in our program have all worked in the IT field and bring both extensive experience and education to the classroom. You'll find them to be excellent at both teaching and mentoring.
From them, you'll learn about:
Organizing & managing information
Database design
Structured Query Language
Extensible Markup Language
Designing and executing test plans
Configuring wireless devices
Troubleshooting and debugging
And much more!
A career with flexibility
It's rare for a business not to employ a computer programmer, either on staff or as a consultant. That means your programming skills will provide multiple career pathways to choose from.  
The handy tool below will give you a good idea of what's available now. Our courses easily transfer so you can pursue advanced education and opportunities if you choose.
And, if you haven't been hired before you graduate, our Career Services team can help you in the job search and interview preparation – right down to preparing your resume.