Producing prototypes
Within the design studios of most major manufacturers, product developers are transforming a concept into a 3D prototype complete with manufacturing specifications. 
If you see yourself in front of that CAD (computer-aided design) screen, let us help you get there!
Our associate degree program operates like a real-world design studio. You'll spend your last semester working with a multiskilled team to research, design, manufacture and assemble a product.
For a look at all the courses in our program, consult the course list.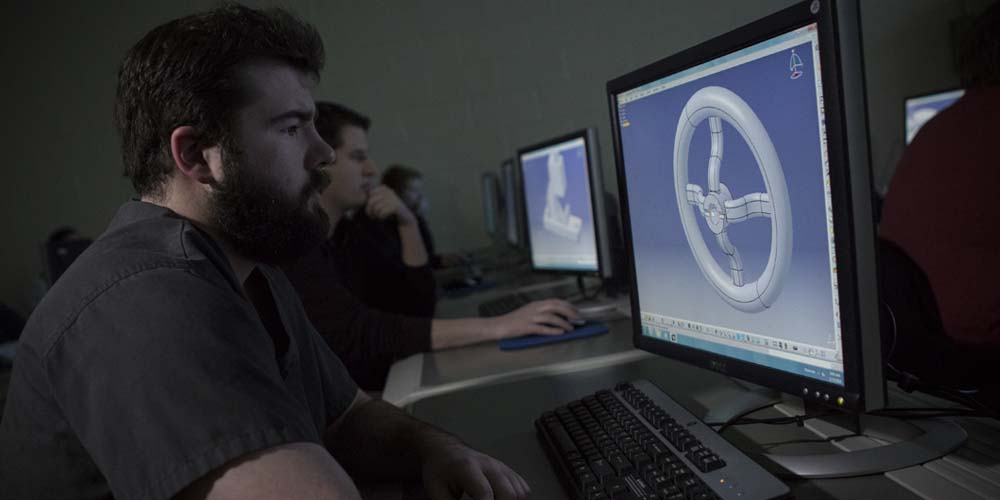 A faculty of mentors
Our faculty are product designers and developers who have worked in or are still working in the field and want to see you join their ranks.
They'll teach you, mentor you and sometimes recruit you for their studios.
Your courses will include:
CATIA Essentials
Design Intent & Analysis
Design Principles
Industrial & Materials Processes
Introduction to SolidWorks & 3D Parametric Solid Modeling
Jig & Fixture Detailing & Design
Plastics Design & Manufacturing
Theory of Sheet Metal Fabrication
And more!
And the credits you earn will transfer to a four-year college or university if you intend to pursue a bachelor's degree and a product management position.
A design studio is calling
There's a shortage of product developers and you can expect to be hired for one of them shortly after you graduate. 
Use this handy tool to see what's available and what you can expect to earn.
If you need help with the job search, our Career Services team is here to assist, including the assembly of an impressive resume.