Where art meets technology
Digital sculpting has returned to manufacturing's industrial design studios in a big way! Designers realized a few years ago that software alone can't simulate the human touch and 3D images don't compare with a floor-size model.
Because of its close ties to the manufacturing industry, the college was quick to respond and now offers the only community college program like it in Michigan!
Possessing the skills required to blend the art of sculpture with current design technology, our program will place you at the front of the line of all the other job candidates.
For a look at all the courses in our program, consult the course list.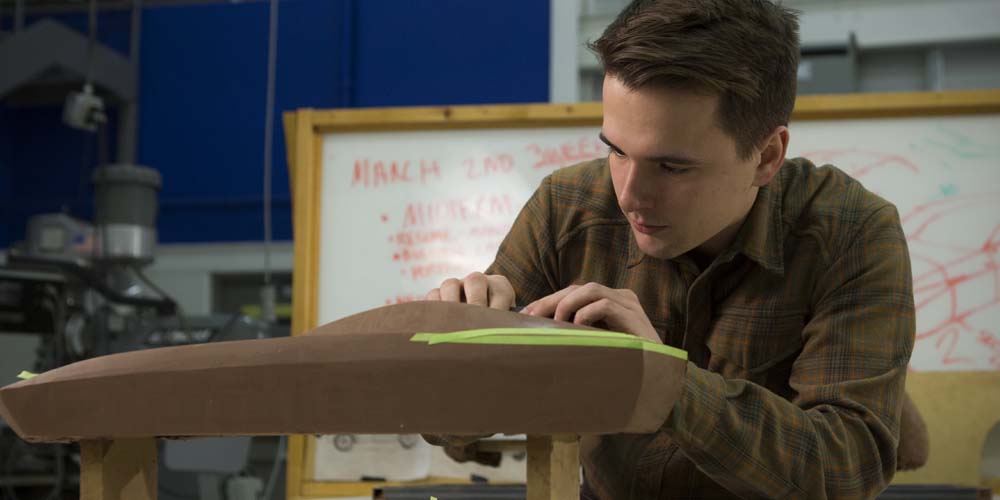 Faculty help you succeed!
Like our traditional product development program, you'll still learn how to use the sophisticated computer aided design (CAD) software that you'll find in every professional design studio.
But you'll also learn how to make 3D models the old-fashioned way – with clay!
Our faculty are professional designers who'll teach you, mentor you and possibly recruit you for their studios. Your success is their success.
You'll learn about:
Clay modeling
CATIA software
Design principles
Product development
Plastic manufacturing
Sheet metal fabrication
And much more!
Credits earned in our courses easily transfer to a four-year college or university if you decide to advance your education and your career opportunities by earning a bachelor's degree.
Can't wait to start sculpting?
Our program advisor, Professor Jim Carlson, will help you get started. Call him at 586.445.7473.
Clay modelers are in demand!
The demand for clay modeling skills is great! And you'll likely be hired by a studio before you even graduate.
Use this handy tool so see what's available locally and what you can expect to earn.
And if you do need help finding a job, our Career Services team can help with the search and interview preparation, including the creation of an impressive resume.