Why Macomb's Police Academy?
Ask any police chief or sheriff. We are known in the region as a Police Academy that trains cadets like you to wear the badge safely, professionally and proudly.   
Much of local law enforcement's top leadership, in fact, are alumni of our Basic and/or Advanced police academies, and that includes Macomb County's last three sheriffs.  
Some of these accomplished alumni even come back to teach for us.
And our police academies are also where they turn when they need to TRAIN or HIRE new officers or advance the skills of their current force.
"The advanced training at Macomb has made me a better police officer." - Anthony Wickersham, Macomb County Sheriff, Macomb law enforcement grad and part-time instructor
For a look at all the courses in our program, consult the course list.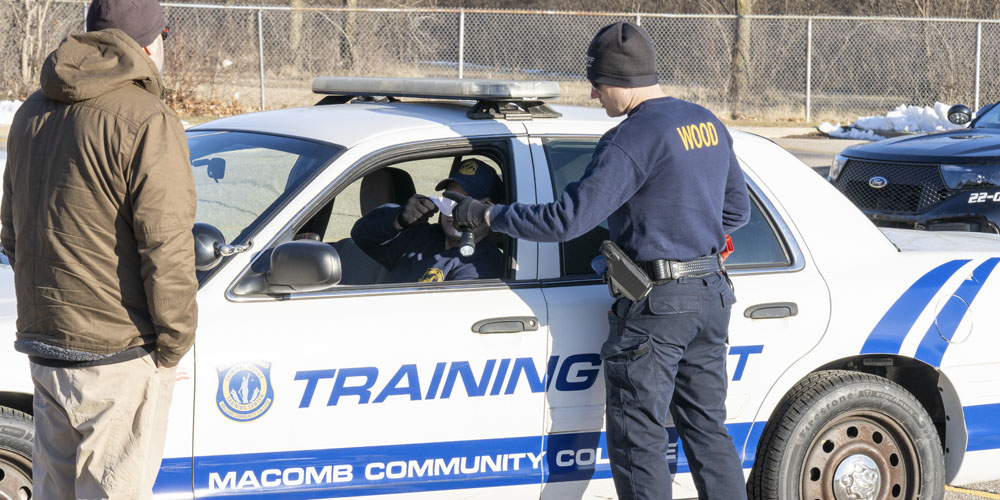 Instructors know their beat
Our Police Academy instructors, all law enforcement officers themselves, will train you in effective policing strategies and techniques. But just as important, they will make sure you know what to expect on the job.  
After you graduate, you'll likely find yourself working with a former instructor or two on a department. You may even find yourself partnered with one.
So, there is no doubt they want you to know your stuff.
Nothing left to chance
How do you proceed when there is an active shooter in a building? What should you expect when you respond to a domestic violence call? Are there warning signs that a traffic stop could be more than it seems?  
Our Police Academy utilizes all that technology has to offer to simulate every type of scenario you could encounter as a police officer. 
It's not just about preparing you; it's about preparing your reflexes so you always react instinctively, appropriately and with the safety of yourself and others in mind.
"I feel that Macomb's Police Academy has prepared me for the job. The director, Mike Ciaramitaro, made it even better with the different experiences he exposed us to." - Alexis Perry, May 2021 academy grad/Woodhaven police officer
Michigan's largest firearms range
It's true that we're the county's only regional Police Academy, training cadets from across southeastern Michigan. And it's also true that we offer reduced rates for firearms practice to current officers. But beyond demand, there is another reason we built the largest indoor firearms range in Michigan.
We care about your safety and the safety of those you will be sworn to protect. Your Police Academy training will provide ample time and opportunity to practice your marksmanship.
Receive college credit
You'll earn 15 college credits when you complete the academy that can be applied to an associate degree in law enforcement, paving the way for your future educational and career advancement.
And all of your training meets the Michigan Commission on Law Enforcement Standards, preparing you to take the required state certification exam.
The average pass rate for Macomb's academy classes ranges between 95 to 100 percent.
What else is on the agenda?
Patrol procedures
Crime scene process
Report writing
Detention
Prosecution of prisoners
First aid
Disaster control
Tactical operations
A community needs you
Police officers are in great demand and we've pulled data together to show you how many jobs there are and how much they pay. 
And don't forget, Career Services is here to help with your job search.
That is, if a department hasn't already hired you before you finish the academy.