Helping patients avoid surgery
Whether it's a sports injury, car accident or hereditary condition, the human body doesn't always heal itself.
Combining massage, heat treatment and exercise, physical therapy restores the strength and mobility of a patient who has sustained a trauma or is otherwise experiencing diminishing motor skills.
As a physical therapist assistant, you'll document a patient's progress, assist them in their prescribed exercises and provide support to a physical therapist as you help patients bounce back without orthopedic surgery.
For a look at all the courses in our program, consult the course list.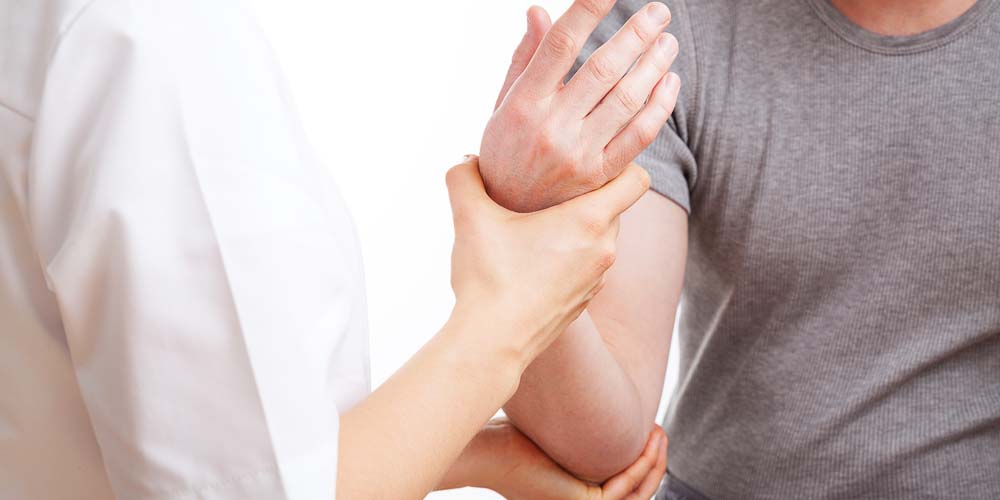 Exam-ready
Our program leads to an associate of applied science degree and awards credits that will transfer into a bachelor's degree program if you decide to pursue one.
Our faculty have worked as physical therapists and will teach, mentor and prepare you to take the National Physical Therapy Examination.
You'll learn about:
Physiological principles
Major muscle groups
Skeletal anatomy
Joint structure
Musculoskeletal movement
Kinesiology
And much more!
Ready to move ahead?
Professor Carol Plisner, our program advisor, would be happy to discuss the program with you. Call her at 586.286.2031.
Active lifestyles increase demand
With an older, more active society, there's an increasing need for the skills you'll learn in our program.
Use this handy tool to see what positions are available locally and what you can expect to earn.
Additional Information
Select programs in Health and Human Services require specific criteria to gain admission, such as testing requirements or minimum grade point average in prerequisite courses. Please view the Selective Admissions program application packet for information on application requirements, ranking and deadlines.
For information on how to apply to a Selective Admissions program, please email us at selectiveadmissions@macomb.edu. Selective Admissions applicants are encouraged to meet with an academic advisor or counselor prior to submitting an application to the program. This meeting will allow for review of the application process, program prerequisites and requirements. Contact the Counseling and Academic Advising Office at 586.445.7999 for office hours.
| Year | Rate |
| --- | --- |
| 2020 | 86.1% |
| 2021 | 72.0% |
| Two-Year Average | 79% |

Graduation Rate
Graduation rates are calculated each year and reflect the previous year's graduating class.
| Year  | Rate |
| --- | --- |
| 2020 | 100% |
| 2021 | 94% |
| Two-Year Average | 96% |

Employment Rate
The following employment rates describe graduates who sought employment and were employed as a PTA within one year of graduation:
| Year  | Rate |
| --- | --- |
| 2020 | 90% |
| 2021 | 94% |
| Two-Year Average | 92% |
The Physical Therapist Assistant program at Macomb Community College is accredited by the Commission on Accreditation in Physical Therapy Education (CAPTE), 3030 Potomac Ave., Suite 100, Alexandria, Virginia 22305-3085; telephone: 703-706-3245; email: 
accreditation@apta.org
; website: 
http://www.capteonline.org
. If needing to contact the program/institution directly, please call 586.286.2097 or email 
health@macomb.edu
.
The goal of the Health and Public Services Division is to prepare every student to think critically and practice competently and compassionately in rapidly changing environments. All efforts are designed to build knowledge, enhance practical skills, and promote patient and the population's safety. Furthermore, the program is designed to foster professional integrity and ultimately improve the health outcomes and protection of patients, families, and communities across the continuum of care and practice. Students must possess certain functional abilities, essential for the delivery of safe, effective clinical care and protection of the public during clinical and internship training activities in the field. Therefore, the faculty has determined that certain technical standards are required for admission to, progression in, and graduation from the Health and Public Services (HPS) programs.
In addition to classroom learning, clinical and internship learning occurs throughout the HPS programs and involves considerations (such as patient and population safety and clinical and internship facility safety) that are not present in classroom accommodations. Applicants or students interested in HPS programs who seek accommodations prior to or immediately after enrolling in the college are highly encouraged to also request an assessment of the types of reasonable accommodations needed for the clinical and or internship components of the program.
An individual must be able to independently, with or without reasonable accommodation, meet the following technical standards of general abilities: (1) observation; (2) communication; (3) motor skills; (4) intellectual, conceptual, and quantitative abilities; (5) essential behavioral and social attributes; and (6) ability to manage stressful situations. Individuals unable to meet these technical standards, with or without reasonable accommodation will not be able to complete the programs and are counseled to pursue alternative careers.
SPECIAL SERVICES STATEMENT: Students may individually discuss the essential functions and technical standards with a college counselor from our Special Services department. In compliance with Section 504 of the Rehabilitation Act of 1973 and the American Disability Act of 1991, academic accommodations may be provided to students who have a documented disability.
For further information, visit Special Services.