Helping patients live fully
When unexpected illness or injury happens, one of the first casualties are those daily tasks most of us take for granted. 
Brushing our teeth, making coffee or taking a shower can become an intense labor and sometimes an impossibility.
Occupational therapy assistants help reverse the effects of a stroke, heart attack, serious injury, issues related to advancing age or other health crisis through a variety of methods that you'll learn in our program.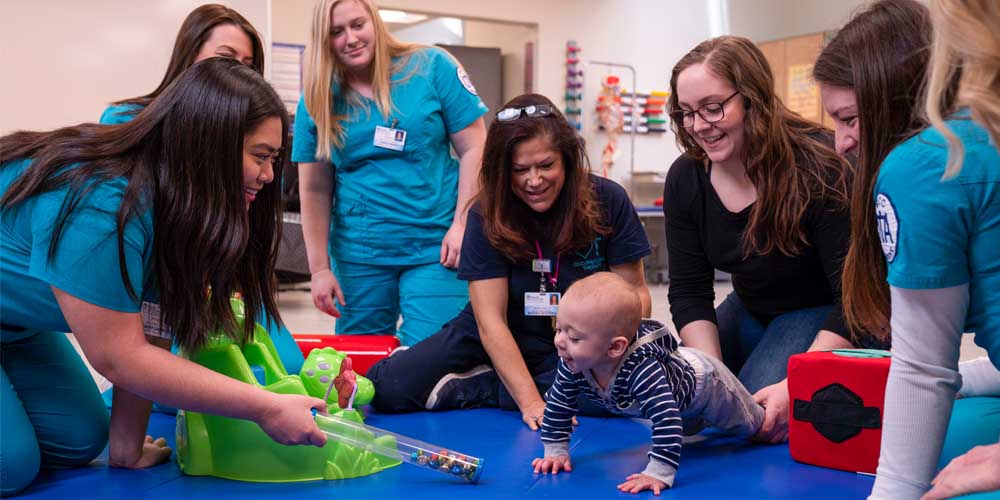 Preparing for certification
The faculty in our program are all occupational therapists with extensive experience working with patients.
Through lecture, lab and clinical fieldwork, they'll teach you about the occupational therapy process, including assessment and intervention.
With their guidance and encouragement, you'll gain the knowledge and skills you need to pass the National Board for Certification in Occupational Therapy exam.
Courses include:
Human Physiological Anatomy
Mental Health Conditions
Clinical Kinesiology
Introduction to Physical Rehabilitation
Human Development & Clinical Interaction
Rehabilitation Conditions and Intervention Planning
Pediatric Occupational Therapy – Lab & Lecture
Productive Aging
Therapeutic and Psychosocial Intervention
And much more!
For a complete list of courses and their descriptions, visit the College Catalog.
Your career at a glance
With the aging of the population OTAs have never been in greater demand, especially in hospitals.
Explore the opportunities and salaries available locally with this handy tool.
If you haven't been recruited by a hospital by the time you complete your associate degree, our Career Services team can help you with the job search and interview preparation, including resume-development.
If your goal is to become an occupational therapist, you can be assured that credits earned in our program will transfer toward the required bachelor's degree.