Putting theory into practice
If you care about others and want to put your empathy to work, you've come to the right place!  
Preparation for a career as a registered nurse requires both classroom instruction and clinical experience, and you'll receive both in our program.
Your studies will include both theory and patient-centered practice as you acquire the knowledge and skills necessary to pass the National Council Licensing Examination after you've earned your associate degree.
And be assured that the credits earned in our program will transfer to four-year colleges and universities, so you'll have no problem pursuing a Bachelor of Science in Nursing (BSN) degree.
For a look at all the courses in our program, consult the course list.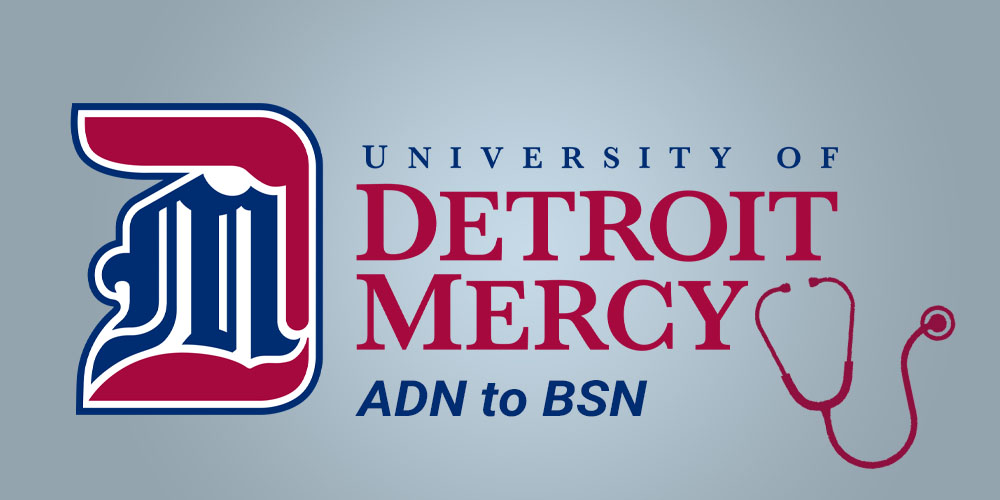 When it's time to begin your BSN...Remember UDM at University Center on Center Campus! Learn more now!
A nursing faculty
Our faculty are all nurses or nurse practitioners and will provide you with insight they've gained from working in hospitals and doctor's offices.
They'll introduce you to nursing specialties and help you develop the critical thinking skills necessary to care for culturally diverse patients.
Courses include:
Anatomy & Physiology
General Microbiology
Pathogenic Microbiology
Fundamentals of Nutrition
Fundamentals of Nursing Practice
Integration of Nursing Practice
Introduction to and Intermediate Adult Medical-Surgical Nursing
Childbearing Family Nursing
And many more
After you graduate with your associate degree, the University of Detroit Mercy offers you the opportunity to earn your Bachelor of Science in Nursing (BSN) degree at the University Center on Macomb's Center Campus. Learn more now!
Ready to get started?
For more information on our program, contact Teri Hupfel at 586.286.2074.
A hospital needs you
It's no secret that nurses are in high demand across the country, especially in hospitals.
To explore local opportunities and the salaries they pay, use this handy tool.
If you haven't already been recruited by a hospital when you're ready to graduate with your associate degree, our Career Services team can help you with the job search and interview preparation, including preparing your resume.
Additional Information
Select programs in Health and Human Services require specific criteria to gain admission, such as testing requirements or minimum grade point average in prerequisite courses. Please view the Selective Admissions program application packet for information on application requirements, ranking and deadlines.
For information on how to apply to a Selective Admissions program, please email us at selectiveadmissions@macomb.edu. Selective Admissions applicants are encouraged to meet with an academic advisor or counselor prior to submitting an application to the program. This meeting will allow for review of the application process, program prerequisites and requirements. Contact the Counseling and Academic Advising Office at 586.445.7999 for office hours.
National Council Licensing Examination (NCLEX) Pass Rates:

2020 - 93.0%
2021 - 88.49%
2022 - 78.26%
Program Completion Rates: 
2021 - 89%
Macomb Nursing graduates successfully completed the National Council Licensing Examination (NCLEX) at an average pass rate of 86.58% over the past three years. Additionally, 85% of the nursing students complete the program within a two-year time frame, and 95% are employed within six months of graduation. Of those employed, 98% work in an acute care environment providing direct patient nursing care.
The Associate Degree nursing program at Macomb Community College at the Center Campus located in Clinton Township, Michigan is accredited by the:
Accreditation Commission for Education in Nursing (ACEN)
3390 Peachtree Road NE, Suite 1400
Atlanta, Georgia 30326
404.975.5000
The most recent accreditation decision made by the ACEN Board of Commissioners for the Associate Degree nursing program is Continuing Accreditation.
The goal of the Health and Public Services Division is to prepare every student to think critically and practice competently and compassionately in rapidly changing environments. All efforts are designed to build knowledge, enhance practical skills, and promote patient and the population's safety. Furthermore, the program is designed to foster professional integrity and ultimately improve the health outcomes and protection of patients, families, and communities across the continuum of care and practice. Students must possess certain functional abilities, essential for the delivery of safe, effective clinical care and protection of the public during clinical and internship training activities in the field. Therefore, the faculty has determined that certain technical standards are required for admission to, progression in, and graduation from the Health and Public Services (HPS) programs.
In addition to classroom learning, clinical and internship learning occurs throughout the HPS programs and involves considerations (such as patient and population safety and clinical and internship facility safety) that are not present in classroom accommodations. Applicants or students interested in HPS programs who seek accommodations prior to or immediately after enrolling in the college are highly encouraged to also request an assessment of the types of reasonable accommodations needed for the clinical and or internship components of the program.
An individual must be able to independently, with or without reasonable accommodation, meet the following technical standards of general abilities: (1) observation; (2) communication; (3) motor skills; (4) intellectual, conceptual, and quantitative abilities; (5) essential behavioral and social attributes; and (6) ability to manage stressful situations. Individuals unable to meet these technical standards, with or without reasonable accommodation will not be able to complete the programs and are counseled to pursue alternative careers.
SPECIAL SERVICES STATEMENT: Students may individually discuss the essential functions and technical standards with a college counselor from our Special Services department. In compliance with Section 504 of the Rehabilitation Act of 1973 and the American Disability Act of 1991, academic accommodations may be provided to students who have a documented disability.
For further information, visit Special Services.