First-line in health care
The first health care professional most patients see at their doctor's office or other health care facility is a medical assistant.
They schedule appointments, record health insurance information, take vitals and draw blood.
They are a valued part of a health care team that includes physicians, physician assistants, nurses and nurse practioners.  
And our program prepares you for the certification exam required to join the team.
For a look at all the courses in our program, consult the course list.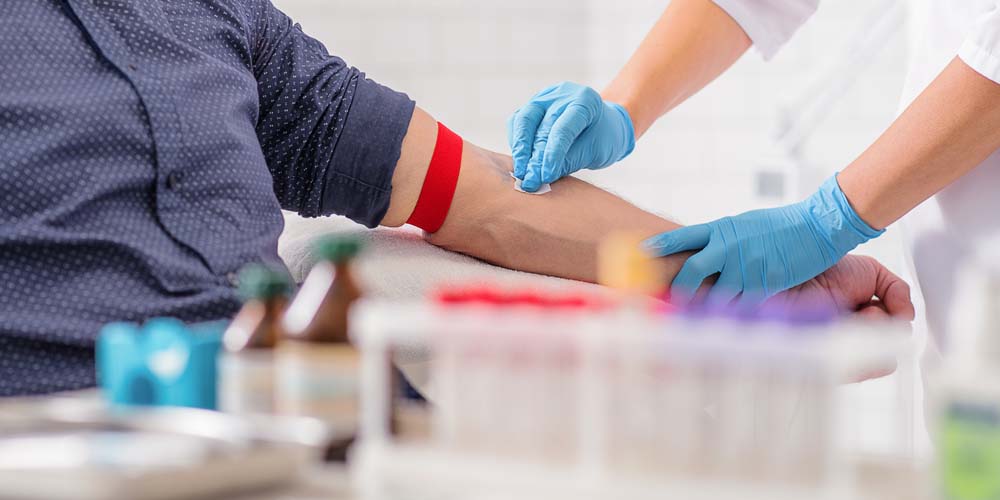 Competent, compassionate care
In our program, you'll learn from faculty with extensive health care experience. They'll teach you how to attend to patients competently and compassionately. 
You'll learn about:
Anatomy & physiology
Medical office procedures
Insurance forms
Diagnostic procedures
Laboratory procedures
Pharmaceuticals
Phlebotomy
Nutrition
Medical business practices
Interested in earning a wage and on-the-job experience? Apprenticeships are now available!
We'll prepare you for certification!
In our program, you'll earn an associate of applied science degree and prepare to take the certification exam to become a Certified Medical Assistant.
And our credits transfer if you want to earn a bachelor's degree in a related field.
With your degree and certification, you'll be qualified for a medical assistant position in a doctor's office or other health care facility.
And there are plenty of openings locally! Use this handy tool to look at the positions and what they pay.
After you complete the program, our Career Services team is here to help you with the job search and interview preparation, including preparing your resume.
Additional Information
The goal of the Health and Public Services Division is to prepare every student to think critically and practice competently and compassionately in rapidly changing environments. All efforts are designed to build knowledge, enhance practical skills, and promote patient and the population's safety. Furthermore, the program is designed to foster professional integrity and ultimately improve the health outcomes and protection of patients, families, and communities across the continuum of care and practice. Students must possess certain functional abilities, essential for the delivery of safe, effective clinical care and protection of the public during clinical and internship training activities in the field. Therefore, the faculty has determined that certain technical standards are required for admission to, progression in, and graduation from the Health and Public Services (HPS) programs.
In addition to classroom learning, clinical and internship learning occurs throughout the HPS programs and involves considerations (such as patient and population safety and clinical and internship facility safety) that are not present in classroom accommodations. Applicants or students interested in HPS programs who seek accommodations prior to or immediately after enrolling in the college are highly encouraged to also request an assessment of the types of reasonable accommodations needed for the clinical and or internship components of the program.
An individual must be able to independently, with or without reasonable accommodation, meet the following technical standards of general abilities: 
Physical Standards:
Lifting Requirements: 50 pounds. Lift and carry equipment and patients up to 50 pounds. Support and assist patients in and out of a wheelchair, and on and off an examination table. Frequency of lifting requirement is 0-25% of the time
Pushing requirement 200 pounds. (Push a patient weighing 200 pounds in a wheelchair).
Average percent of time during a regular workday spent walking, squatting, sitting, bending, and reaching is 50-75% of the day.
Average percent of time during a regular workday spent standing is 75%.
Kneel, bend, stoop, and/or crouch to perform CPR, assist patients, and to retrieve items from cabinets located below waist level.
Bend, reach above shoulder height, and or twist to position examination table, adjust equipment, or obtain supplies.
Fine motor dexterity should be adequate to grasp with both hands, pinch with thumb or forefinger, to manipulate equipment and delicate instruments such as phlebotomy, electrocardiography, drawing up and administering parenteral medications, handling small containers of potentially biohazardous specimens (one inch by one inch), using sample measuring devices such as capillary tubes, setting up and maintaining a sterile field, putting on personal protective equipment, and operating controls on instruments and equipment, operating multi-line telephone systems, computer keyboards, and ten-key adding machines, and the ability to talk on the telephone and write simultaneously.
Tactile Standards:
Palpate pulses, muscle contractions, bony landmarks, and edema.
Differentiate between temperature and pressure variations.
Visual Standards:
Adequate visual acuity, such as needed in the preparation and administration of all forms of medication, the performance of diagnostic laboratory procedures, and for observation necessary in patient assessment and care.
Read accurately numbers, letters, and cursive writing on instruments, equipment, computer screens and paper.
Discriminate shapes and color in order to identify reagents and other materials such as laboratory media, stained preparations, and the physical properties of various body fluids.
All the above with or without corrective devices.
Auditory Standards:
Adequate auditory perception to receive verbal communication from patients and members of the health care team either in person or over the telephone.
Hear heart sounds, blood pressure sounds, patient distress sounds to assess health needs of patients.
Hear instrument timers and alarms.
Hear over the telephone, paging systems, or intercom in order to communicate with patients and other members of the health care team.
All of the above with or without corrective devices.
Communication Standards:
Adequate communication skills (verbal, nonverbal, and written) to interact effectively with individuals.
Speak in the English language in clear, concise manner in order to communicate with patients (such as interviewing and taking patient history, obtaining chief complaint, and providing patient education regarding treatment plans, disease prevention, or health maintenance), families healthcare providers, other members of the healthcare team and the community.
Comprehend oral and written language including medical terminology in order to communicate with patients, families, healthcare providers, other members of the healthcare team and the community.
Write in English clearly, legibly, for documentation in the medical record, completion of forms, and to initiate written communication.
Mental/Cognitive Standards:
Sufficient intellectual and emotional functions to plan and implement assigned duties in a responsible manner.
Function safely, responsibly, and effective under stressful situations.
Remain alert to surroundings and potential emergencies.
Interact effectively and appropriately with patients, families, and coworkers.
Display attitudes and actions consistent with ethical standards of medical assisting.
Maintain composure while managing and prioritizing multiple tasks.
Communicate an understanding of the principles of confidentiality, respect, tact, politeness, collaboration, teamwork, and discretion.
Handle difficult interpersonal situations in a calm and tactful manner.
Remain calm, rational, decisive, and in control at all times, especially during emergency situations.
Maintain cleanliness and personal grooming consistent with close personal contact.
Function without causing harm to others if under the influence of prescription or over-the-counter medication.
Function without causing harm to others. This would include situations that may result from any mental or physical conditions.
Students are required to acknowledge receipt of the Macomb Community College Medical Assisting Handbook to validate acceptance of this information.
| Date | Retention | Job Placement | Exam Passage |
| --- | --- | --- | --- |
| 2020 | 60% | 62.50% | 87.50% |
Medical Assisting is a profession with many rewards, as practitioners can perform both administrative and clinical services, filling several roles in a variety of healthcare environments. The Bureau of Labor and Statistics clearly outlines that it is a growth field, with an anticipated 18% growth from 2020 to 2030.
Medical Assistants work directly with providers and patients, with the goal of providing healthcare and ensuring patient safety. It is a position with a great deal of responsibility.
As with any healthcare position, there are certain occupational risks that come into play with being a medical assistant, and those hazards include the following:
Exposure to infectious diseases
Sharps injuries
Bloodborne pathogens and biological hazards
Chemical and drug exposure
Ergonomic hazards from lifting, sitting, and repetitive tasks
Latex allergies
Stress
At the same time, there are protections set up with the Occupational Safety and Health Act (OSHA), and those protections are particularly important within a healthcare environment. OSHA has a series of standards that protect the safety of the healthcare workers and patients.
Accredited medical assisting programs are required to teach students about hazards that they face on the job and the protocols that can be put into place to ensure a workplace culture that prioritizes safety.
Students are required to acknowledge receipt of the Macomb Community College Medical Assisting Handbook to validate acceptance of this information.