The media of choice
YouTube changed the way we consume and share user-generated content. The video-sharing platform made it possible to access all types of videos with just one click. Video has become one of the most popular content formats.
But while videos are easy for anyone to create, skilled videographers are needed to light, stage, film and edit them. Not surprisingly, demand for video production skills has never been higher.
If you're looking for a fast-paced career that combines your artistic eye with technical expertise, you've found it!
For a look at all the courses in our program, consult the course list.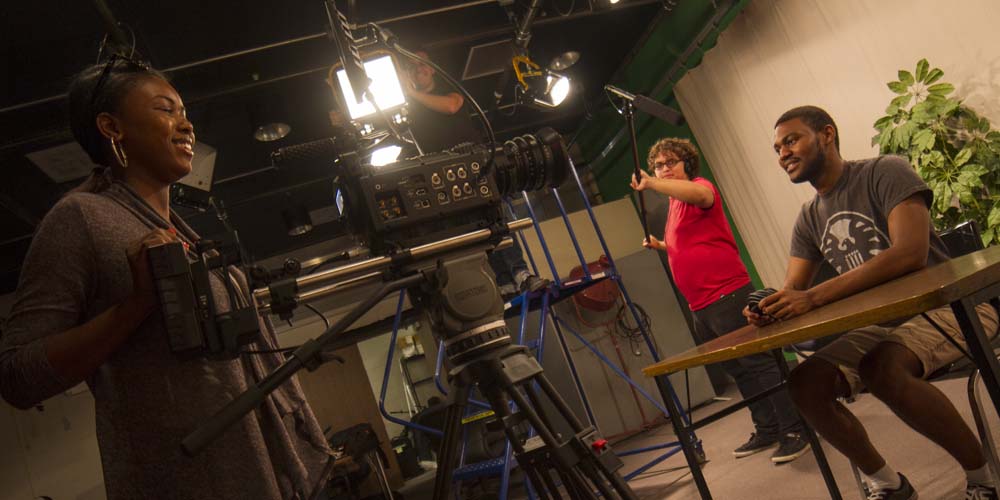 Teamwork and technique
Our faculty have logged many hours on video shoots and editing footage frame by frame back at the studio.  
They've managed film crews and produced videos to educate, document, promote and entertain. You can count on them to teach you the techniques, and dedication to teamwork that you'll need to do the same.
You'll learn about:
Film production
Taped studio programming
Live feeds
Camera operations
Lighting
Audio/video electronic components
Troubleshooting
Software functionality
And much more!
Find your niche
Earning a certificate or associate degree in our program is your entry into the exciting field of video production. And our credits transfer if you decide to pursue a bachelor's degree.
With videos the media preference of educational institutions, corporations and retail stores, you should have no trouble finding your niche!
Use this handy tool to explore positions available locally and what they pay.
When you're ready, our Career Services team will help you in the job search and interview preparation, including developing a resume to complement your video portfolio.