Create and animate
3D Animation is bigger than movies from Pixar or the Star Wars series. At Macomb, you can delve into a realm of endless possibilities. 3D Animation is a thriving sector in industries like Healthcare, 3D Printing, Gaming, Virtual Reality, Concept Design and more.
By enrolling in this 3D Animation program, you'll embark on an exciting adventure of discovery. You'll have the chance to learn cutting-edge techniques, explore industry-standard tools, and gain hands-on experience. Unleash your creativity and unlock the doors to a world where imagination meets technology.
Whether you aspire to be a character animator, a visual effects artist, or a game designer, Macomb Community College's 3D Animation program will equip you with the skills and knowledge to bring your visions to life. Embrace this opportunity to shape your future and chart a path towards a fulfilling career in the captivating realm of 3D Animation.
For a look at all the courses in our program, consult the course list.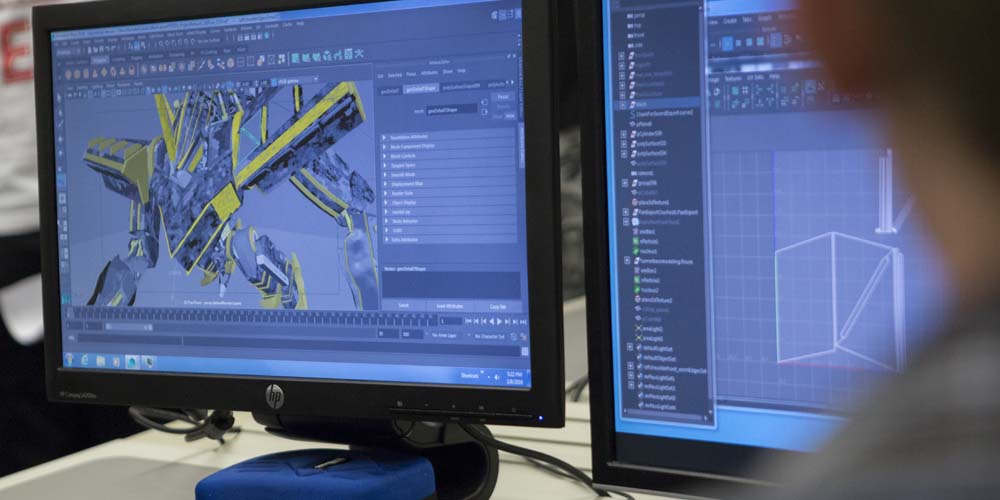 More than video games
Animated cartoons and videos aren't the only game in town.
As companies increasingly turn to animated shorts to promote their brands and engage their audiences, 3D animators have more career options than Dora the Explorer had adventures. Our alumni have worked on shows and movies at Lucasfilm, Dreamworks, Marvel and many more.
In our program, you'll learn on the most powerful animation software in use today as you work on a variety of projects designed to give you practical experience.  Under the guidance of our expert faculty, you'll also develop a portfolio of your work to share with employers.
Classes include:
Previsualization
Digital Illustration
Introduction to Motion Design
Introduction to Digital Video
Compositing with After Effects and Nuke
3D Modeling & Rendering
And many more!
You don't have to move to California
Earning a certificate or associate degree in our program will qualify you for positions with most local creative studios. And the credits you earn will transfer easily if you want to advance your education and your career.
Use the handy tool provided to see what's available locally and what you can expect to make.
And when you're ready, our Career Services team can help you with the job search and interview preparation, including development of your resume.