Create and animate
You probably watched cartoons as a kid, right? How about Fairly OddParents or Danny Phantom?
Butch Hartman, a Macomb County native, created both and many more. He even visited us once to give a pep talk to our Media and Communication Arts students.
Hartman built a successful career in animation, and after completing our program, you'll be able to do the same!
For a look at all the courses in our program, consult the course list.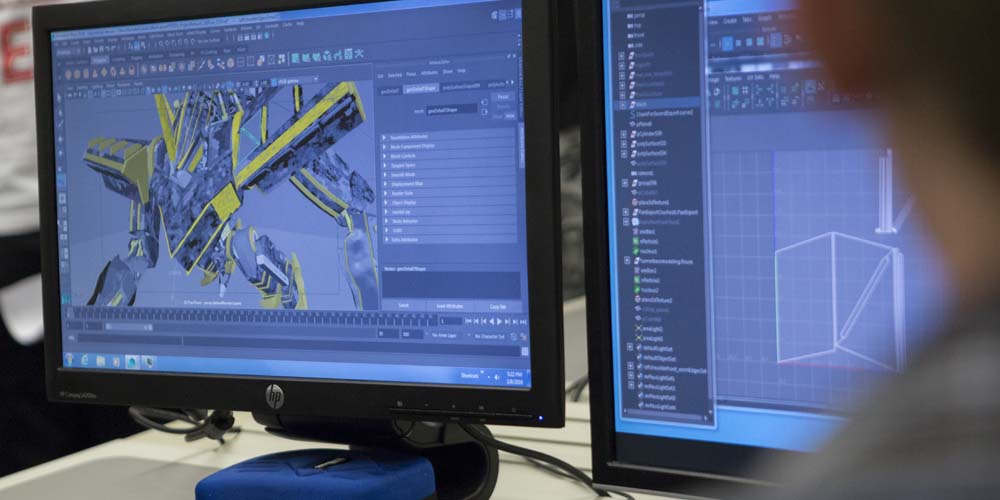 More than video games
Animated cartoons and videos aren't the only game in town.
As companies increasingly turn to animated shorts to promote their brands and engage their audiences, 3D animators have more career options than Dora the Explorer had adventures. Our alumni have worked on shows and movies at Lucasfilm, Dreamworks, Marvel and many more.
In our program, you'll learn on the most powerful animation software in use today as you work on a variety of projects designed to give you practical experience.  Under the guidance of our expert faculty, you'll also develop a portfolio of your work to share with employers.
Classes include:
Previsualization
Digital Illustration
Typography & Spatial Development
Digital Editing
Compositing with After Effects and Nuke
3D Modeling & Rendering
3D Dynamic Simulation
And many more!
You don't have to move to California
Earning a certificate or associate degree in our program will qualify you for positions with most local creative studios. And the credits you earn will transfer easily if you want to advance your education and your career.
Use the handy tool provided to see what's available locally and what you can expect to make.
And when you're ready, our Career Services team can help you with the job search and interview preparation, including development of your resume.