It's a maker's world
Manufacturing is more than a product. It's a complex system of processes that need to move like one well-oiled machine, ensuring the quality of each box of cereal or vehicle produced.
As a manufacturing engineering technician, you'll be responsible for keeping each wheel of production moving smoothly, swiftly and efficiently.
It's a job with great advancement potential, especially if you decide to earn a bachelor's degree. And you have no worries about the credits you earn transferring to a four-year college or university.
Ferris State University offers a Bachelor of Applied Science in Industrial Technology & Management at our South Campus in Warren if you're thinking about becoming a production or engineering supervisor.
For a look at all the courses in our program, consult the course list.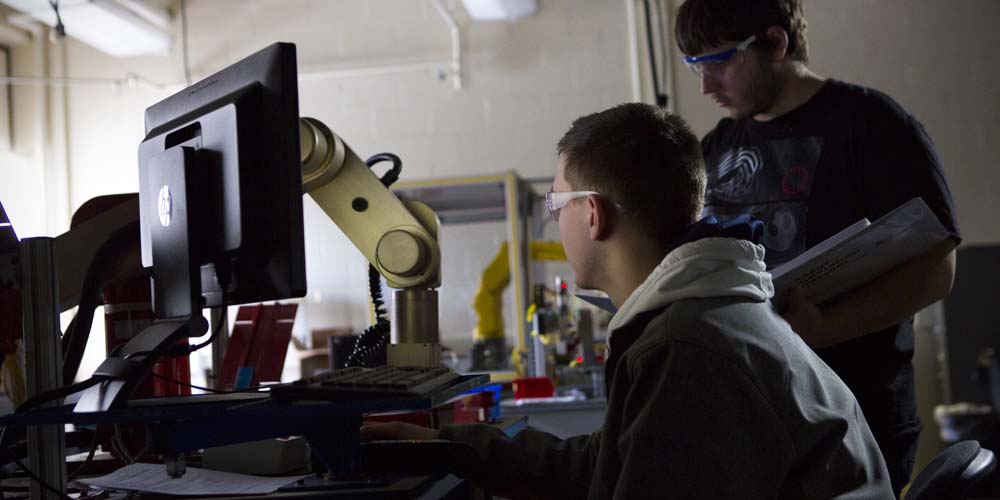 A program like no other
In our program, most of our faculty have experience working in manufacturing, from electronics to metallurgy.
They'll share their industry knowledge with you as they prepare you for immediate employment with your associate degree and/or for transfer to a four-year engineering school to earn a bachelor's degree.
Our program incorporates an electronics component into the coursework, so you have the broadest background possible in manufacturing.
And, it's the only program like it offered by a community college in southeast Michigan!   
You'll learn about:
Metals applications
Industrial processes
Industrial drawing and dimensioning
Electronic circuits and signals
Operating voltages
Meters and oscilloscopes
Talk to our faculty
Professor Harry Buhalis is our program advisor, and he can answer any questions you have about the program. Contact him at 586.445.7450.
Entry-level salaries higher than most
Manufacturing is a diverse industry and so are the career opportunities awaiting you as a manufacturing engineering technician.
Explore what's available locally and the average salaries. We think you'll find the pay higher than in most entry-level positions.
When you've completed the program, our Career Services team is here to help with the job search and interview preparation, including assembling your resume.