Technician on call
When a pipe bursts, a lathe stops rotating or an electrical motor needs to be replaced, a maintenance technician is called in to do their magic.  
Maintenance Technology is a field that offers many options to those who prefer work that's hands-on and mechanical. And may seem magical to those less skilled in matters of installation and repair.
If you'd rather work on a stamping press than in an office, are interested in the moving parts behind the scenes and get more reward out of the process rather than the product, this is the program for you!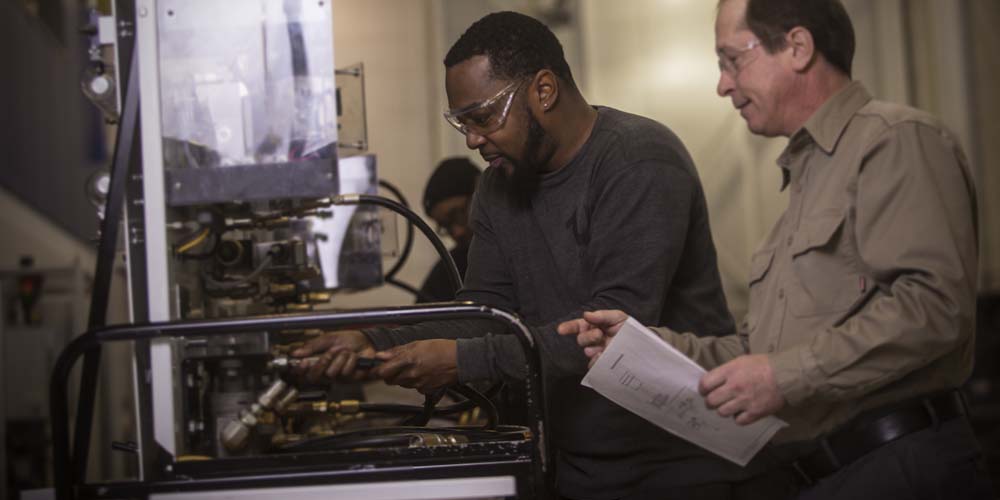 Pick the trade that suits you best
Part of Applied Technology and Apprenticeship, our Maintenance Technology Programs can prepare you for a highly skilled position in a variety of industrial and construction trades and professions.
Earn a certificate, associate degree (when combined with general education courses) and/or a U.S. Dept. of Labor certificate if you're an employer-sponsored apprentice.
Choose from one of the following programs:
Carpenter
Electrical-Construction Maintenance
Electrical-Industrial Maintenance
Industrial Hydraulics
Machine Repair
Maintenance Mechanic - Building
Maintenance Mechanic - Industrial
Plumbing & Pipefitting
Stationary Steam Technician
Welding – Basic & Advanced
In any of our Maintenance Technology programs, you'll learn:
Relevant job skills
Industrial processes
Material applications
Mechanical comprehension
Industrial safety
To learn more about the programs, visit the College Catalog.
Ready to roll up your sleeves?
Talk to our Applied Technology Department at
586.445.7438
today to learn more!
We'll help you find a job!
If you're not an apprentice, job opportunities are still plentiful in the maintenance technology field.
See the positions available locally and what you can expect to earn. 
Our Career Services team is here to help you with the job search and interview preparation, including building a perfect resume.