For your safekeeping
The days of written charts hanging from a hospital bed or examining room door are over. The medical records of patients deserve safer keeping, and as a health information technician you'll be the one maintaining them in a secure, electronic format.
In addition to record-keeping, you'll also serve as liaison between health care providers, patients and insurance companies, handling their requests for information.
It's a career that places you at the very heart of the health care system, even if, in many positions, you'll be able to work remotely from home.
For a look at all the courses in our program, consult the course list.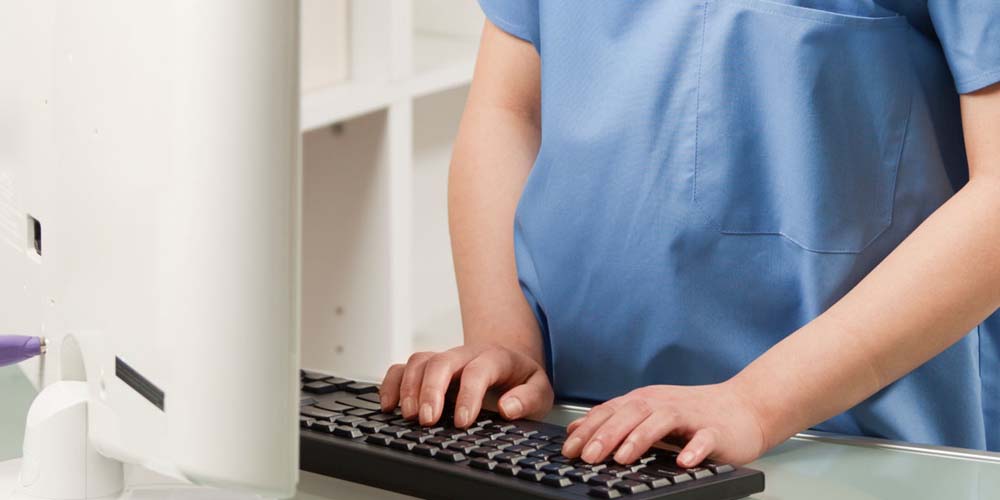 Getting it right
Technical skills are essential in this field, where a coding error could have far-reaching consequences. Our graduates are known for the precision they bring to their work, as well as having a good "bedside manner" when interacting with doctors, patients and insurance reps.  
Credit for their success goes both to them and to our expert faculty, all of whom have worked in health records management. They'll teach you the ropes, including:
Diagnostic and procedural coding
Pharmacology
Health care statistics
Data informatics
Legal and accreditation issues
And, much more!
Hear it from the faculty
Professor Kristin Dunsmore, our program advisor, can tell you all about this program. Contact her at 586.226.4809 or dunsmorek@macomb.edu.
The convenience of choices
Too busy to drive to campus? Just like the work itself, you can complete our program entirely online from home. You can also choose our hybrid format (half online/half on campus), which utilizes our state-of-the-art Health Information Technology laboratory.
The program leads to an associate degree in Health Information Technology and qualifies you to take the national Registered Health Information Technician accreditation exam. And, whether it's next up or down the road, credits earned will transfer if you decide to advance your education and your career with a bachelor's degree.
Job opportunities after you graduate from our program will be immediate and extensive, including doctor's offices, hospitals, clinics, adult care facilities, insurance companies and governmental agencies.
Check out what's available locally and the average salary you can expect.
And when it's time to find your first job as a health information technician, our Career Services team is here to help with the search, including preparing your resume and nailing the interview.
Additional Information
Select programs in Health and Human Services require specific criteria to gain admission, such as testing requirements or minimum grade point average in prerequisite courses. Please view the Selective Admissions program application packet for information on application requirements, ranking and deadlines.
For information on how to apply to a Selective Admissions program, please email us at selectiveadmissions@macomb.edu. Selective Admissions applicants are encouraged to meet with an academic advisor or counselor prior to submitting an application to the program. This meeting will allow for review of the application process, program prerequisites and requirements. Contact the Counseling and Academic Advising Office at 586.445.7999 for office hours.
Macomb Community College HIT Program Outcomes
2021-2022 First Time RHIT Exam pass rate: 68%
2022 Graduate Student Satisfaction rate: 100%
2022 Graduation rate: 96.67%
2022 Graduates Employed in Healthcare within 1 year post graduation : 83%

The Health Information Management accreditor of Macomb Community College is the Commission on Accreditation for Health Informatics and Information Management Education (CAHIIM). The College's accreditation for Associate degree in Health Information Management has been reaffirmed through 2022. All inquiries about the program's accreditation status should be directed by mail to CAHIIM, 200 East Randolph Street, Suite 5100, Chicago, IL, 60601; by phone at 312.235.3255; or by email at info@cahiim.org.
Technical Standards for Admission, Progression and Graduation
The goal of the Health and Public Services Division is to prepare every student to think critically and practice competently and compassionately in rapidly changing environments. All efforts are designed to build knowledge, enhance practical skills, and promote patient and the population's safety. Furthermore, the program is designed to foster professional integrity and ultimately improve the health outcomes and protection of patients, families, and communities across the continuum of care and practice. Students must possess certain functional abilities, essential for the delivery of safe, effective clinical care and protection of the public during clinical and internship training activities in the field. Therefore, the faculty has determined that certain technical standards are required for admission to, progression in, and graduation from the Health and Public Services (HPS) programs.
In addition to classroom learning, clinical and internship learning occurs throughout the HPS programs and involves considerations (such as patient and population safety and clinical and internship facility safety) that are not present in classroom accommodations. Applicants or students interested in HPS programs who seek accommodations prior to or immediately after enrolling in the college are highly encouraged to also request an assessment of the types of reasonable accommodations needed for the clinical and or internship components of the program.
An individual must be able to independently, with or without reasonable accommodation, meet the following technical standards of general abilities: (1) observation; (2) communication; (3) motor skills; (4) intellectual, conceptual, and quantitative abilities; (5) essential behavioral and social attributes; and (6) ability to manage stressful situations. Individuals unable to meet these technical standards, with or without reasonable accommodation will not be able to complete the programs and are counseled to pursue alternative careers.
SPECIAL SERVICES STATEMENT: Students may individually discuss the essential functions and technical standards with a college counselor from our Special Services department. In compliance with Section 504 of the Rehabilitation Act of 1973 and the American Disability Act of 1991, academic accommodations may be provided to students who have a documented disability.
For further information, visit Special Services.