Hydraulics and pneumatics
Whether you're looking for a good job in manufacturing or a promotion to a more highly skilled position at the facility you currently work at, you've come to the right place.
If you need a brief introduction to the field: Fluid power transmits energy from one source or location to another. If the fluid used is liquid, usually oil, the process is called hydraulics. If the fluid is gas, usually compressed air, the process is called pneumatics.
It's the technology you'll find used frequently in all types of manufacturing, including automobile, aerodynamics and defense, making this a wise choice for a career path.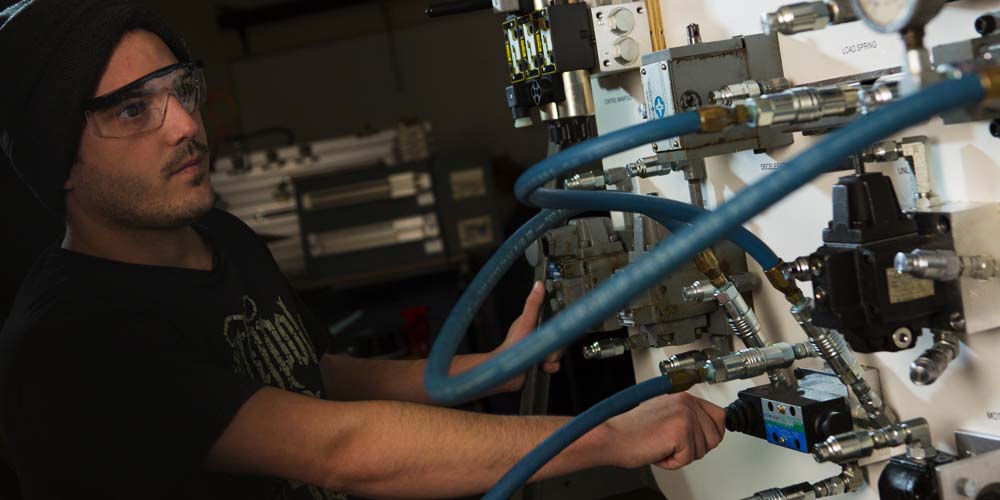 Earn a certificate in less than a year
In our program, you'll learn how to maintain, troubleshoot and repair hydraulic and pneumatic systems.
You can earn a general certificate in less than a year while preparing to qualify for an on-the-job apprenticeship.
If becoming a fluid power engineer is part of your plan, earn an associate degree in Applied Technology and transfer your credits to a four-year college or university so you can earn the required bachelor's degree.
The courses are offered through our Advanced Technology Department and include:
Pneumatics Technology Fundamentals
Industrial Hydraulic Fundamentals
Electro-Hydraulics Technology
Mobile Hydraulics Technology
For a closer look at the program and the apprenticeship it could lead to, search for Applied Technology and Apprenticeships in the College Catalog.
Ready to power up your career?
Contact our Department of Engineering and Advanced Technology at 586.445.7435.
Skills that are in demand
With the shortage of qualified candidates for jobs in manufacturing, a certificate in Fluid Power is your ticket into a skilled field where its techs are in high demand. Check out the positions available and the salaries that accompany them with the tool below. 
If you haven't had a job offer or promotion before you graduate, our Career Services team is here to help you put your skills and credentials on paper and get that first (or better) job in fluid power.