All fires are different
Regardless of where your interest in the fire service lies, understanding the different properties that a fire can possess is as necessary as wearing a self-contained breathing apparatus inside a smoke-filled building.
In these courses, part of Macomb's Fire and Emergency Medical Services Technology associate degree program, you'll learn the science behind preventing, controlling, extinguishing and investigating fires.
Through them, you'll gain a deeper understanding about how and why each fire is different and the threat each type poses to lives and property.
Get Started
Ask Admissions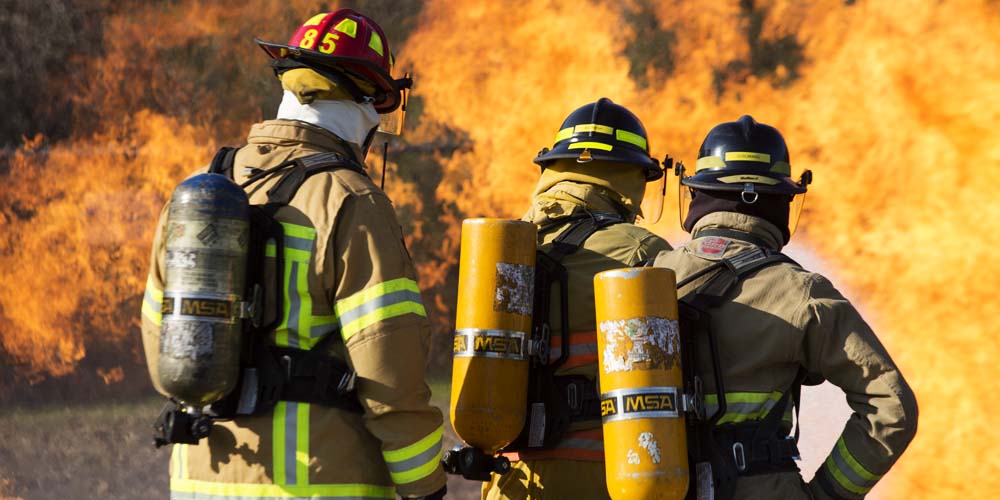 You'll learn from firefighters
Learn from the best! All of the instructors in our program have worked in the fire service, most as firefighters.
They'll share with you the experiences they've had in fighting different fires, providing you with valuable insight as you reach for helmet and hose.
You'll learn about:
Fire behavior
Fire prevention
Fire protection and suppression systems
Fire investigation
Fire hydraulics
For a complete list of our Fire Science courses, refer to the College Catalog.
Education and career advancement
All of our Fire Science courses can be completed online. Ideal if you're already working in the field and seeking advancement with a department or fire protection/suppression company.
And, if you're planning on pursuing a bachelor's degree in fire science or related field, credits earned at Macomb will transfer to any institution aligned with the U.S. Fire Administration's Fire and Emergency Services Higher Education (FESHE) initiative.
Need more information?
Professor Kenneth Staelgraeve, program advisor, can tell you more and answer any questions you have. You can reach him at 586.226.4991.
Fire service jobs
There's always a need for firefighters and fire service professionals in both the public and private sectors. Use the tool below to see the positions and salaries available.
And don't forget, Career Services is here to help with your job search, including resume-writing and interview preparation.
That is, if you aren't hired before you graduate!
Additional Information
The goal of the Health and Public Services Division is to prepare every student to think critically and practice competently and compassionately in rapidly changing environments. All efforts are designed to build knowledge, enhance practical skills, and promote patient and the population's safety. Furthermore, the program is designed to foster professional integrity and ultimately improve the health outcomes and protection of patients, families, and communities across the continuum of care and practice. Students must possess certain functional abilities, essential for the delivery of safe, effective clinical care and protection of the public during clinical and internship training activities in the field. Therefore, the faculty has determined that certain technical standards are required for admission to, progression in, and graduation from the Health and Public Services (HPS) programs.
In addition to classroom learning, clinical and internship learning occurs throughout the HPS programs and involves considerations (such as patient and population safety and clinical and internship facility safety) that are not present in classroom accommodations. Applicants or students interested in HPS programs who seek accommodations prior to or immediately after enrolling in the college are highly encouraged to also request an assessment of the types of reasonable accommodations needed for the clinical and or internship components of the program.
An individual must be able to independently, with or without reasonable accommodation, meet the following technical standards of general abilities: (1) observation; (2) communication; (3) motor skills; (4) intellectual, conceptual, and quantitative abilities; (5) essential behavioral and social attributes; and (6) ability to manage stressful situations. Individuals unable to meet these technical standards, with or without reasonable accommodation will not be able to complete the programs and are counseled to pursue alternative careers.
SPECIAL SERVICES STATEMENT: Students may individually discuss the essential functions and technical standards with a college counselor from our Special Services department. In compliance with Section 504 of the Rehabilitation Act of 1973 and the American Disability Act of 1991, academic accommodations may be provided to students who have a documented disability.
For further information, visit Special Services.