Join a company of heroes
Few things are more frightening than waking up to the smell of smoke. But at a station not far from home, firefighters are jumping out of their beds and into the gear that will protect them as they come to the rescue.
For them, it's just part of the job. For those whose lives or property were saved by their quick actions, they're heroes.
If you'd like to join them in a line of work that makes a difference unlike any other, we welcome you to apply to our Fire Academy.
Get Started
Ask Admissions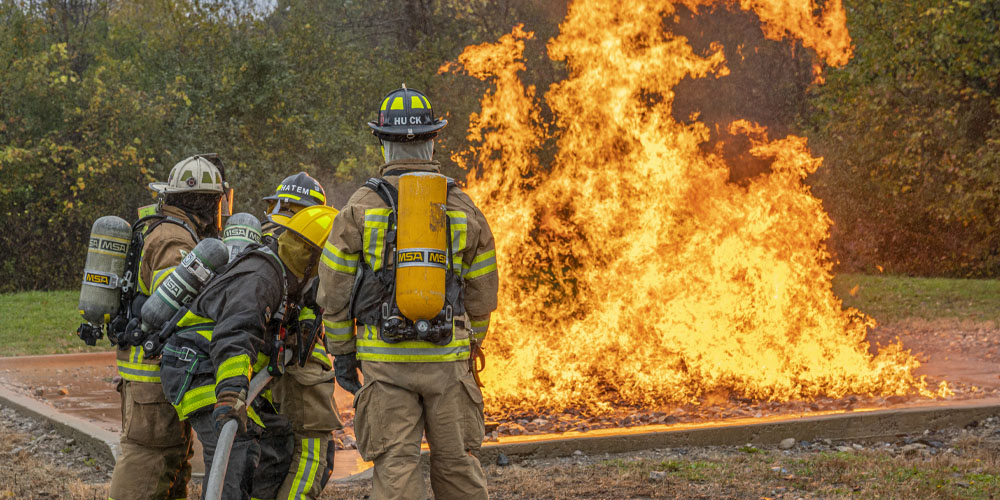 Your ladder for success
Our 10-week program will develop and strengthen your firefighting skills so when the alarm sounds, you'll be confident to proceed and be prepared to face any challenge that lies ahead.
And your training won't come from just a textbook.
You'll learn how to search for victims in a smoke-filled room, combat a multistory fire on a live burn tower and perform CPR in the back of a simulated ambulance.
All of our training meets Michigan's preparatory requirements for taking the state firefighting certification exams, which, on average, more than 95% of our Fire Academy grads pass each year.   
Passing the academy will also earn you 12 credits toward an associate degree in Fire and Emergency Medical Services Technology, a must-have credential for future advancement in your career.
But as a Fire Academy grad, you'll be qualified to work while you continue to build upon your fire science skills.
Ready to learn the ropes?
The Fire Academy is waiting for you. Contact the program manager at 586.498.4021 or email FTC@macomb.edu.
Fire chief's top choice
Our Fire Academy is the first choice of local fire chiefs, many of whom are instructors in the program.
In fact, all of our Fire Academy instructors are practicing or retired firefighters and after you complete your training, you'll likely be working with some of them on a local department.
They'll teach you how to handle a fire hose, enter a burning building or rescue trapped victims.
But it's not all about fires. You'll also learn how to:
Extract an accident victim from a vehicle
Perform rescues on waterways
Secure hazardous material spills
And much more as you prepare to earn Firefighter 1 and 2 certification!
For a look at all the skills your training will provide, refer to the College's Catalog.
And for an idea about the positions available and the salaries they pay, use the handy tool below.
Additional Information
The goal of the Health and Public Services Division is to prepare every student to think critically and practice competently and compassionately in rapidly changing environments. All efforts are designed to build knowledge, enhance practical skills, and promote patient and the population's safety. Furthermore, the program is designed to foster professional integrity and ultimately improve the health outcomes and protection of patients, families, and communities across the continuum of care and practice. Students must possess certain functional abilities, essential for the delivery of safe, effective clinical care and protection of the public during clinical and internship training activities in the field. Therefore, the faculty has determined that certain technical standards are required for admission to, progression in, and graduation from the Health and Public Services (HPS) programs.
In addition to classroom learning, clinical and internship learning occurs throughout the HPS programs and involves considerations (such as patient and population safety and clinical and internship facility safety) that are not present in classroom accommodations. Applicants or students interested in HPS programs who seek accommodations prior to or immediately after enrolling in the college are highly encouraged to also request an assessment of the types of reasonable accommodations needed for the clinical and or internship components of the program.
An individual must be able to independently, with or without reasonable accommodation, meet the following technical standards of general abilities: (1) observation; (2) communication; (3) motor skills; (4) intellectual, conceptual, and quantitative abilities; (5) essential behavioral and social attributes; and (6) ability to manage stressful situations. Individuals unable to meet these technical standards, with or without reasonable accommodation will not be able to complete the programs and are counseled to pursue alternative careers.
SPECIAL SERVICES STATEMENT: Students may individually discuss the essential functions and technical standards with a college counselor from our Special Services department. In compliance with Section 504 of the Rehabilitation Act of 1973 and the American Disability Act of 1991, academic accommodations may be provided to students who have a documented disability.
For further information, visit 
Special Services
.