On the scene
When a sudden illness or accident occurs, police are often the first to respond. But as a skilled EMT-Paramedic, you'll quickly follow and take over the care of the patient.
After the patient is stabilized, you'll continue to monitor vitals and respond to their medical needs as they're transported by an Advanced Life Support unit to the hospital and waiting doctors and nurses.
It's a work environment that is adrenalin-charged and fast paced, and your paramedic training will often mean the difference between life and death.
For a look at all the courses in our program, consult the course list.
Get Started
Ask Admissions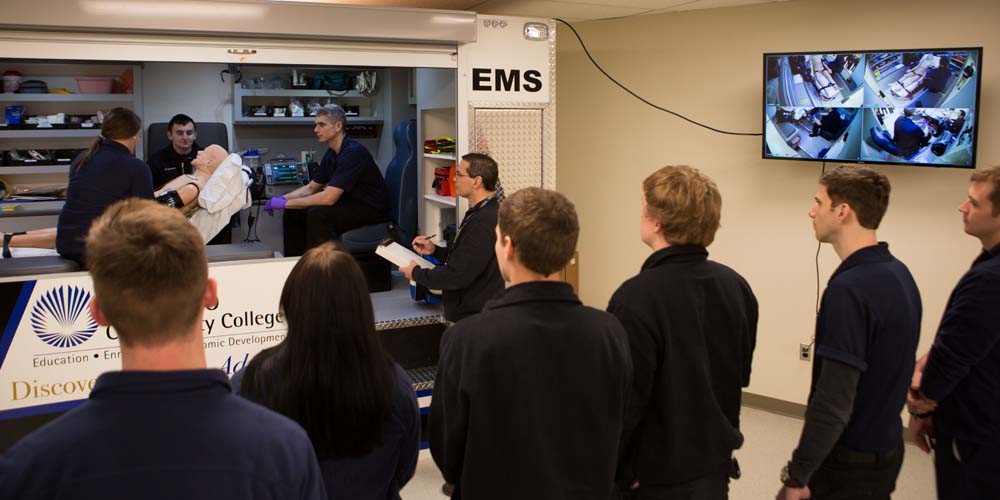 Fire chiefs' first choice
Our faculty know what it's like to save someone's life.
As working or retired paramedics they've done it many times. They'll teach you about:
Paramedic procedures
Emergency management
Pharmacology
And much more!
There are also EMT and hospital clinicals that will give you hands-on experience in the field. The College Catalog provides a complete look at what the program consists of.
Our program will also prepare you to take the National Registry Examination and provides you with credits that transfer if you want to continue on toward a bachelor's degree.
With our expert faculty and advanced training facilities, our program is the first choice of all emergency medical service providers in Michigan and is endorsed by the Macomb County Fire Chiefs Association!
Ready to get started?
Program faculty/advisors Daniel Media, 586.286.2069, or David Armstrong, 586.286.2188, can fill you in with more details, including the Selective Admissions process required for all Health and Human Services programs.
A skills ladder
Once you complete the EMT portion of the program, you can begin working as an EMT for a fire department or a private emergency services provider. 
Our program is designed to let you balance work while continuing on toward your paramedic license.
All of these skills are in great demand and pay well, as you'll see using this handy tool.
While you'll likely be recruited by a fire department right out of the program, our Career Services team is also here to help you with job search and resume and interview-preparation. 
Additional Information
Select programs in Health and Human Services require specific criteria to gain admission, such as testing requirements or minimum grade point average in prerequisite courses. Please view the Selective Admissions program application packet for information on application requirements, ranking and deadlines.
For information on how to apply to a Selective Admissions program, please email us at selectiveadmissions@macomb.edu. Selective Admissions applicants are encouraged to meet with an academic advisor or counselor prior to submitting an application to the program. This meeting will allow for review of the application process, program prerequisites and requirements. Contact the Counseling and Academic Advising Office at 586.445.7999 for office hours.
In Macomb's Emergency Medical Technician - Paramedic program, you will learn how to take over the care of victims of sudden illness or accident from first responders on the scene and obtain the skills and knowledge necessary to staff sophisticated Advanced Life Support Units. The Emergency Medical Technician - Paramedic program prepares you to take the National Registry Examination.
CAAHEP Accredited Paramedic Programs and CoAEMSP Letter of Review (LoR) Programs track and report outcome measures annually to the Committee on Accreditation for the Emergency Medical Services Professions (CoAEMSP). The most current CoAEMSP Annual Report was for the calendar year 2021.
Pass rate indicates success on the National Registry of EMT Paramedic/State Cognitive exam. Positive placement is defined by the CoAEMSP as 'Employed full or part-time in a related field and/or continuing his/her education and/or serving in the military'. Positive placement is measured at completion of the program. This is a new topic that has been added to the program's annual report for the 2020 class.
| Class Graduating | Retention | Pass Rate | Work Placement (New) |
| --- | --- | --- | --- |
| 2021 | 82% | 78% | 74% |
| 2020 | 78% | 78% | 82% |
| 2019 | 80% | 90% | NA |
| 2018 | 52% | 100% | NA |
The Paramedic Program is accredited by the Commission on Accreditation of Allied Health Education Programs (www.caahep.org) upon the recommendation of the Committee on Accreditation of Educational Programs for the Emergency Medical Services Professions (CoAEMSP).
Commission on Accreditation of Allied Health Education Programs
9355 - 113th St. N, #7709
Seminole, FL 33775
Phone: 727.210.2350
www.caahep.org
To contact CoAEMSP:
8301 Lakeview Parkway
Suite 111-312
Rowlett, TX 75088
Phone: 214.703.8445
Fax: 214.703.8992
www.coaemsp.org
The goal of the Health and Public Services Division is to prepare every student to think critically and practice competently and compassionately in rapidly changing environments. All efforts are designed to build knowledge, enhance practical skills, and promote patient and the population's safety. Furthermore, the program is designed to foster professional integrity and ultimately improve the health outcomes and protection of patients, families, and communities across the continuum of care and practice. Students must possess certain functional abilities, essential for the delivery of safe, effective clinical care and protection of the public during clinical and internship training activities in the field. Therefore, the faculty has determined that certain technical standards are required for admission to, progression in, and graduation from the Health and Public Services (HPS) programs.
In addition to classroom learning, clinical and internship learning occurs throughout the HPS programs and involves considerations (such as patient and population safety and clinical and internship facility safety) that are not present in classroom accommodations. Applicants or students interested in HPS programs who seek accommodations prior to or immediately after enrolling in the college are highly encouraged to also request an assessment of the types of reasonable accommodations needed for the clinical and or internship components of the program.
An individual must be able to independently, with or without reasonable accommodation, meet the following technical standards of general abilities: (1) observation;
(2) communication; (3) motor skills; (4) intellectual, conceptual, and quantitative abilities; (5) essential behavioral and social attributes; and (6) ability to manage stressful situations. Individuals unable to meet these technical standards, with or without reasonable accommodation will not be able to complete the programs and are counseled to pursue alternative careers.
SPECIAL SERVICES STATEMENT: Students may individually discuss the essential functions and technical standards with a college counselor from our Special Services department. In compliance with Section 504 of the Rehabilitation Act of 1973 and the American Disability Act of 1991, academic accommodations may be provided to students who have a documented disability.
For further information, visit Special Services.