Amp up your skills!
Are you more interested in taking apart a widescreen television or desktop computer than sitting in front of one? Does AC/DC mean more to you than the name of a "High Voltage" rock band?
If so, you're on the same page with those who have graduated with an associate degree from our program and are working as electronic technicians or, after they've earned a bachelor's degree, electronic engineers.
It's a highly charged field with AMPle job opportunities and our program will prepare you for all of them!
For a look at all the courses in our program, consult the course list.
Get Started
Ask Admissions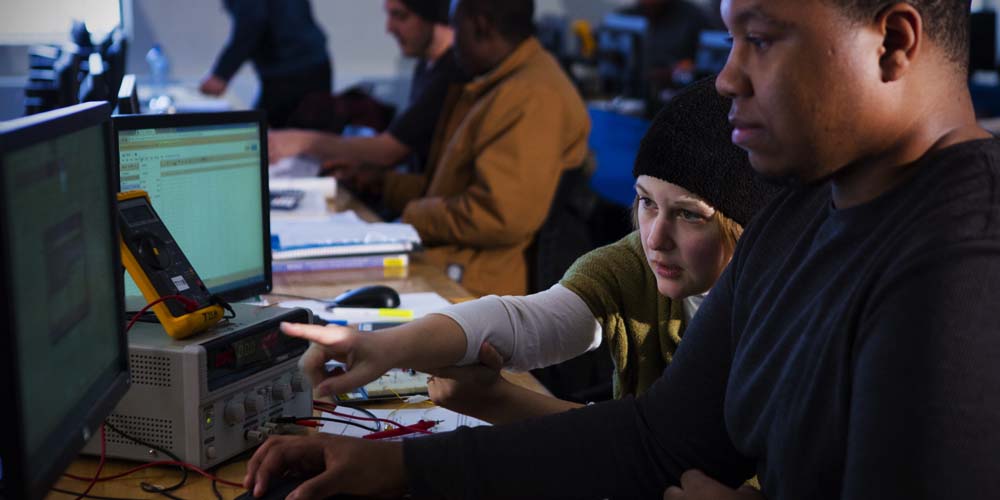 Semiconductors, microcontrollers and more!
You'll learn how to design, install, troubleshoot, maintain and repair electronic systems, whether they're inside a manufacturing facility, office building or private home. 
After you've been introduced to basic electronic principles and electrical theory, you'll train and experiment in our state-of-the-art electronics labs and learn about:
Circuits
Semiconductors
Microcontrollers
Discrete amplifiers
And more!
For a closer look at how the program works, including a list of the courses you'll be taking, refer to the
College Catalog
.
Ready for an energy boost?
Talk to Ken Dulinski, electronics faculty and program advisor, about all the exciting projects you'll be involved in in our Electronic Engineering Technology program. You can call him at 586.445.7248.
Skills with staying power
Most of our graduates are hired as electronic repair technicians or electronic technicians soon after they graduate.
And if you want to follow the circuit of those who earned a bachelor's degree and have become electronic engineers, our credits easily transfer to four-year programs.
Either way, the demand for electricity means your skills will always have staying power. Use this handy tool to see what type of salaries you can expect.
When the time comes, our Career Services team is here to assist you in the job search, including preparing you and your resume for interviews with prospective employers.