Laying a foundation for memories
Childhood amnesia, a proven phenomenon possibly tied to brain development, usually kicks in about the age of seven, leaving only vague shreds of the memories formed before then.
That means you might not remember what games you played in preschool, the name of your first best friend or the smile on your teacher's face when you handed him or her your first watercolor painting.  
But remember or not, this was the most significant period of development in your life and the experience was the foundation for everything yet to come.
And that smiling teacher helped lay the cornerstone.
For a look at all the courses in our program, consult the course list.
Get Started
Ask Admissions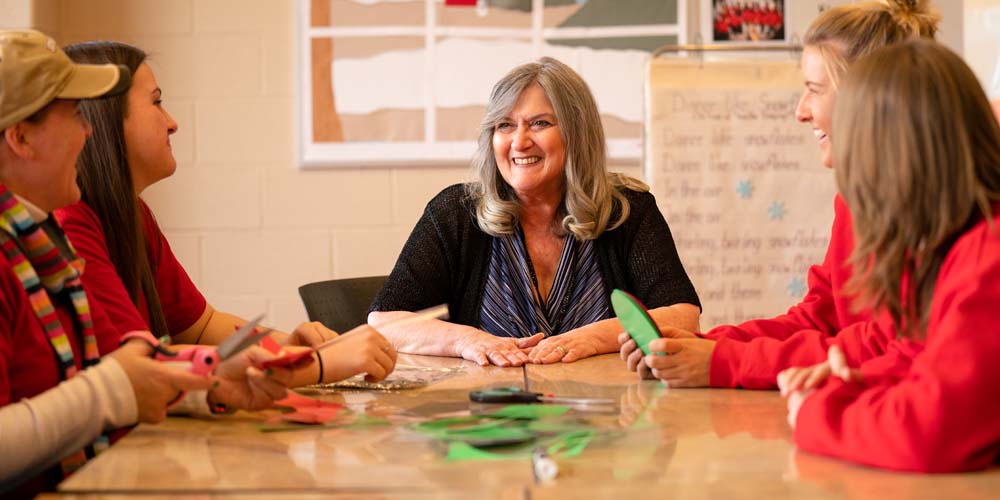 Putting theory into practice
In our program, which leads to an associate degree in applied science, you'll be learning the theories that guide child development professionals in their important work with children and their families.
But an even greater experience awaits when you put those theories into practice interacting with children as part of your coursework. 
In preparation for your practicum, you'll be introduced to:
The physical and mental development of infants and toddlers
The role of the arts in early education
Childhood behaviors
And much more!
Ready to get started?
Lisa Boni of our Early Childhood Studies faculty would be happy to hear from you! Contact her at bonil@macomb.edu.
Work that matters!
Most of the graduates of our program begin their career in a preschool or child daycare facility, engaging young children in meaningful play and socialization.
If your goal is teaching kindergarten or in an early childhood special education program, our credits transfer so you can earn the required bachelor's degree (while working in the field) and prepare for certification.
This is work with immediate reward! You'll see in the faces of your young students, and the employment opportunities are vast. But don't take our word for it, use this handy tool to see all the positions that are available.
If you haven't been recruited by a school before you graduate, our Career Services team can help you with the job search, including polishing up your resume and interview skills.
Additional Information
Outcome Measure #1: The Number of Program Completers
| Academic Year | Number of program completers | % of program completers who were attending full-time (at the time of completion) | % Of program completers who were attending part-time (at the time of completion) |
| --- | --- | --- | --- |
| 2020-21 | 25 | 20% | 80% |
| 2019-20 | 16 | 6% | 94% |
| 2018-19 | 32 | 6% | 94% |
Outcome Measure #2: The Program Completion Rate
| Academic year in which a Fall cohort of full-time candidates enrolled in the program | Percentage of those candidates who completed the program within 150% of the published timeframe | Percentage of those candidates who completed the program within 200% (twice) of the published timeframe |
| --- | --- | --- |
| 2018-19 | 25% | 25% |
| 2017-18 | 31% | 31% |
| 2016-17 | 15% | 31% |
Outcome Measure #3: Institutional Selected Data

The fall-to-fall retention rate in the program for each of the three most recently completed years
| Academic Year | % of Part-Time Candidates Enrolled in the Program (% of Total Enrollment) | Retention Rate among Part-Time Candidates | % of Full-Time Candidates Enrolled in the Program (% of Total Enrollment) | Retention Rate among Full-Time Candidates |
| --- | --- | --- | --- | --- |
| 2020-21 | 74% | 42% | 26% | 33% |
| 2019-20 | 81% | 40% | 19% | 50% |
| 2018-19 | 85% | 40% | 15% | 40% |
The Associate of Applied Science Degree on Education: Early Childhood Studies Program at Macomb Community is accredited by the Commission on the Accreditation of Early Childhood Higher Education Programs of the National Association for the Education of Young Children (NAEYC), 1401 H. St. NW, Suite 600, Washington DC 20005. The current accreditation term runs from September 2019 through December 2022.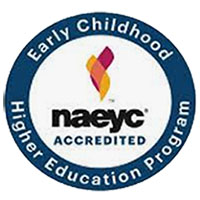 The goal of the Health and Public Services Division is to prepare every student to think critically and practice competently and compassionately in rapidly changing environments. All efforts are designed to build knowledge, enhance practical skills, and promote patient and the population's safety. Furthermore, the program is designed to foster professional integrity and ultimately improve the health outcomes and protection of patients, families, and communities across the continuum of care and practice. Students must possess certain functional abilities, essential for the delivery of safe, effective clinical care and protection of the public during clinical and internship training activities in the field. Therefore, the faculty has determined that certain technical standards are required for admission to, progression in, and graduation from the Health and Public Services (HPS) programs.
In addition to classroom learning, clinical and internship learning occurs throughout the HPS programs and involves considerations (such as patient and population safety and clinical and internship facility safety) that are not present in classroom accommodations. Applicants or students interested in HPS programs who seek accommodations prior to or immediately after enrolling in the college are highly encouraged to also request an assessment of the types of reasonable accommodations needed for the clinical and or internship components of the program.
An individual must be able to independently, with or without reasonable accommodation, meet the following technical standards of general abilities: (1) observation; (2) communication; (3) motor skills; (4) intellectual, conceptual, and quantitative abilities; (5) essential behavioral and social attributes; and (6) ability to manage stressful situations. Individuals unable to meet these technical standards, with or without reasonable accommodation will not be able to complete the programs and are counseled to pursue alternative careers.
SPECIAL SERVICES STATEMENT: Students may individually discuss the essential functions and technical standards with a college counselor from our Special Services department. In compliance with Section 504 of the Rehabilitation Act of 1973 and the American Disability Act of 1991, academic accommodations may be provided to students who have a documented disability.
For further information, visit Special Services.