Keeping it real
Dental offices are always busy and it's not because of the free toothbrushes. People everywhere want to get and keep a beautiful smile. 
Think how rewarding it would be to help make that happen every day you go to work?
That's what it'll be like as a dental assistant.  Valued by the rest of the dental health care team, you'll assist dental hygienists and dentists in helping patients protect one of their most cherished assets: their teeth.
Get Started
Ask Admissions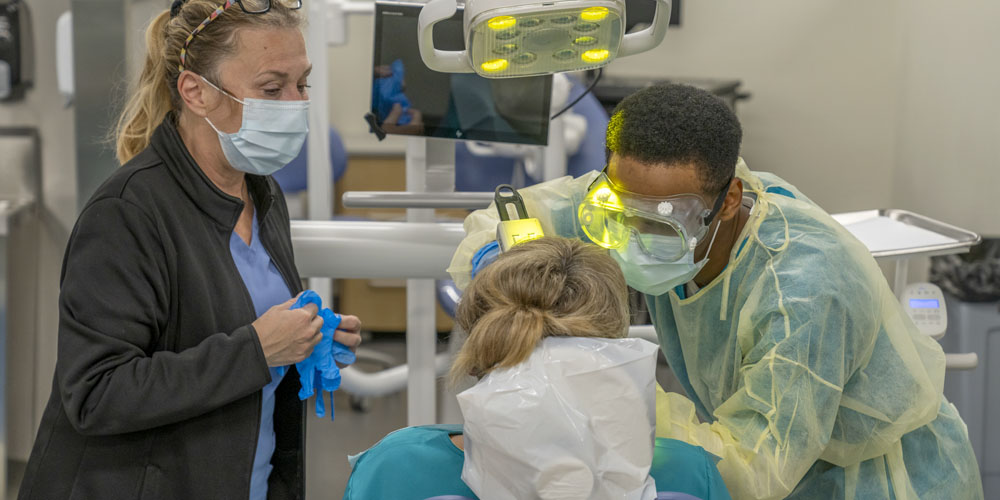 A new career in 16 weeks
Our program can be completed in 16 weeks and because it's offered through Workforce and Continuing Education (WCE), you don't even have to apply.  
Simply sign up online and attend classes and labs in our all new, state-of-the-art dental clinic. Lecture sessions are available online to attend at your convenience. Either way, you'll learn about:
Chairside techniques
Dental and oral anatomy
Infection control
On-the-job safety
Preparing dental impressions
And much more!
You'll also gain valuable insight from the experience of our faculty, all dental health care professionals who are as committed to your success as you are.
Someday you might even find yourself working alongside them in a dental office or public health clinic!
For more about the program, including a list of the courses you'll be taking, visit the College Catalog.
Interested in earning a wage and on-the-job experience? Apprenticeships are now available!
Join the next class!
Our Dental Assisting faculty look forward to hearing from you. Send questions to dental@macomb.edu or call the dental clinic office at 586.445.7161.
The next class of students will be starting soon!
A career ladder
Start out as a dental assistant and, while you continue working in the field, proceed through our two-year program to become a dental hygienist, which will prepare you for the required licensing exam.
From there, you can choose to earn a four-year degree to continue your advancement in the field or to branch out into education or public health. Many dental hygienists have also gone on to dental school and become dentists.
Currently, there is a national shortage of qualified dental assistants and hygienists, making the skills you'll learn in either program even more valuable.
Use the tool below to check out job opportunities and salary in the local area after you complete your 16 weeks of training. 
And if you haven't been recruited by a short-staffed dental practice during the program, as some of our students have, Career Services is here to help you land your first job in the field!