Explore the art of food
If a knob of butter hitting a hot sauté pan sounds like music to your ears and a shiny pot rack over a six-burner stove is a picture worth a thousand words, you're in the right place.
From basting to deglazing to rolling out a sheet of pastry dough, transforming a handful of ingredients turned into a dish as delightful to look at as it is to eat is an art that nourishes the mind and body.
The culinary profession has a longstanding tradition of creativity, technical knowhow and risk taking that stretches back to 18th century Paris, hence the reason many culinary terms have French names. Just wait until you make your first bouquet garni!
And you will, because in our program, you'll master all the skills you need to carry on this tradition in the modern eateries of today.
For a look at all the courses in our program, consult the course list.
Get Started
Ask Admissions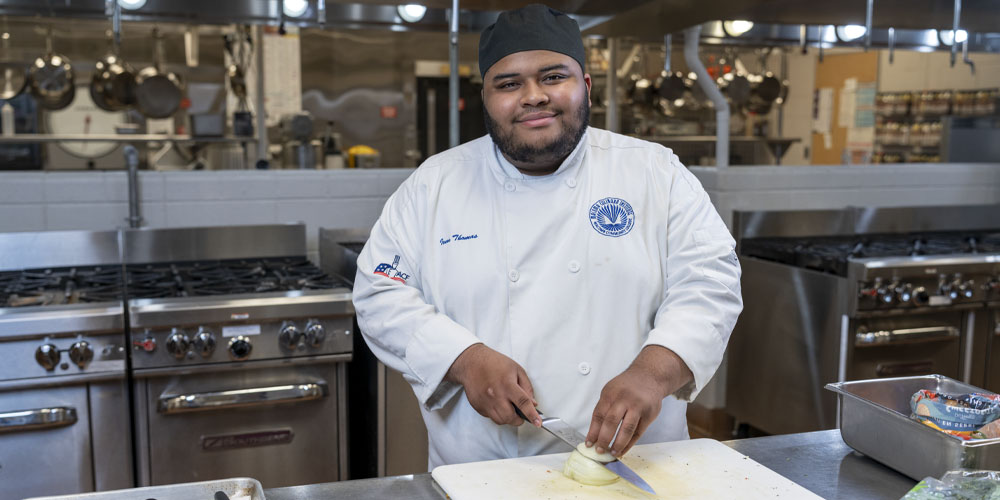 Take your skills to Center Stage
While your learning will begin in lab and lecture hall, you'll soon be testing out your knife and flambé skills in the professional kitchen of Center Stage, our teaching restaurant on Center Campus. 
You'll use everything you are learning in Production Baking, Garde Manger and all your other courses, whetting your appetite for what's to come in the career ahead of you: 
Culinary techniques
International food and food culture
Food ordering and handling
Menu management
Decorative food presentation
Wine and food pairings
Old world bread baking
Wedding cakes and other desserts
Chef knows best
That's the mantra of a professional kitchen, where all of your instructors and professors have spent a great deal of time. Most are certified chefs for whom cooking is personal and they'll share with you all they know and are passionate about.
You may also have a once-in-a-lifetime opportunity to compete alongside your teachers in the International Culinary Olympics held in Germany every four years! Or in a variety of other culinary competitions that they regularly enter their students in. 
Whether you're pursuing a certificate or associate degree, nothing will prepare you for a busy dinner service quite like competing against the clock and a hundred or more of your peers.
Top jobs in a busy industry
Restaurants are always looking to fill a variety of culinary positions, from station cook to head chef. Use the handy tool below to see what's available locally and the salary you'll likely earn.   
<
If you haven't had a job offer before you graduate, our Career Services team is here to help you put your skills and credentials on paper and get that first (or better) restaurant job. 
Once you've been working in the field for a while, remember that our Workforce and Continuing Education Department offers certification and re-certification programs for food service managers.
Additional Information
Completion Rate: 2016-2017 (most recent cohort data available)
Culinary Arts: 23%
Pastry Arts: 38%
Of those graduating in 2017-18
|   | Job Placement in Field  | ACF Certification | Intend ACF Certification |
| --- | --- | --- | --- |
| Culinary Arts  | 78% | 30% | 51% |
| Pastry Arts | 50% | 8% | 42% |
Of those graduating in 2018-19
|   | Job Placement in Field  | ACF Certification | Intend ACF Certification |
| --- | --- | --- | --- |
| Culinary Arts  | 87% | 40% | 43% |
| Pastry Arts | 98% | 47% | 26% |
National Restaurant Association: The National Restaurant Association Educational Foundation has developed a series of in-service training courses that have been incorporated into these Macomb Culinary Arts Courses: CULH 1155, 1200, 1320, 1400, 1420, 1430 and 2015.

ACF Certified Culinarian: The Associate of Applied Science Degree in Culinary Arts and Certificate in Culinary Arts – Culinary Management are accredited by the American Culinary Federation Education Foundation Accrediting Commission (ACFEFAC), 180 Center Place Way, St. Augustine, FL 32095, 800.624.9458. Upon graduation, you may receive ACF Certified Culinarian status-national recognition of your accomplishments here at Macomb.

Occupational Certification
Macomb's Workforce and Continuing Education Department offers Certification and Re-Certification programs for food service managers.