Autonomy and respect guaranteed
As a court reporter, judges, prosecutors and defense attorneys will know you by name, relying upon you for the official record of every court hearing, deposition, trial or other legal proceeding they participate in.
Accepting such responsibility will earn you both respect and a great deal of latitude when it comes to the terms of your job.
Freelance options abound. While your presence is required to record all that's said at a legal proceeding, the transcribing and editing work that follows can easily be done on a laptop at the beach or just about anywhere else you choose!      
With such a high degree of autonomy and mobility, some say it's one of the most satisfying jobs in the legal field.
Get Started
Ask Admissions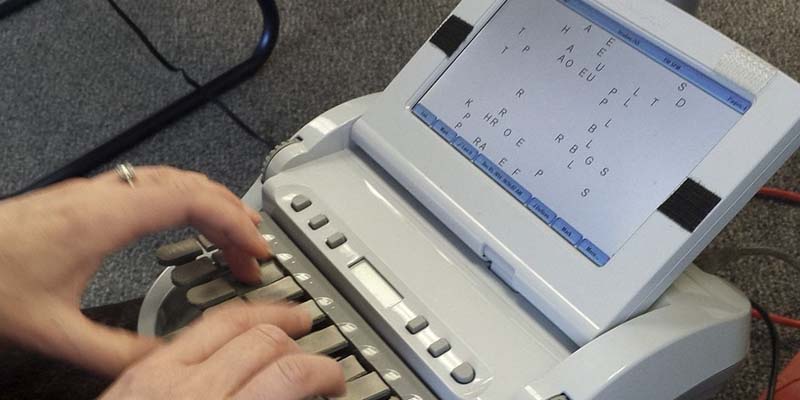 A national stamp of approval
Macomb Community College has the only court reporting program in Michigan and is approved by the National Court Reporters Association (NCRA).
It's also more affordable than many of the programs you'll find online and because it's a Continuing Education program, you don't even have to apply to Macomb.
All our instructors have been or are court reporters.
From their agile fingers you'll learn:
Machine shorthand
Legal, medical and technical dictation
Computer-aided transcription
How to build speed on the steno machine – upwards of 200 words per minute with the highest accuracy!
For a closer look at the program, visit the College Catalog.
You'll finish employment-ready
We'll prepare you for the NCRA and Michigan exams so you'll be employment-ready when you complete the program.
After you're certified, career opportunities as a court reporter are far more than you might expect.
Of course courtroom work is one of them, but there'll also be a demand for your skills in:
Law offices
Corporate headquarters
Legislative chambers
Closed-captioning or Communication Access Realtime Translation (CART) providers.
Who knows, you could even find yourself recording sessions of Congress!
A flexible schedule
As a court reporter, you can choose to work full time, part time or on a freelance basis, giving you great flexibility with your day-to-day schedule.
See the positions available locally and what you can expect to earn.
Once you've received your certification, let our Career Services team help you find your first job as a court reporter. That's if you haven't already been hired after completing the required 40-hour internship and national license.