Syncing with the seasons
If you've ever experienced a furnace going out in January or an air conditioning unit failing in July, you know it takes more than the wave of a hand to make them work again.
And those refrigerators and freezers at the grocery store don't run on magic either. 
It takes skilled technicians to keep the Heating, Ventilation and Cooling Systems (HVAC) in our homes and businesses humming in sync with the seasons.   
If you want to be appreciated for the work you do, few professions can beat climate control.
For a look at all the courses in our program, consult the course list.
Get Started
Ask Admissions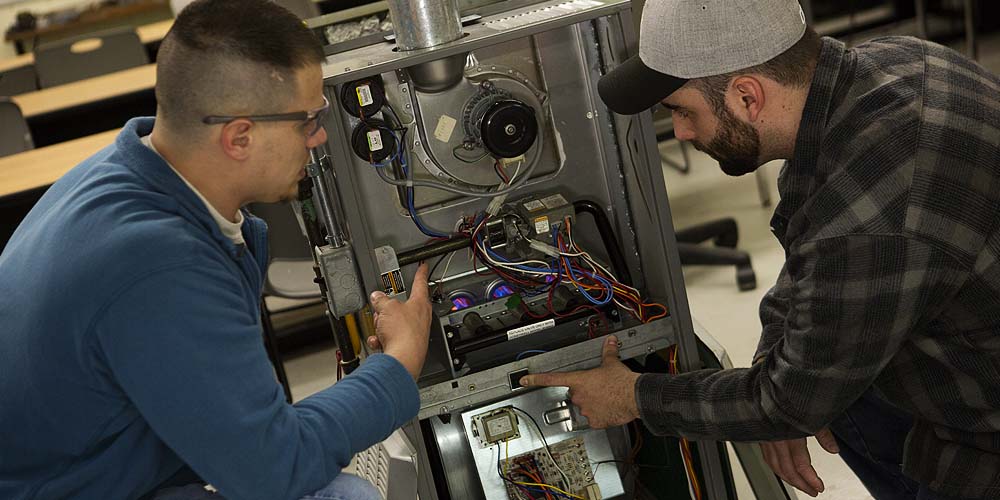 Learn systems new and old
In our program, you'll learn how to install, maintain and repair residential and commercial HVAC and refrigeration systems. And that's both those running on the latest technology as well as older styles, like the boilers and oil furnaces that still heat many homes and businesses today.   
You have the option of earning a certificate or an associate of applied science degree, and all of the credits transfer if you decide to pursue a bachelor's degree.
Ferris State University, for example, offers a bachelor's degree in HVAC Engineering Technology that will teach you how to design, retrofit and test HVAC systems, skills needed to be an HVAC engineer. 
Ask a pro
Climate Control Technology Professor Doug Marlow, the program's advisor, knows the HVAC industry from the inside out. Find out more about the program or the field by calling him at 586.445.7452.
Work anywhere
As long as homes and businesses are heated and cooled by anything more advanced than a fireplace or fan, you'll have plenty of work to do as an HVAC technician.
Jobs for HVAC technicians with a two-year degree pay more than many of those that require a bachelor's degree.   
And these are skills that are in demand everywhere, so you can work anywhere! 
But let the handy tool below show you the opportunities and salaries that exist locally first. We think you'll be happy to stay in Michigan.
And our Career Services team can help you with the job search before you even graduate.
That's if an HVAC company hasn't hired you by then!