A program with pedigree
You might be asking yourself, "Why Cisco?"
Cisco is one of the largest information technology firms in the world and it comes with a high-tech pedigree. Its founders settled into California's legendary Silicon Valley in the 1980s and pioneered the routing technology that paved the way for the internet.
With its worldwide presence, developing your networking skills on Cisco technology will pave your way to notable accomplishments.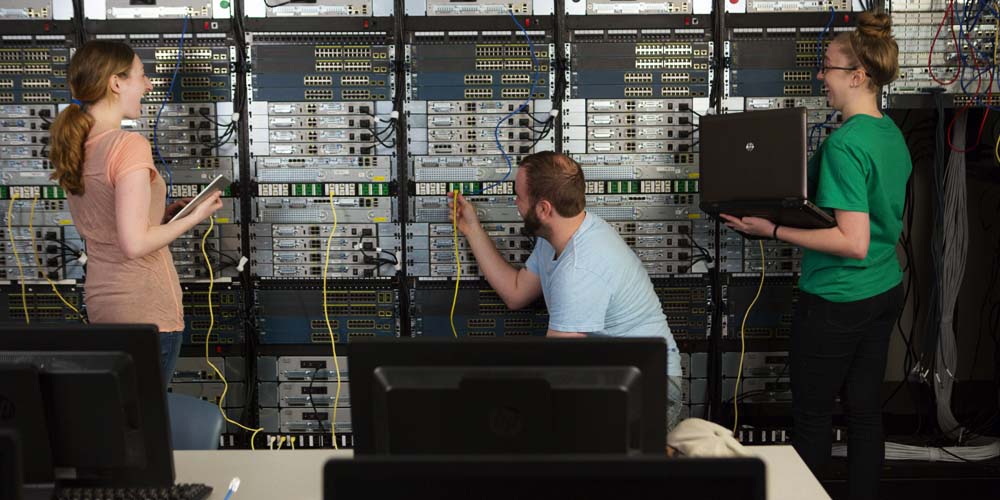 Backed by Cisco's knowledge
Our program is offered in collaboration with the Cisco Networking Academy and taught by faculty who've received training from the same. They'll teach you about:
Internetworking protocols
Configuration and utilities
Troubleshooting
Network design and management
Internet architecture
Ethernet concepts and operations
Routers and switches
And the credits earned in our Cisco courses transfer to four-year colleges and universities if you decide to earn a bachelor's degree.
For a closer look at the program, refer to our College Catalog.
Connect with your CISCO professor!
Professor John Koss, program advisor, can answer any questions you have about our program. Contact him at
586.445.7166
or
kossjo@macomb.edu
.
Credentials that open doors
Earn a certificate and/or an associate degree in our program as you prepare for the Cisco Certified Network Associate exam.
Then enter the IT workforce where your skills are in high demand! There are plenty of positions available. Use the handy tool below to see for yourself. As with any IT position, salaries are well above what most others earning associate degrees make. 
If you haven't been recruited by an IT department before you graduate, our Career Services team can help you find that first job, with a polished resume and interview skills to impress.