Start a new career in six months
Just think! In less than a year from now, you can complete our Certified Professional Coder program, pass the certification exam and start your great new job in health care.
You may be wondering - what it is that a professional coder does?
It isn't quite like being a secret agent but it's still interesting and very important work!
You'll translate patient records into medical codes that are used for:
Billing invoices
Insurance claims
Medical research
Get Started
Ask Admissions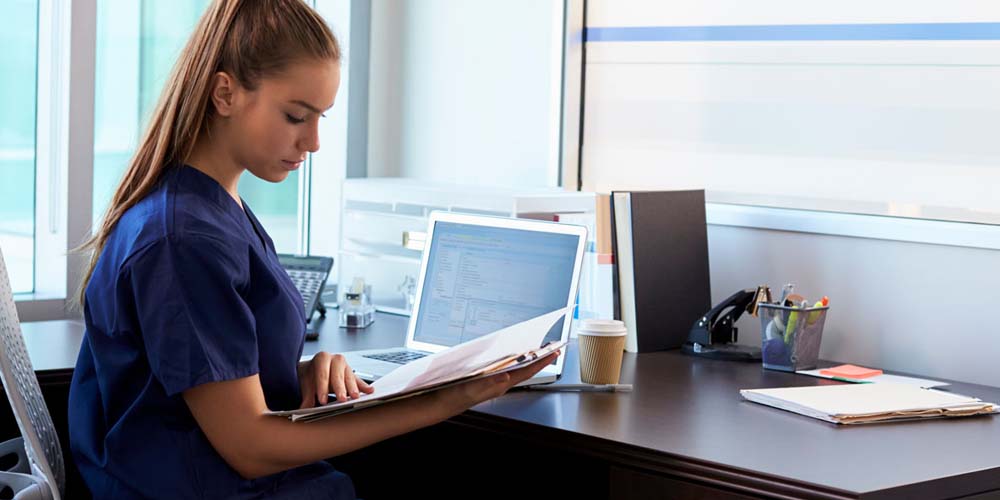 All your classes will be online
That's right! You can complete the entire program online.
Since your new career will be digitally focused, it only made sense for us to deliver it that way as well.
Learn by doing. It's kind of like a class and an internship all rolled into one.
Add a credential to your name
Certified Professional Coder (CPC) is not only the name of our program, it's also the credential awarded by the American Academy of Professional Coders (AAPC). 
Yes, there is such an academy and a year from now you could belong to it!
Our job is to make sure you pass the AAPC exam and earn your CPC, which you can proudly display after your name.
Looks great on a resume or business card!
Earn college credit
If you decide you want to advance your health care career after you've worked as a coder for a while, we can help!
Once you earn your CPC credential, you're eligible to receive seven college credits for prior learning that you can apply to an associate degree in Health Information Technology (HIT).
And if you want to earn a bachelor's degree in HIT? Our credits transfer!
It's a good idea to talk with a counselor or advisor before you register for classes.
You're just a few keystrokes away from your future
Because it's a Workforce and Continuing Education (WCE) program, you don't even have to apply for admission! 
To learn more about the program consult the College Catalog or contact the WCE Center for Health Careers at healthcareers@macomb.edu or 586.226.4807.
Interested in earning a wage and on-the-job experience? Apprenticeships are now available!
Join a fast-growing industry
This is health care, after all, one of the fastest growing industries in the country. Look at the data we've pulled together to learn more about job opportunities and salaries.
And Career Services is here to help you find a job.
That is, if you haven't been recruited by a hospital or health care facility before you complete the program!