No mysteries under a microscope
The word "biology" was derived from the ancient Greek words for "life" (bios) and "study" (logos). Not surprisingly, the Greek philosopher Aristotle is considered the father of this branch of the natural sciences and one of the first to conduct scientific research.
Just think of what he could have done with a microscope!
You, however, will have many microscopes at your disposal in our biology courses, from which you will discover a world teeming with life. From one-cell protozoans to 400,000-pound blue whales, every living organism has fascinating stories to share about the past, present and future.
Let us show you where to look for them!
Get Started
Ask Admissions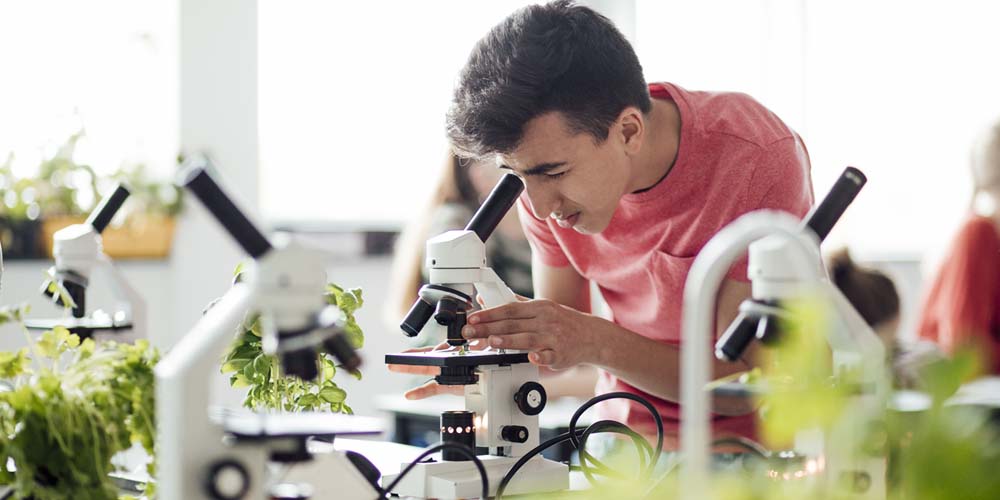 Biology (really) does make a difference
Biology has significantly impacted our lives in many ways. It's been responsible for finding the cracks in nature's ecosystems, curing innumerable diseases, and safeguarding all species of plants and animals. 
Not bad for a day's work, is it?
A field teeming with opportunities
Biology isn't just teeming with life, it's teeming with career opportunities. And you can explore many of them in our courses, which range from General Biology to Pathogenic Microbiology.
For a look at all our Biology courses, refer to the College Catalog.
If you discover or already know that you want to become a biology major, credits earned in most all of our courses transfer to four-year colleges and universities.
With a four-year degree, you'll be qualified for positions that include:
Biological technician
Biochemist
Biology teacher
Agricultural scientist
Microbiologist
Environmental scientist
Research and college/university teaching positions (require master's or doctoral degrees)
Biology is one of those Science, Technology, Engineering and Math (STEM) careers that have received much attention in the last few years. That's because there's a great demand in these fields for curious, committed and knowledgeable professionals.